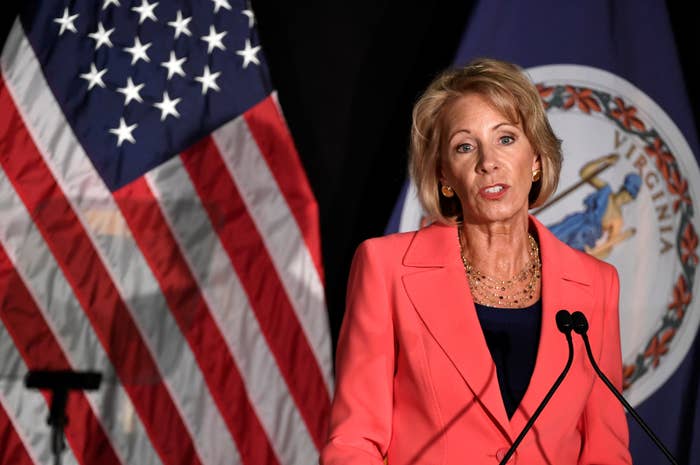 Education Secretary Betsy DeVos announced Friday that she would rescind the Obama administration's guidelines on campus sexual assault, part of an effort to strengthen protections for accused students.
The department will replace the Obama-era directives with new standards that "emphasize the importance of fairness and impartiality," a senior department official told reporters Friday, echoing a common rallying cry of advocates for students who have been accused of assault. The department released interim guidance for schools Friday, while new regulations are in the works.
The Obama administration's standards had caused schools to "lose sight of the importance of fairness," the official said. As DeVos works to create new rules, schools will be able to use a higher standard to determine an accused student's guilt, and won't have to resolve investigations within 60 days, a strict time frame implemented under former president Barack Obama.
The move to withdraw the 2011 and 2014 guidance inflamed advocates for victims of campus assault, who say the guidance is vital to ensure that schools properly investigate assault allegations and punish accused students. DeVos's decision comes after she held a daylong summit with advocates for both sexual assault victims and accused students in July.
Victim advocacy groups like the National Women's Law Center, which attended the July summit, said the department's move would discourage students from reporting assaults and "create uncertainty for schools on how to follow the law."
"Secretary DeVos has once again ignored the pleas from survivors of sexual assault and instead has decided to weaken protections for survivors and guidance for schools to investigate their claims," Sen. Patty Murray, a Democrat, said in a statement. "This harmful step in the wrong direction may cause survivors of sexual assault to go back into the shadows, allowing predators to continue to roam college campuses and the epidemic of college sexual assault to spread."
The Obama administration's directives laid out a number of steps schools were required to take when a student reported a sexual assault, including how long investigations should last and the standard of evidence that schools were required to use in campus adjudications of assault cases.
Sen. Lamar Alexander, a Republican who chairs the Senate's Health and Education Committee, said Friday that he was "glad" to see DeVos giving schools more leeway to deal with the "complex" problem of sexual assaults on college campuses and praised her "commitment to helping colleges protect the safety and rights of all students."
"Under the previous administration, a single bureaucrat at the Education Department was issuing edicts to our 6,000 colleges and universities on how to handle the complex and sensitive problem of sexual assault," Alexander said in a statement. (Both the Obama directive and DeVos's decision on Friday affect all schools receiving federal funding, not just colleges and universities.)
DeVos's new guidance would allow schools to require "clear and convincing" evidence in order to punish students for sexual assault, rather than a lighter standard known as a "preponderance of evidence." That lighter standard, DeVos has suggested, is unfair to students accused of sexual assault.
DeVos's new, temporary standard makes no prescriptions about how long schools must take to investigate assault, which victim advocates worry could drag out investigations.
The process of creating new guidance — which will allow the public to weigh in on how the department should dictate the way schools handle assault cases — is likely to take several months, a senior Department official told reporters.
"We are not going to rush for the sake of rushing this process," the official said.
Catherine Lhamon, the department's chief civil rights enforcer during Obama's second term, criticized DeVos's move, saying that the secretary is "suggesting that the Department of Education needs information from the public about how to do its job."
"The Department of Education has consistently enforced the law over decades," Lhamon told BuzzFeed News. "The US Supreme Court and lower courts have repeatedly affirmed and upheld the enforcement practices of OCR and its guidance," and the notion that a new system was created under the Obama administration is a "fictional strawman."
College administrators who handle issued under Title IX, which requires schools to address sexual violence on campus, say this interim period could make it more difficult for them to do their jobs.
"My fear is that without knowing what comes next it's hard for schools to plan," said Nancy Deutsch, a University of Virginia professor working with colleges on sexual assault policies. "I think it could inadvertently undo a lot of the work."
Justin Dillon, an attorney for accused students who had sued the department over the Obama administration's 2011 guidance, praised DeVos's decision.
"I would bet most [college] general counsels' offices are afraid of their Title IX office, not the other way around," said Dillon. "I think that's about to change in a good way."