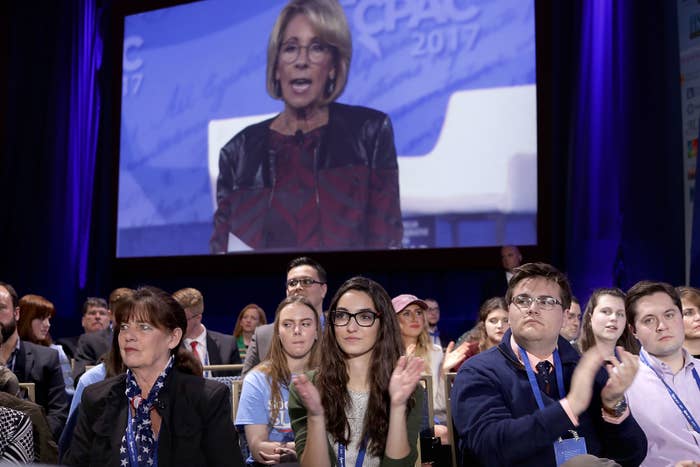 Education Secretary Betsy DeVos released a statement Monday calling historically black colleges "real pioneers when it comes to school choice," setting off a firestorm of criticism from HBCU leaders and graduates at a time when the Trump administration is attempting to make overtures to the colleges.
"They saw that the system wasn't working, that there was an absence of opportunity, so they took it upon themselves to provide the solution," DeVos said of the colleges, which were founded because black students were barred for decades from attending white colleges, including public universities.
Critics quickly picked up on the comparison between HBCUs and today's charter schools, which have been championed by school choice advocates like DeVos.

"This statement is historically illiterate to a painful degree," said one HBCU graduate on Twitter, who said he had "wanted to give DeVos a chance."

DeVos's praise of HBCUs for providing "options" to students, critics said, ignored the long and fraught history of black colleges, which were, for decades, the single choice available to black students pursuing higher education. Historically black schools have long battled systemic underfunding compared to primarily white institutions, with many teetering on the edge of closure because of financial problems.
Marybeth Gasman, the director of the Penn Center for Minority Serving Institutions, accused DeVos of "whitewashing history," saying she "forgot about slavery, Jim Crow, [and] segregation."

DeVos and the Trump administration have both indicated that they hope to mend what has been, at times, a troubled relationship between black colleges and the White House, including the Obama administration. Howard University was the first college that DeVos visited as education secretary, and the White House is reportedly drafting an executive order on HBCUs with the help of Omarosa Manigault.

One HBCU president criticized the administration for its handling of what was supposed to be a "listening session" on Monday with DeVos and other administration officials. A last-minute decision to stage a photo opportunity with President Trump meant "there was very little listening to HBCU presidents today," wrote Walter M. Kimbrough, the president of Dillard University, in a post on Medium.
DeVos will be the keynote speaker Tuesday at a gathering of more than 80 historically black college leaders at the Library of Congress, which will also include Rep. Paul Ryan and Sen. Marco Rubio.

Outside Your Bubble is a BuzzFeed News effort to bring you a diversity of thought and opinion from around the internet. If you don't see your viewpoint represented, contact the curator at bubble@buzzfeed.com. Click here for more on Outside Your Bubble.