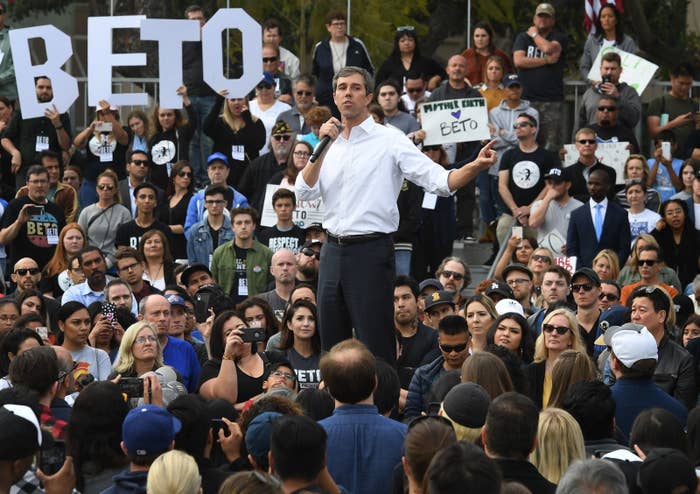 Beto O'Rourke has traveled to 14 states and 91 cities, zigzagging across the country in a breathtaking series of minivans, coffee shops, and rallies. But back at his El Paso headquarters, his presidential campaign is running behind.
More than a month after she was brought on, O'Rourke campaign manager, Jen O'Malley Dillon, a big-name hire from the upper echelons of Obamaworld, has yet to start on the campaign full time. That's left O'Rourke's operation in El Paso in a kind of holding pattern, according to interviews with nearly a dozen people inside or close to the operation, while O'Malley Dillon spends part of her time wrapping things up at her Democratic strategy firm in Washington. Campaign staffers have been left waiting to see how she will steer the campaign when she arrives in Texas in early May.
As the campaign sees it, this is all part of a natural process: O'Rourke is an unconventional candidate running an unconventional campaign. Success, aides say, is defined more by how many people O'Rourke meets than by how tight of a ship he's running back home.
The operation in El Paso is still a campaign in transition. The campaign has yet to publicly hire a communications director, a key senior role that it has been trying to fill for weeks. In headquarters, a friend and former colleague of O'Malley Dillon's, Mitch Stewart, has taken on a temporary role to make sure the operation remains steady. And last week, the departure of two top aides from O'Rourke's Senate race, Becky Bond and Zack Malitz, reflected a campaign still figuring itself out.

In some key early states, campaign staffers are watching El Paso with confusion. Among O'Rourke aides and supporters inside and outside the headquarters, "I don't really know" is a common answer to questions about campaign roles, strategy, and specifics.
O'Rourke's campaign says O'Malley Dillon is already in charge and active daily in overseeing campaign operations while continuing to work at her firm in Washington. She has not yet moved to El Paso in part because her three young children are finishing the school year on the East Coast.
"We're excited and fortunate that Jen O'Malley Dillon has fully invested her incredible leadership, experience, and creativity into managing our grassroots campaign," said campaign spokesperson Chris Evans.
Still, by the standards of many of the Democratic field's most established presidential campaigns, O'Rourke's campaign is operating in a different political universe.
O'Rourke has mapped the loose, frenetic style of his failed Texas Senate campaign — and his successful run for Congress before that — onto a national stage. While he has gone to key early states like Iowa and New Hampshire, he has also traveled to states where few other candidates have — including several days spent driving around Virginia; a road trip through Ohio, Wisconsin, and Michigan; and a four-day stint in California.
O'Rourke has done little national media since launching his campaign, including avoiding a CNN town hall — a major national stage that has hosted most Democratic candidates and boosted Mayor Pete Buttigieg in the national polls. (O'Rourke did appear on MSNBC on Monday to talk about his new climate plan.)
That strategy is evidence of a campaign, and a candidate, measuring success differently than Washington standards, aides say — in part by the pace and frequency of campaign stops and the number of questions taken by voters, not polling surges, national moments, and message tests. Aides say they are focused on getting O'Rourke personally in front of many voters as possible, especially in unconventional venues.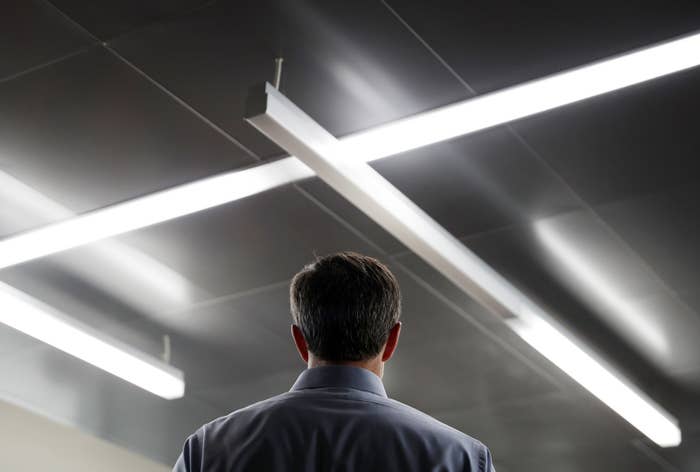 Evans, the campaign's spokesperson, said that O'Rourke is committed to running "the largest grassroots campaign this country has ever seen," with supporters already organizing in all 50 states. "With a large field of qualified candidates," Evans said, "we believe this is going to be won on the ground, which is why we're once again investing our time to actually be in communities listening, learning, and bringing people in to our campaign."
Structurally, the El Paso operation reflected that strategy, especially in the O'Rourke campaign's early days: a loose operation with few clearly defined roles, and everyone pitching in on different tasks, like jointly planning O'Rourke's campaign road trips.
But O'Malley Dillon is known for her organization and discipline, which people who know both her and the candidate have described as a stark contrast to O'Rourke's style. That difference is part of what has led to uncertainty in El Paso, some people close to the campaign say; it's unclear exactly how O'Malley Dillon will mesh with O'Rourke.
After Bond and Malitz parted ways with campaign, some O'Rourke supporters took the news as proof that O'Malley Dillon intended to steer the candidate back toward the center — and away from the kind of grassroots energy that became synonymous with his Texas Senate bid. Privately, O'Rourke aides complained that the Bond/Malitz storyline would turn into a "Beto in chaos" news cycle, when really his strategy hadn't changed, they said — yet at the time they did little to provide public context for the departures, or the state of the campaign.
Democrats who know O'Malley Dillon's work as an organizer watched, puzzled and frustrated, as the news played out on Twitter, where she was suddenly cast as an avatar of corporate or establishment consulting. The 42-year-old strategist, whose firm Precision Strategies handles political, private-sector, and nonprofit clients, is as steeped in grassroots organizing as any Democratic operative.
O'Malley Dillon was two years out of college when, in 2000, she served as a volunteer coordinator for Al Gore in New Hampshire. From there, she rose through the ranks of Democratic organizing on presidential races: as Iowa field director and state director for John Edwards in 2004 and 2008, respectively; battleground states director for Barack Obama in 2008; and his deputy campaign manager in 2012.
On Obama's first presidential bid, where the Illinois senator's experience as a community organizer helped shape the operation, O'Malley Dillon joined a group of field-minded operatives who trained staffers in the school of Marshall Ganz, a Harvard professor who worked as an organizer with Cesar Chavez and the United Farm Workers in the '60s and '70s and has helped redefine Democratic field programs as volunteer networks driven as much by data as relationship-building and storytelling.
The "distributed organizing" model, which Bond and Malitz employed in their work on Bernie Sanders' first presidential campaign before taking it to Texas in 2018, has a similar aim: to create communities of volunteer leaders in areas without campaign staff.
O'Rourke's presidential bid, according to interviews, won't shift an emphasis away from organizing. Whether it's "distributed organizing," community organizing, relational organizing, they say, you will see a hyperlocal, grassroots operation driven at its heart by a single imperative: empowering people to have real leadership roles as volunteers.
As his team sees it, that means giving volunteers access to information inside the campaign like schedules and talking points; sending thank-you notes, per O'Rourke's own instructions, to as many people he meets on the trail as possible; and finding ways to harness the sense of "positivity" among supporters that aides believe is unique to their campaign.
What the O'Rourke strategy ultimately looks like — how his organizing model compares to, say, that of Obama or Sanders — is a question aides admit they can't quite answer yet. They have filled out the team in Iowa, the state slated to kick off voting next February, but in El Paso, key director and deputy director roles remain vacant or fluid.
O'Rourke allies expect to see more of a well-oiled machine after O'Malley Dillon comes on board full time next month in El Paso. She has met with the candidate at length and has been to Texas three or four times this year so far.
Still, aides are sensitive to suggestions that Beto 2020 is in any sort of "holding pattern" in the interim. An O'Rourke aide noted that "it's perfectly normal for campaigns to announce managers after launching," pointing to Elizabeth Warren's manager, Roger Lau, as an example, though Lau ran Warren's 2018 Senate reelection effort and has worked full time on her presidential campaign since its launch on New Year's Eve.
"Just like every other campaign," the O'Rourke aide said, "we are consistently building our team and adding additional staffers."