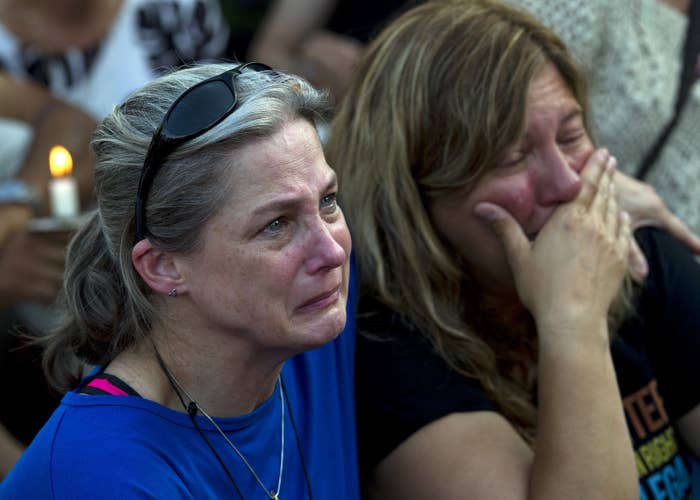 Gathered near the capitol building in Annapolis under a darkening sky Friday, residents shocked by the deadly shooting at their hometown newspaper just a day earlier expressed grief, anger, and pride — pride that officers responded so quickly and that the Capital Gazette staff put out a paper despite the tragedy.
"Awesome," Hal Whitacre, a city resident of 30 years, said of the newspaper's resolve, his voice trembling with emotion. "That's the only word for it."
On Thursday, a man opened fire in the Capital Gazette offices, killing five staffers and injuring two others. The suspect, 38-year-old Jarrod W. Ramos, was charged with five counts of first-degree murder. The dead included Wendi Winters, an award-winning reporter who covered community news; Robert Hiaasen, an editor known for his humor; Gerald Fischman, an editorial writer; Rebecca Smith, a new sales assistant; and John McNamara, who worked for the Capital Gazette in various roles for more than 20 years.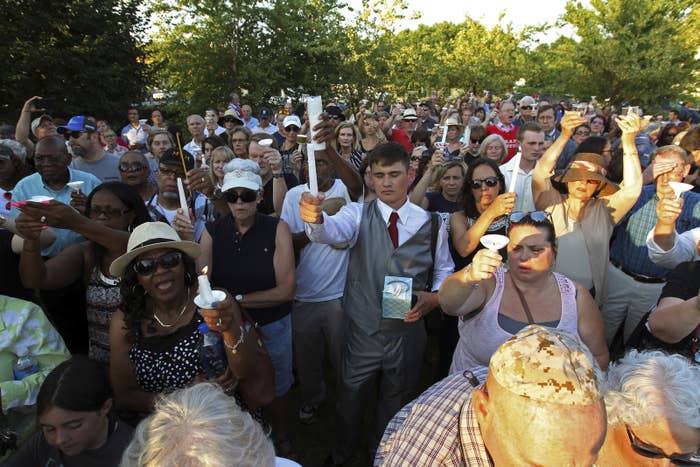 The shooting shocked a nation unaccustomed to such violence against reporters who operate under the revered First Amendment and a long history of press freedom. But in this town where local journalism literally binds the community, the sense of loss hit hard.
"I'm here because this is a big loss, and that's about all I can say," Whitacre said as hundreds assembled for the candlelight vigil. "When I moved away from the area, the first thing I did when I came back was to subscribe to the Capital again so I could know what was going on."
Nearby, a woman wore a shirt that stated "Support real news." Another shirt said "Journalism matters."
"It's not right. It's just not right," another repeated as she embraced another mourner.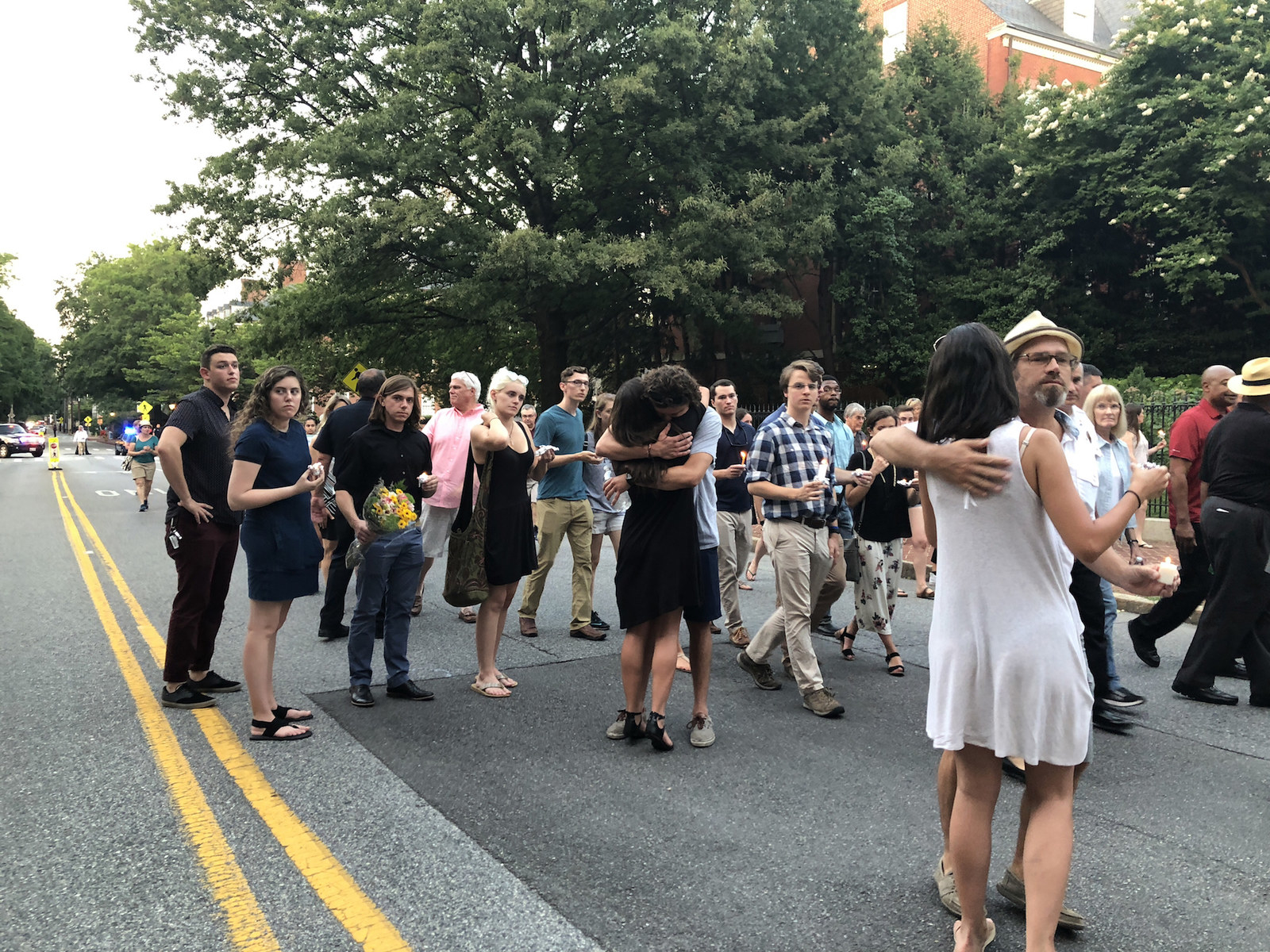 For others, the pain and grief had turned into anger. Police have not released an official motive for what they have called a "targeted attack," but Ramos had a long and documented history of threatening and harassing the Capital Gazette after he unsuccessfully sued for defamation in 2012 for a column about his guilty plea to criminal harassment.
Still, Barbara Zellin drew a connection for what happened Thursday to the constant barrage of anti-media rhetoric coming from President Trump. She held a sign that read "Stop attacks on the free press. That means you, Trump."
"I think you can draw a direct line from what [Trump is] saying to what happened," Zellin said. "Maybe people who are already unstable will take him literally. It can be considered permission to take out a grievance on people who are just doing their jobs."
Trump had earlier in the day offered his condolences, saying the attack "shocked the conscience of our nation and filled our hearts with grief."
After a rabbi spoke about the importance of forgiveness, a Capital Gazette staffer, his voice not much above a whisper, stood with several of his colleagues and urged mourners to donate what they could to the families of the victims.
"I wanted to say their names, because they are the story," he said. "They don't get to go home to their families. Their families don't get to have them."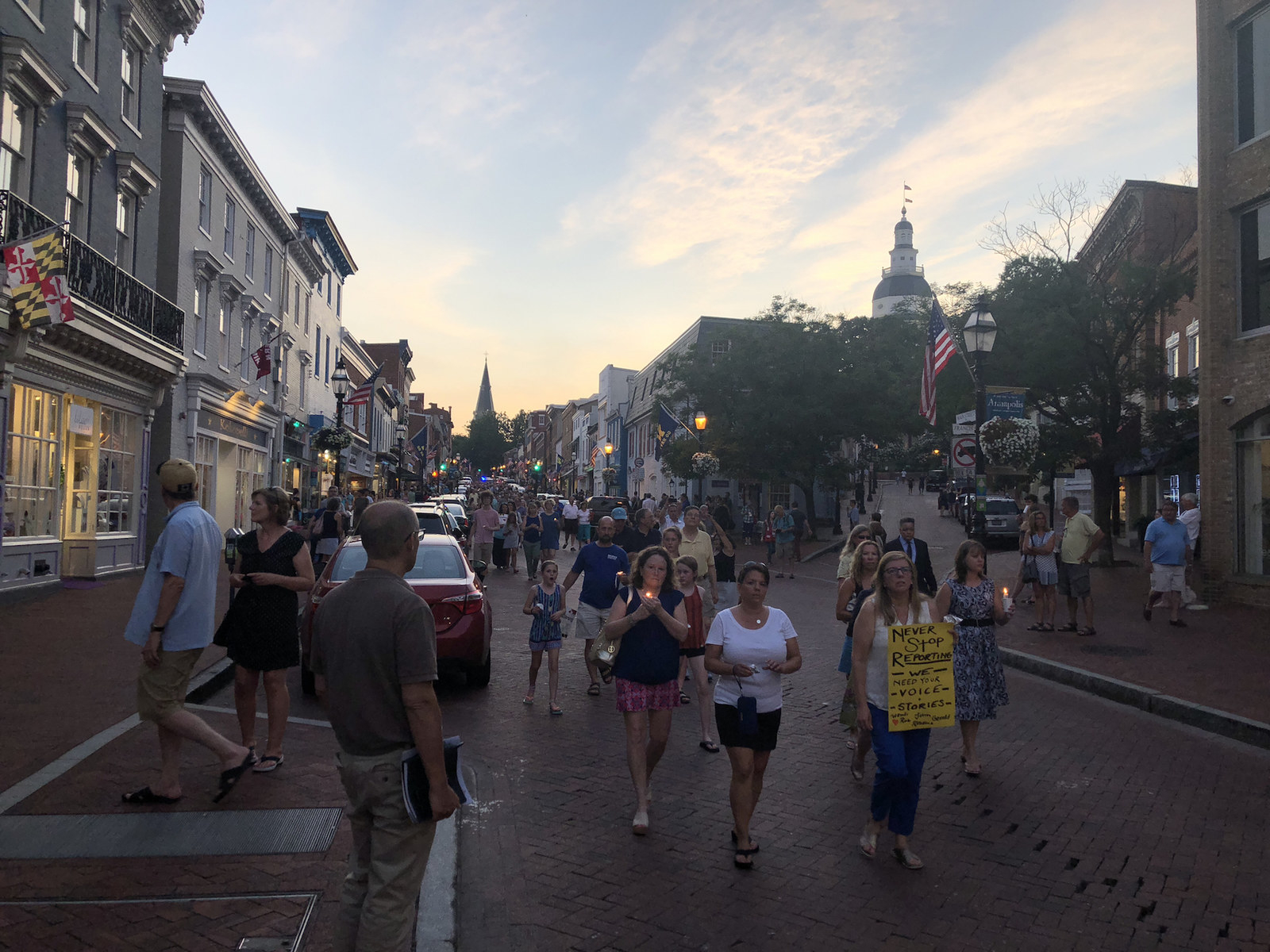 As night fell, a bagpipe played "Amazing Grace" while residents held signs and candles in silence before heading to the city's dock in a somber processional. Many shook hands with and thanked police officers, who officials credited with stopping what could have been a worse attack due to their quick arrival and confrontation with the shooter.
Shaneka Henson, a local city council member, said she came to the plaza "to be with people who feel the way I do."
CORRECTION
Shaneka Henson's name was misspelled in an earlier version of this post.