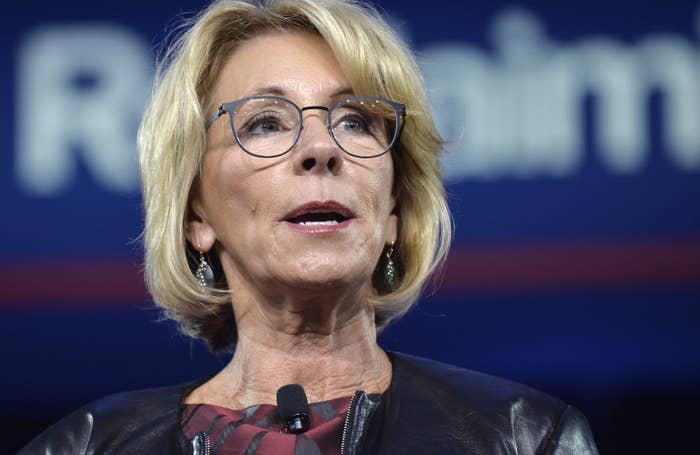 A top Education Department official in charge of the government's $1.4 trillion financial aid program abruptly resigned the day before Education Secretary Betsy DeVos is set to testify about President Trump's proposed budget.
"I cannot in good conscience continue to be accountable as Chief Operating Officer given the risk associated with the current environment at the [Education] Department," the chief operating officer of federal student aid, James Runcie, wrote in his resignation memo, which was obtained by BuzzFeed News.

Runcie quit after a dispute with DeVos, according to a source with knowledge of the situation. DeVos had ordered him to testify Thursday in front of the House oversight committee over the rising rate of improper payments in student aid.
An Education Department official told BuzzFeed News that the oversight committee had requested Runcie testify, and DeVos had "acted responsibly" by directing him to appear in front of them.
"I have been consistently on record and clear about not testifying at the upcoming hearing on improper payments," Runcie wrote in the resignation letter, adding that he had "not heard a single compelling reason" the department would need him to testify.
Runcie has testified in front of the House oversight committee several times before, including earlier this month, when he was questioned about a data breach that led to the exposure of confidential tax information.

But Runcie also cited broader issues with DeVos's education department, including projects that "divert critical resources" from the financial aid office. He said he was "encumbered" from "properly leading this great organization." Runcie was hired under President Barack Obama on a five-year contract.
The demand he testify at the hearing, said another source with knowledge of the situation, was the "straw that broke the camel's back... He doesn't like being used as a political pawn." Another source said Runcie "felt he just couldn't do his job under the circumstances."
"Successfully leading and managing a large, complex organization in the public sector requires alignment on governance and mission between operational leaders and political ones," Runcie said in a statement. "Simply put, I submitted my resignation late yesterday because that alignment no longer exists."

Sen. Elizabeth Warren said in a statement that reports that Runcie had resigned amid "political meddling" from DeVos are "cause for serious alarm. Congress needs to get to the bottom of what's going on here."
"It is disappointing Mr. Runcie would resign rather than testifying before Congress," said Rep. Jason Chaffetz, the chairman of the oversight committee, in a statement. "Under his leadership federal student aid systems are less secure [and] performance has suffered. I encourage Secretary DeVos to appoint a new COO who values security and competency over politics."

At a separate hearing today, Betsy DeVos will defend Trump's budget for education, which would slash some $143 billion, largely from higher education and student aid, over 10 years. The changes proposed to the student loan system would hit graduate students hard, eliminating a loan forgiveness program for public servants and a federally subsidized loan program for low-income students.

It will be the first time since her rocky confirmation hearing in January that DeVos has testified in front of Congress.