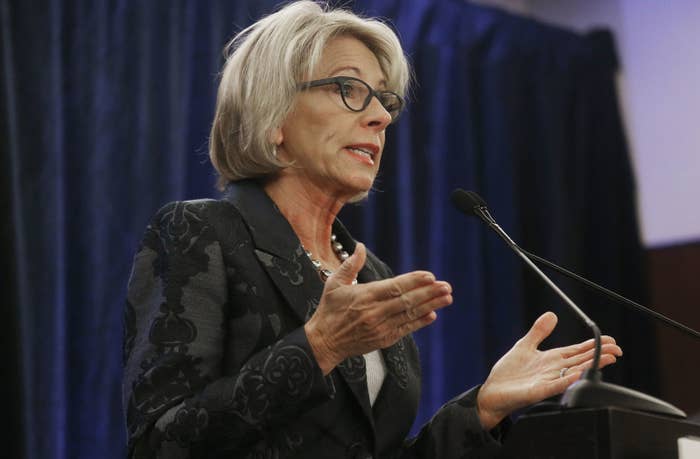 Education Secretary Betsy DeVos has strikingly high disapproval ratings across party lines, for what is typically a low-profile cabinet position, according to a new poll.
Republicans argued that once confirmed, DeVos's unpopularity would recede and the early controversies would not impede her ability to do her job. DeVos became a central cause of Democratic opposition during the confirmation process, and has weathered several high-profile controversies in the first few weeks of her tenure.

Thirty-one percent of all voters have an unfavorable opinion of DeVos, according to new polling by the firm PredictWise provided to BuzzFeed News. Just 16% of voters feel favorably towards the education secretary, the poll found.
That's compared to 23% who say they disapprove of Jeff Sessions, Trump's attorney general, and 28% who said they felt unfavorably towards Vice President Mike Pence. (Participants responded before this week's coverage of Sessions.)
What seems particularly notable about the numbers is the name recognition for DeVos, who was not a national figure until this calendar year.
The PredictWise and Pollfish survey received responses from 1,200 people on Feb. 27 through online and in-app polling methods. Economist David Rothschild, from` PredictWise, said he does not report margins of error because he does "not believe it can be accurately estimated."
BuzzFeed News worked with PredictWise on designing the exclusive poll as part of a regular partnership.
During DeVos's rocky confirmation process, she became something of an internet meme, with clips of several stumbles in her Senate hearing shown on late-night television shows and parodied on Saturday Night Live. DeVos's opponents, spurred on by teachers' unions, flooded Capitol Hill switchboards with calls — prompting two Republicans to vote against her and forcing the vice president to cast a tie-breaking vote on her nomination.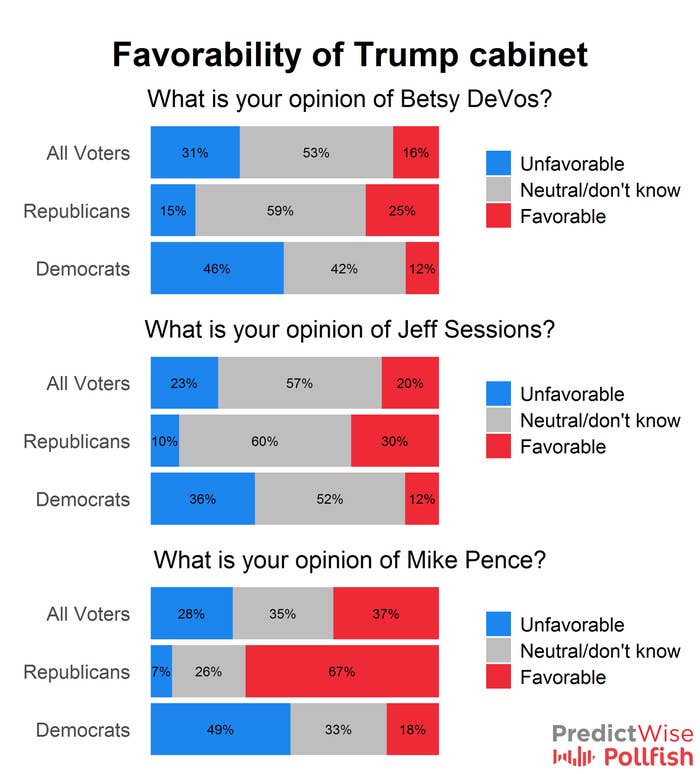 DeVos has been in the headlines repeatedly since her confirmation, including a misspelled Tweet that prompted furor and an incident in which she was blocked by screaming protesters from entering a Washington, D.C., public school.
But perhaps the most telling example of the potential pitfalls of her unfavorability came this week, during an attempt by President Trump to reach out to leaders of historically black colleges and universities. The president saw the overture to HBCU leaders, who had a difficult relationship with the Obama administration, as a way to curry favor with black voters.
But the biggest headline of the outreach effort came because of a statement from DeVos, who called historically black colleges "pioneers when it comes to school choice," saying they were founded to give "options" to students. The comparison of HBCUs — which were created because black students were barred from enrolling in white colleges — prompted furor from HBCU proponents. DeVos later walked back the statement, tweeting of black colleges, "your history was born not out of mere choice, but out of necessity."