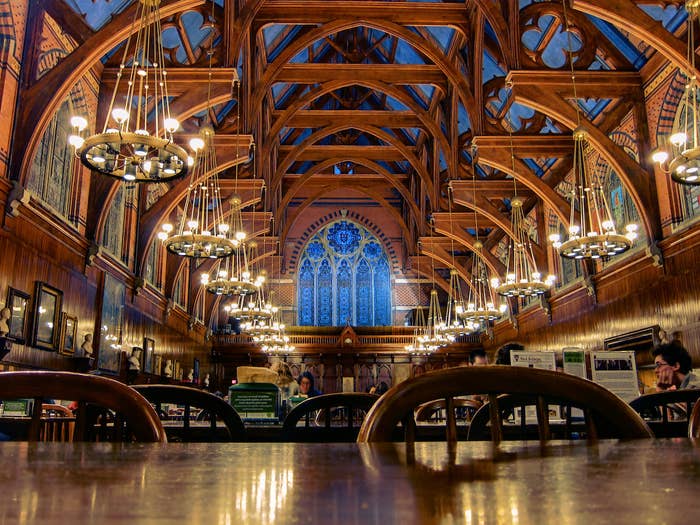 Harvard University's 600 dining hall workers went on strike Wednesday morning, calling for the university to pay them a living wage just a month after the elite school's current fundraising drive hit a record-breaking $7 billion in donations. Harvard has been left scrambling to stockpile frozen food to feed students, according to the student newspaper.
The strike is hinged on the school's extraordinary financial success, with fundraisers easily beating their goal to bring in $6.5 billion by 2018. Harvard maintains the $7 billion, like the rest of the university's endowment, is earmarked for other purposes, and cannot simply be drawn on to increase workers' pay.
Returns on the school's $35 billion endowment have been lagging for years, and its fund managers lost $2 billion in the 2016 fiscal year.
Strike organizers say the huge fundraising sum is symbolic of Harvard's vast wealth — and its relative stinginess when it comes to paying its laborers. The dining employees are asking for a minimum salary of $35,000 annually, union representatives said, and to keep their current healthcare plan, which requires them to shoulder fewer costs. Most dining hall workers aren't paid during school breaks and over summer holidays; Harvard says they make an average of $34,000, though the union says it is closer to $31,000.
Harvard has been resistant to the workers' demands, and the strike comes after more than three months of negotiations. Many student groups have voiced support for the striking workers, including thousands of undergraduates, medical students, and an alliance of 15 Harvard Law School groups who called the strike a "struggle" rooted in race and class. A group of Harvard Medical School students who analyzed the university's proposed health plan during the negotiations called the costs "unaffordable" for the average dining hall employee.
As students began to assemble for breakfast outside Harvard's cavernous freshman dining hall on Wednesday, striking employees thronged outside, chanting, "Hey, Harvard, you can't hide, we can see your greedy side."
Meanwhile, students have prepared for the strike like a looming apocalypse, with a post by the Harvard Crimson advising students to fill Tupperware containers with food and beg their parents for care packages.
"Who knows," the blog asked, "How long it could take Harvard to find adequate funds for its workers from that thirty-seven billion dollar endowment?"