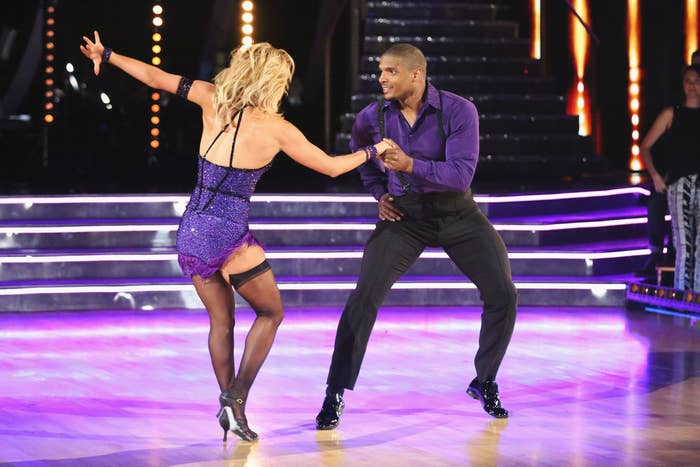 "You pasted a smile on your face, and you don't need to do that," Carrie Ann Inaba said. "Just be authentic." The dancer and television host was commenting on Michael Sam's cha-cha, with Peta Murgatroyd, on ABC's Dancing With the Stars Monday night. But she might as well have been talking about the double bind in which Sam, the 25-year-old football player, currently finds himself.
Sam has — to put it politely — not exactly been rewarded for his authenticity. The first openly gay player drafted into the NFL, Sam was cut from two teams and failed to make it onto an active roster during the 2014 season. No wonder, then, that the smile on his face during his defiantly exuberant premiere on the dance competition reality show seemed fake. It was at once an attempt to parry pity and a plea for sympathy. I'm happy to be here, he seemed to be saying. But can you believe I'm here?
In one sense, Michael Sam, as a Dancing With the Stars competitor, is in good company — alongside NFL Hall of Famers Warren Sapp, Emmitt Smith, Jerry Rice. Retired Steelers receiver Hines Ward—who has 1,000 career catches and two Super Bowl rings—won Season 12. Smith won Season 3, in part on the strength of a freestyle finale that included four lifts, a showcase for his athleticism. Sapp and Rice were both runners-up, wowing judges with impressively intricate footwork in their finale dances.
But in another sense, Sam is emphatically alone. Unlike Sapp, Smith, Rice and Hines, Sam is not retired. He has never been in the playoffs; he has no Super Bowl ring. Michael Sam has not so much as lined up on a single down during the regular season with a professional football team. "Before a football game," Rice said to his partner, Anna Trebunskaya, as they rehearsed in advance of the finale, "when I walked onto the field, I could visualize what was going to happen, so this is what I'm visualizing right now: We are going to have a performance of a lifetime." Rice's appearance on the show was a footnote to an illustrious career. Sam's performance threatens to become the whole of his legacy. "That butt is a work of art," commented judge Bruno Tonioli after Sam's performance. "Michelangelo's David got nothing on you."
As a football fan, watching Sam's dance moves — his body itself clad in a suit instead of spandex — critiqued by Julianne Hough instead of Al Michaels, it's hard to see his decision to join DWTS as anything other than an admission of defeat. We fought the good fight, but the bigots won; see you on the dance floor. Or, more cynically, as an attempt to parlay his brief but widely observed tenure in the NFL into a media career beyond it. But Sam, for his part, refuses to surrender. "I'm very confident I'll be playing football this season," he said in a promotional video released ahead of the premiere, "whether it's in the NFL or the CFL."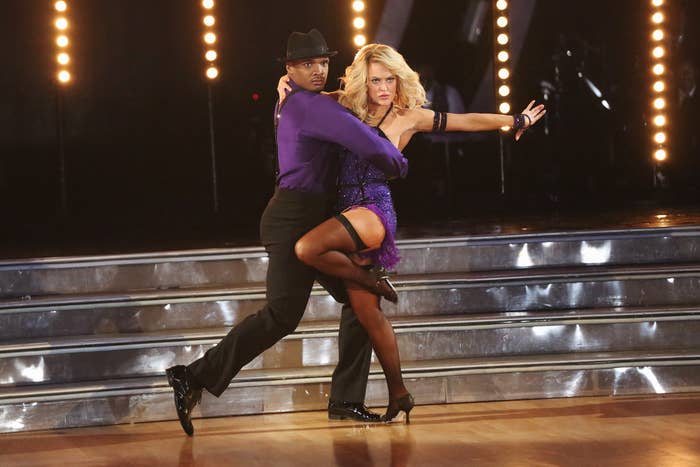 And Sam will get a second chance at a professional football career before the next episode of DWTS airs. On March 22, he is expected to appear in the NFL's first-ever Veteran Combine, a scouting showcase like the one held annually for college players, but for the ex-players whom NFL Director of Player Development Matt Birk dubbed "Ph.D.s:...poor, hungry and determined." "It's so intriguing to watch these guys," Birk said. "They're not doing this for the glory, they're long shots. There's something about that that really captivates us." And considering "that" is a second shot at a career that lasts 3.3 years on average, the Veteran Combine makes samba-ing your way across America's television screens seem like a pretty dignified and safe bet in comparison.
Dancing With the Stars — despite an inauspicious 2005 inaugural season in which Bachelorette Trista Sutter counted among six quote-unquote stars — has managed to convince a varied and surprisingly illustrious cast to tango and jive and waltz across its stage. Mixed in with the contestants whose names are familiar for no good reason (Holly Madison, Season 8, eliminated third) and the contestants whose presence suggests a combination of stunt casting and desperation (Drew Lachey, winner Season 2; Tom DeLay, Season 9, eliminated fourth), one finds honest-to-goodness, genuine celebrities. These contestants seem too famous in their disparate fields to wriggle into sequined costumes for our viewing pleasure. Buzz Aldrin, who walked on the moon, was eliminated second in Season 10. Cloris Leachman, who won the 1971 Academy Award for Best Supporting Actress for her role in The Last Picture Show, was eliminated seventh in Season 7. Other alums include Kim Kardashian, Lil' Kim, and Apple co-founder Steve Wozniak. Because of them, an appearance on DWTS isn't inherently embarrassing. And while no one goes on Dancing With the Stars at the height of their fame, nobody's career has been ruined by participation. This is in part because, by the time they compete, many have no career left to ruin. This may be true of Sam as well — though if it is, he doesn't know it yet.
Some sports analysts will tell you that Sam was drafted low and cut twice because he is small for his position — just under 6 feet 2 inches tall, only 260 pounds. Not that his size was a problem during his preseason play with the Rams, during which he racked up 11 tackles and three sacks. Since 1994, he is the only Defensive Player of the Year from any of the big five college conferences to be drafted and then subsequently fail to make the active roster during his rookie season. (Cyd Zeigler of Outsports has compiled a series of stats focused on Sam's unfortunate exceptionalism, from which these numbers were taken.)
It's hard to look at the numbers and conclude that Michael Sam's sexual orientation did not play a role in his inability to secure a spot on an NFL roster, however oblique. Tony Dungy, who coached the Indianapolis Colts to a Super Bowl, admitted he wouldn't draft Sam — because of the "media attention" his groundbreaking presence would attract. (Football: the notoriously media-averse sport that requires its players to speak to the press — and fines them when they don't.) Get NFL insiders talking, and they'll tell you the league just isn't ready. "To call somebody a [gay slur] is still so commonplace," an anonymous NFL personnel assistant told SI.com. "It'd chemically imbalance an NFL locker room and meeting room."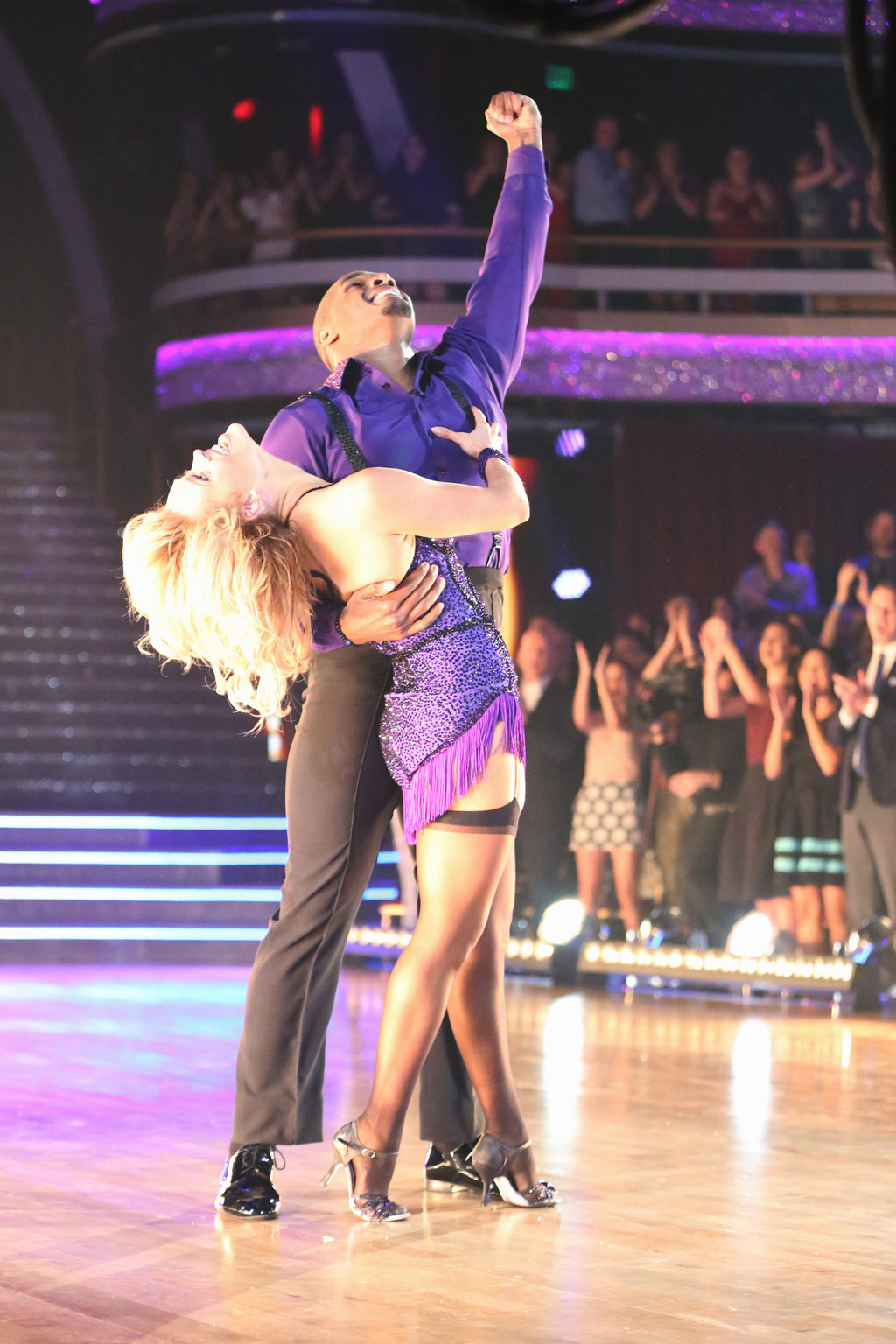 It's possible a DWTS win would endear Sam to a progressive NFL franchise. But it's equally easy to imagine how his appearance on a dancing show watched by up to 16 million Americans would exacerbate homophobic fears about media attention and locker room chemistry. And yet Sam remains undeterred, battling both the odds (an estimated 1.6% of NCAA football players will make it in the pros) and those he referred to during Monday night's premiere as "haters."
I, for one, wish he would stop. Not because the NFL should be allowed to discriminate against gay men, but because Sam charmed me, rigid grin and all. And rooting for a football player's success is an increasingly queasy business. The financial troubles that plague retired pros — a 2009 report by Sports Illustrated estimated that 78% are bankrupt or "under financial stress" within two years of leaving the league — make the career trajectories of reality TV contestants look positively rosy. Especially considering the NFL itself now admits that nearly a third of its retirees should expect to suffer "long-term cognitive problems." Those include CTE, or chronic traumatic encephalopathy, the degenerative brain disease Junior Seau was diagnosed with post-suicide. Last Friday, 24-year-old linebacker Chris Borland told the San Francisco 49ers he would not be returning to the field this fall. The reason for his early retirement? "I just honestly want to do what's best for my health," Borland told ESPN's Outside the Lines. "From what I've researched and what I've experienced, I don't think it's worth the risk."
The Junior Seau suicide — like the Ray Rice domestic abuse cover-up and the Michael Sam controversy — is just one of a number of episodes in the past few years that suggest that the NFL, in its current form, is a lethal, lumbering dinosaur of a sport. If and when it does go extinct, I'd rather Michael Sam cha-cha away unscathed.