The US Military Says The Withdrawal Of Troops From Syria Has Begun
It follows weeks of confusion and contradictory statements over the future of the US-led coalition fighting ISIS.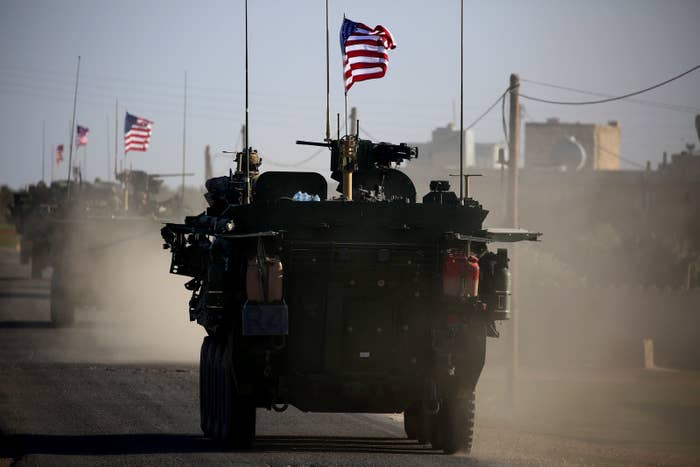 BERLIN — The process of withdrawing US troops helping an international coalition fight ISIS in Syria has begun, sparking the latest round of confusion over the future of their mission.
The US-led coalition "has begun the process of our deliberate withdrawal from Syria," spokesperson Col. Sean Ryan told the Associated Press.
"Out of concern for operational security, we will not discuss specific timelines, locations or troop movements," Ryan said.
It was unclear what bearing, if any, the new announcement had on the timing of the withdrawal, which has been in flux since President Donald Trump's surprise order in December. The US military was reportedly sending logistical support to the region, including troops and naval vessels, to assist with the eventual withdrawal. But that shed no new light on when US troops might begin to leave the country — and even then, how long a complete withdrawal would take.

Around 2,000 US special operations commandos and trainers have been working alongside some Syrian rebels and a Syrian Kurdish militia to defeat ISIS in its last remaining strongholds.
Local fighters at outposts around Syrian territory controlled by US allies said they had not seen any US troop movements that would suggest a comprehensive withdrawal was imminent.
The coalition statement comes after weeks of inconsistent and contradictory reports and statements from President Trump, national security adviser John Bolton, and Secretary of State Mike Pompeo about the end of the mission.
The initial surprise announcement last month from Trump resulted in the immediate resignations of James Mattis — then secretary of defense — and the top American envoy to the coalition, Brett McGurk, leaving US allies reeling as the resulting weeks saw multiple apparently contradictory statements.
On Sunday, the president said that the withdrawal was conditional on developing a system to keep Turkey from attacking America's Kurdish allies in Syria, who are linked to insurgents waging a decades-long insurgency in southern Turkey. Ankara considers those US-backed fighters to be terrorists and has threatened them repeatedly.
But by midweek that suggestion had been rejected by Turkey, which is deeply concerned about a large, well-trained, and US-armed Kurdish militia defending an ethnic enclave on its southern border.