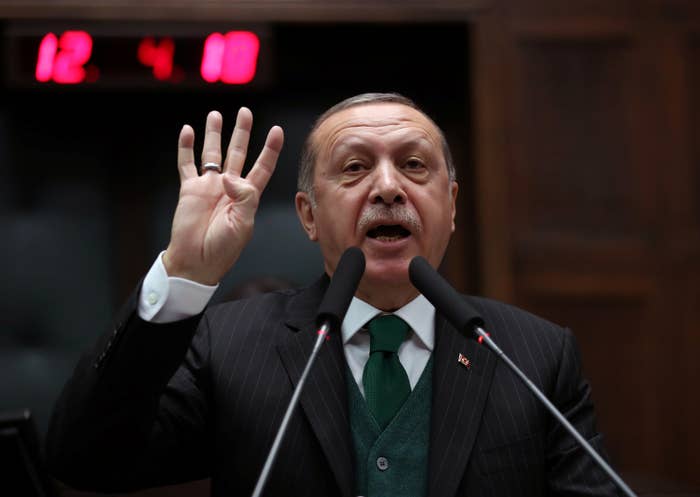 BRUSSELS – From 2011 to 2013, even as Turkish officials were declaring their financial and military support for the anti-Assad rebels in Syria, top officials closely linked to Turkish President Recep Tayyip Erdogan were helping the Syrian regime's then most powerful backer, Iran's Islamic Revolutionary Guard Corps, launder money and evade sanctions, according to multiple filings made by U.S. prosecutors in a case scheduled to go to trial later this month in New York City.
The defendant in that case, Reza Zarrab, a Turkish-Iranian citizen who U.S. prosecutors claim was the lynchpin of a conspiracy to launder money through international gold markets, appears to be cooperating with prosecutors, who in recent weeks have filed documents promising to show that the ring had the backing of top Turkish officials.
Turkish officials have been adamant since Zarrab's March 2016 arrest that he should be returned to Turkey. Erdogan initially described Zarrab's arrest as "a step against the Turkish Republic," and diplomats have said the Turkish president's anxiety over Zarrab's prosecution is in part behind the arrest of US citizens in Turkey on vague espionage charges.
The new filings help explain that anxiety. Not only do they seek to tie Zarrab to the scheme, but they want to prove that Turkish officials were complicit in the plot, which benefited Turkey's sworn enemies in Syria.
"The Turkish public will get to see in greater detail that with the gas-for-gold scheme the Turkish government facilitated not only Iran's sanctions busting, but also its war effort in Syria," Aykan Erdemir, a former opposition-party member of Turkey's parliament and now a senior fellow at the Foundation for the Defense of Democracy, told BuzzFeed News. "The ongoing case will expose the hypocrisy of the Turkish government shedding tears over Syrian victims of a regime that Ankara indirectly supported."
The case against Zarrab has been a legal spectacle since it was filed. His defense team includes some of the nation's most prominent attorneys, including former New York City mayor and Trump confidant Rudolph Giuliani. Prosecutors have continued to expand the case, however, naming other defendants, including a former Turkish economy minister, and promising to produce evidence that the ring had the backing of top Turkish officials.
Zarrab also appears to be negotiating with prosecutors to cooperate, a move that threatens to turn the prosecution into an exploration of whether Turkish officials profited massively from the scheme.
Zarrab and his co-defendants are accused of using the U.S. financial system to launder hundreds of millions of dollars from gold trading through a series of shell companies. Prosecutors allege that Zarrab and others profited handsomely from the scheme, including top members of the Turkish government as well as multiple Iranian companies that the US Department of Treasury had designated as supporters of terrorism via the IRGC and its Lebanese ally, Hezbollah.
In recent weeks, followers of the case have been baffled by the behavior of Zarrab's legal team, which has yet to file a major pre-trial motion and failed to meet an Oct. 31 deadline to propose how a jury should be selected – a failing legal analysts described as either deeply incompetent or, in light of Zarrab's counsel's excellent professional reputation, a sign that Zarrab is negotiating a plea deal or is expecting the case to be dropped.
"Benjamin Brafman [Zarrab's lead attorney] is no idiot, and failing to file any pretrial motions or suggestions for jury instruction for a client about to face decades of prison on quite strong charges would be beyond incompetent unless he was extremely confident that his client wasn't actually going on trial later this month," a former federal prosecutor who'd been involved in the case during the Obama administration told BuzzFeed News. He declined to be identified by name speaking about a federal prosecution he was no longer involved in.
Lawyers for one of Zarrab's alleged co-conspirators agree that Zarrab appears uninterested in the start of the trial. In a filing at the end of October, lawyers for Turkish banker Mehmet Hakan Atilla observed that Zarrab had not participated in preparations for the trial and that it seems "likely" Atilla will be alone in facing the jury. Bloomberg reported Thursday that while Zarrab remains in US custody, he is no longer being kept in jail, another sign he's cooperating.
Zarrab and Atilla are the only defendants – there are nine in all – currently in US custody. The rest are believed to be in Turkey, and the Erdogan government has refused to cooperate in their extradition.
Calls to Zarrab and Atilla's legal team, as well as to prosecutors in the Southern District of New York, who are trying the case, went unreturned.
"There are strong signs that Zarrab will be a cooperating witness against Atilla," according to Ilhan Tanir, executive editor of Ahval, a website that closely follows the case.
Prosecution filings suggest at least three unindicted conspirators working for either an Iranian shell company, Mellat Holdings, or with Zarrab's company, Royal Holding, have provided details that prosecutors claim prove a conspiracy among Zarrab, his co-conspirators and Iranian agents.
"There's no way these charges will be dropped for anything less than full cooperation because it's the first step in dismantling a huge conspiracy by the Iranian regime to make hundreds of millions of dollars from the illegal sale of oil," the former prosecutor said. "Erdogan and his cronies think this is about some insult to Turkey and never could see that Turkey was never the goal. Stopping the Iranians from making huge money for their weapons and terror programs was always the plan."
The indictments claim that Zarrab's Royal Holding conducted multiple international wire transactions at Zarrab's direction to benefit Mellat Holdings, an Iranian company the US Treasury Department considers a front for the IRGC. Both were sanctioned by the Office of Financial Asset Control in 2007. Mellat and its multiple subsidiaries, which include an airline and construction companies, have been linked repeatedly to both the IRGC and Hezbollah as providing critical logistics and fundraising support.
"Mellat is literally run by the al Quds Force," a former Israeli intelligence official who tracks Iranian companies for lawsuits told BuzzFeed News, referring to one part of the IRGC. He asked to be identified only by his nickname, Arik, because he continues to work under cover but his statement was reinforced by the U.S. government's clear agreement via multiple Treasury Department filings on the company justifying OFAC sanctions.
"These are the guys who do heavy construction work in Lebanon, Syria, Iraq and probably a bit in Yemen in support of Iranian–backed groups. Their planes are also critical for moving Hezbollah fighters and other Shiite militias around the region for training and operations," Arik said.
While the prosecution's initial focus was Iran, recent court filings suggest prosecutors also will try to link Zarrab and his co-conspirators to top Turkish officials who allegedly were paid to allow the scheme to operate without interference.
In a filing unsealed on Oct 30, prosecutors referenced an intercepted phone call between Zarrab and an employee in Turkey where Zarrab openly suggested he had the backing of Erdogan as well as references to an abandoned plan to purchase a Turkish bank that Zarrab allegedly discussed with Erdogan at an April 2013 wedding.
Although the plan to outright purchase a bank appears to have been abandoned, the original indictment includes accusations that the scheme used Atilla's role as deputy CEO of one of Turkey's largest banks, Halkbank, to launder billions of dollars of Iranian oil revenue through fraudulent transactions and bribes of Turkish banking regulators.
In the Oct. 30 filing, prosecutors said they expect to introduce evidence that Turkish bankers and officials were "integral to the sanctions evasion scheme," which multiple observers of Turkish politics said was the reason Erdogan has been so angry about the US case against Zarrab. With elections scheduled for 2019, revelations that officials close to Erdogan were part of the conspiracy could become a liability for Erdogan and his AKP political party.
"It could be catastrophic for the AKP to be implicated as a conduit for Iranian influence peddling," said Erdemir, the former opposition-party member of Turkey's parliament. "The Turkish electorate would be much less tolerant of the allegations of betrayal and treason than graft...Such fears explain why the Turkish government has been frantic in its efforts to prevent Reza Zarrab from testifying."