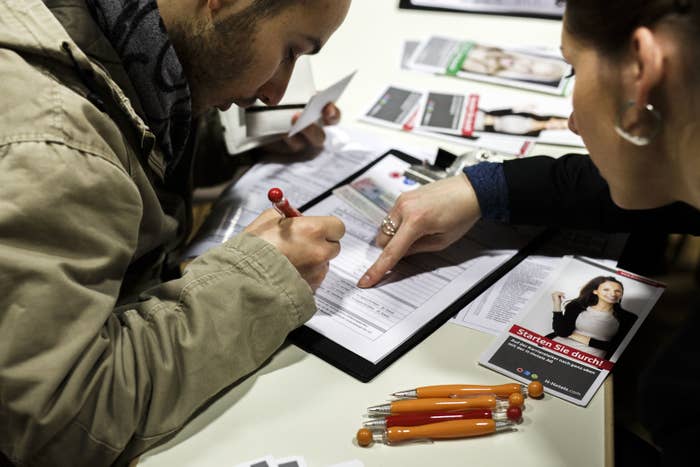 The offer came to a BuzzFeed News employee via a Facebook message: Are you interested in buying hundreds of legitimate identity cards issued to Syrian refugees in Germany who recently returned home to Syria?
The seller didn't realize that the potential buyer was a journalist, but also didn't seem to care very much when informed. He openly described the origin of the cards, explaining that hundreds of Syrian refugees had given up trying to start new lives in Germany, returned home and had found a thriving black market for documents in Turkey and Syria, often selling their German papers to the same smugglers who'd helped them flee to Europe in the first place.
It's a quick payday for Syrian refugees, more than 500,000 of whom in recent years have been granted a range of German documents, from refugee cards to passports. And it's a potential headache for European officials, who worry that easy access to valid documents could allow would-be militants to slip into Europe under assumed identities without the checks that normally apply to migrants from the Middle East.
"It's inevitable that this would happen to some degree, and everyone knew that going back to 2015," when the largest numbers of refugees arrived in Europe, said one non-German European counterterrorism official, who asked not to be named, discussing what his service considers a downside to Germany's decision to accept nearly a million refugees, mostly from Syria and Iraq.
But while not surprising, the official said, the potential results are troubling — though his service and others so far are unwilling to raise alarms for fear of increasing the already fraught politics that surround Germany's resettlement program.
"We need to keep an eye on this so it's not exploited by terrorists hoping to access Europe," the counterterrorism official said. "But we also don't want to fuck over the Germans by acting like it's extreme behavior that forces us to reevaluate the resettlement program."
German police and intelligence officials privately acknowledged the documents' availability, but declined to discuss it on the record.
How many documents are available on the black market in Turkey and Syria is unknown. The European official believes to date the numbers are low — not large enough to consider the availability a failure of German policy, he said. It was "completely predictable," he said, "that poor, desperate people fleeing horrible wars wouldn't completely follow the rules."
Still, the availability of valid documents on a black market could make it easier for suspected militants from the Middle East or a European-born militant who wanted to return home without being detected to cross into Europe under an assumed identity. A suspected or wanted militant "wouldn't need these papers to hold up longer than a single border crossing into the Schengen Zone," the counterterrorism official said, referring to the 26 European countries that don't require a visa or passport to travel among them.
Much of the Paris-Brussels cell that conducted attacks in Paris in 2015 and Brussels in 2016 used the mass flight of refugees to hide their identities — many were known to European intelligence services — but there has been no public sign that militants have attempted to exploit the system since.
Officially, the number of Syrians who have accepted a German government offer for help returning to Syria is small — government-provided statistics place the number at around 500 people — but the actual numbers are hard to fix because, according to interviews with smugglers and refugees, many return to Syria without telling Germany so they can preserve the option of returning to Europe. There is no mechanism for retrieving documents from Syrians who go home.
An internal report by the German Federal Police reviewed by the German publication Der Spiegel said that as of mid 2018, 579,184 refugee identity cards had been issued to the estimated 800,000 asylum seekers, and that in 2016 there were 440 cases of refugees using someone else's card to enter Germany. That number rose in in 2017 to 554.
Selling the documents can be highly lucrative for a returning Syrian, according to smugglers — depending on how difficult a document is to obtain and how many separate documents a refugee might have been granted.
A refugee identification card, which Germany began issuing to virtually all Syrian arrivals starting in December 2015 and which allows a refugee to travel around Europe as well apply for housing and financial support, might fetch the equivalent of $175 when sold to a smuggler in Turkey.
The price rises for each additional document, with a valid German passport bringing the highest price.
"The more the passport can be issued with a health card, a bank card, a German identity card and a driver's license, the more the passport becomes stronger," said an Istanbul-based smuggler who works with Syrians in both Turkey and Syria.
The smuggler said he's willing to pay a returning Syrian nearly $600 for a valid passport, and $175 each for other documents that support that identity. He then resells those documents to anyone willing to pay — as much as $2,300 for a passport that requires no alterations — "if we find someone who looks like the person in the picture," the smuggler said. If the photographs need to be changed, the price drops.
The smuggler said he's sold hundreds of documents and currently averages between seven and 10 sales a month. He doesn't ask many questions about why buyers want the documents, but he said most appear to be Syrians hoping to use someone else's card to avoid a long wait in a refugee camp outside Germany. In a quirk of the system, any Syrian who makes it to Germany, even if they use fake documents, can request asylum.
Identity papers also aren't the only marketable items refugees bring with them when they return to Syria from Germany. "I have noticed that most of the people who come to sell their papers are also offering iPhones for sale," said the smuggler. It turns out, most of those phones were purchased on installment plans that go unpaid once the refugee leaves Germany. A new iPhone from Germany sells for about $300 in Syria, the smuggler said — though he said most returning Syrians try to sell them in Turkey, where they often can get double.
Al-Awad reported from Istanbul.