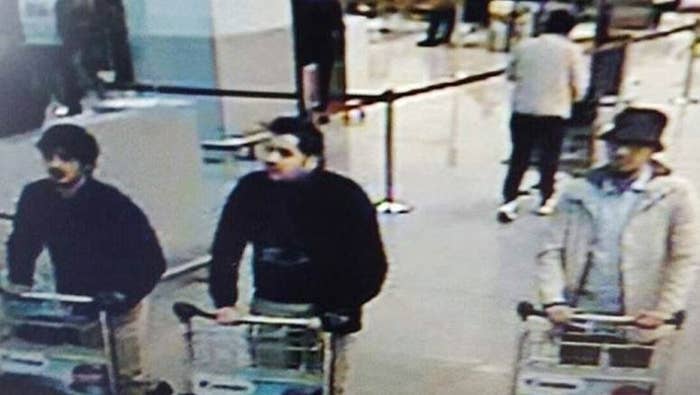 These three men are suspects in Tuesday's attacks at Brussels Airport, a Belgian police official confirmed to BuzzFeed News.
The Belgian Federal Police said in a Facebook post they are looking for the identity of the man on the right wearing a dark-colored hat. He is suspected to be at large.
Authorities have said that at least one of the two blasts at the airport was from a suicide bomber.
ISIS claimed responsibility for the attacks on the airport and a crowded subway station, saying fighters carried them out with "a series of bombings with explosive belts and devices," according to SITE Intel Group, citing a statement from ISIS-affiliated Amag News Agency.
According to the police official, a Kalashnikov rifle was also found on the ground at the scene.
Belgium was targeted for "participating in the international coalition against the Islamic State," according to the ISIS statement.
"We promise very dark days to the crusading states that formed an alliance against the Islamic State, as an answer to their aggression against our state," a second statement reads. "And what awaits you will be harder and more bitter."