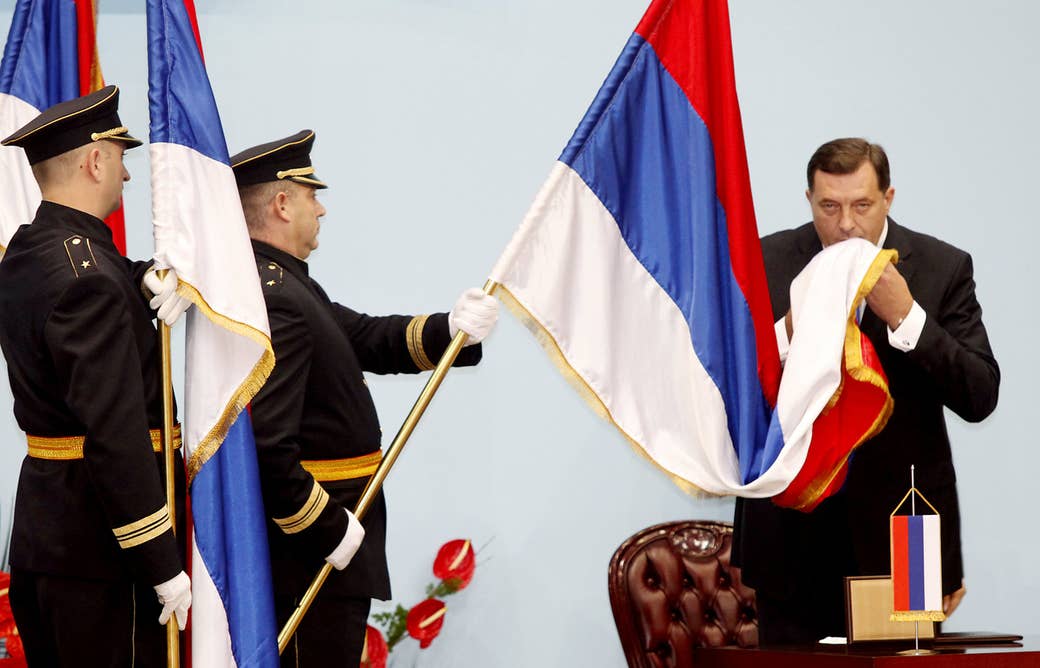 BANJA LUKA, Bosnia-Herzegovina — A bitterly contested election in Bosnia-Herzegovina on Sunday is being watched for signs that a populist, nationalist movement backed by Russia and opposed to an expansion of NATO and the European Union in the region is gaining strength.
More than 20 years after the collapse of the former Yugoslavia sparked a series of nasty ethnic wars that drew European and US military intervention, Bosnia remains bitterly divided after it was the scene of some of the bloodiest fighting in Europe since World War II.
As Bosnians vote in both federal and local elections that will determine the leadership of the two ethnic statelets — the Serb Republic and the Bosnian Federation, which represents Muslim Bosnians and Croats — a major rift among the traditionally nationalist Serbian political establishment has put major pressure on the long-standing president of the enclave.
Milorad Dodik, the Serb Republic's current president, is a front runner to be reelected as the Serbian representative to the country's three-person national presidency. But his campaign for that office comes amid complaints that his rule of the Serb Republic has grown more opaque and authoritarian as he adopts attitudes that his opponents say are cozying up to Russian President Vladimir Putin. Dodik argues that the Serb Republic needs a good relationship with Russia, and has repeatedly blamed any concerns about his pro-Russia policies and autocratic style on what he calls "foreign influence" promoted by civil society groups he claims are backed by a mixture of US soft power through aid programs, or by billionaire philanthropist and frequent target of the populist right wing, George Soros.
"Some headquarters of the West, who are trying to settle things globally with Russia, came up with this," he said a week ago, during a visit with Putin in Sochi, Russia. "We reject this. We have normal, friendly cooperation," Dodik said.
A host of issues have dogged his reelection campaign:
A grassroots movement is demanding a proper investigation into the death of David Dragičević, 21, a student and activist whose body was discovered in late March in shallow water in the river Crkvena outside Banja Luka, the Serb Republic's quaint regional capital. By summer, a vigil that Dragičević's parents held each day in front of the Serbian government's administrative offices had become a daily political embarrassment for Dodik. Banja Luka swirled with rumors that Dragičević had run afoul of men close to the presidency and that the inconclusive official investigation had been cursory at best. Dodik responded by accusing activists and journalists probing the case of being instruments of foreign powers.

The beating of Vladimir Kovačević, an independent journalist who claimed he was assaulted by the president's supporters. "The attack was a reaction to my work — but I cannot say to which part. I covered Justice for David just like any other reporter," he said. Within days of the attack, unnamed Serbian officials were being quoted as saying that Kovačević's work was funded by Soros and the US Agency for International Development, with Kovačević allegedly receiving more than $80,000 to attack the presidency and Dodik. Kovačević called the allegations ridiculous.

Growing questions about Dodik's spending on lobbying efforts in the US, which have totaled $30 million over the past 10 years, an incredible sum for a statelet with just 1.1 million residents and an economy one-third the size of the state of Vermont's. For comparison, the other Bosnian statelet, the Federation of Bosnia-Herzegovina, with a population and economy twice the size of the Serb Republic's, spent zero in the same 10 years. Bigger nearby countries also didn't keep pace.

Dodik has declined to explain the expenditures, complains Mladen Ivanić, the leader of the Party of Democratic Progress — the main Serbian opposition to Dodik's party, the Alliance of Independent Social Democrats (SNSD) — who currently is the Serbian member of Bosnia's national three-way presidency.
"We wouldn't even know he was spending money like this if it wasn't for the US FARA database," Ivanić said, referring to the Justice Department's database for registrants under the Foreign Agents Registration Act. "What do we get for this money? Has the [Serb Republic] gotten more influential with the Americans because of it? Of course not."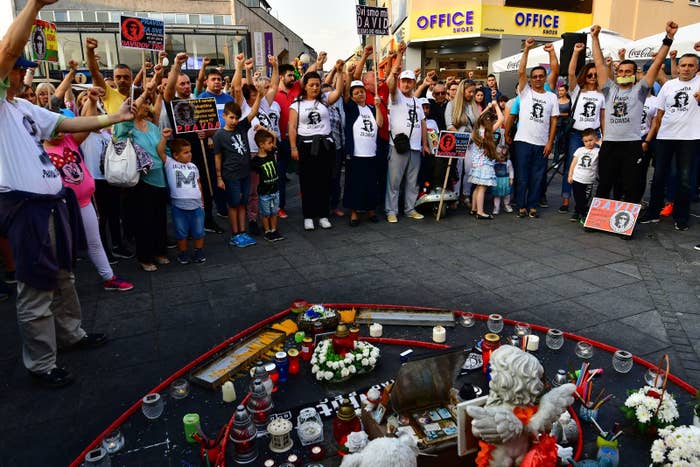 In Washington, the details provided in the Justice Department's FARA database suggest none of the lobbyists who received money from the Serb Republic did anything beyond arrange meetings between Serbian officials and mid-level State Department officers — something that could have easily been coordinated by the Bosnian Ministry of Foreign Affairs or the Bosnian Embassy in Washington.
"If we had not spent this money, were the Americans going to attack us again?" he joked.
The questions surrounding the Serb Republic's US lobbying were only deepened over the summer when the details of its most recent lobbying contract with a company called Twin Rocks Global became public. The company's principals, Jason Osborne and Michael Rubino, are former Trump campaign advisers, and the company's mailing address is a townhouse owned by former Trump campaign manager Corey Lewandowski. On Sept. 18, Rubino joined the Trump administration as an outside adviser to the secretary of the Department of Health and Human Services.
Osborne, Rubino, and Lewandowski did not respond to requests for comment.
But it's not the Trump connection that raises the most questions about the contract but its relatively paltry size — just $10,000 per month for three months. The Serb Republic traditionally pays much more; another current lobbying contract, with the DC lobbying firm of Picard Kentz & Rowe, calls for payments of $90,000 a month through Dec. 31, 2018. In the first half of 2018, according to FARA documents, the Serb Republic paid Picard Kentz & Rowe $630,000. Serb Republic lobbying payments totaled more than $1.6 million in 2017, FARA documents show.
"Three months at $10K per month might get you a cup of coffee and a nice PowerPoint presentation from a junior staffer on why we can't help you," said one DC lobbyist with multiple foreign clients, commenting on the size of the contract.
Picard Kentz & Rowe did not respond to a request for comment.
Dodik has had a checkered role in the violent history of Bosnia-Herzegovina, whose civil war claimed an estimated 100,000 lives over three and a half years.
In January 2017, the Obama Treasury Department added Dodik to its list of sanctioned officials for obstructing peace efforts — a decision that came after years of frustration with Dodik's rhetoric toward the conditions of the 1995 Dayton Accords that ended the civil war. The sanctions called for freezing his assets in the United States, though it's not known if he had any.
Dodik, however, wasn't always seen as an obstructionist by US officials. At the time of the Dayton Accords, which set up the complicated two-statelet system that now reigns here, Dodik was seen as a progressive politician essentially untainted by the political and religious bloodletting of the post-communist collapse of the former Yugoslavia.
"A breath of fresh air," then–US secretary of state Madeleine Albright said during Dodik's visit to the United States in 1998, when he was the Serb Republic's newly elected prime minister.
But in the wake of NATO's intervention in Kosovo a year later to ensure its declaration of independence from Serbia and increasing anger within Serbian communities across the former Yugoslavia toward what Serb politicians portrayed as anti-Serbian bias in the post-Dayton world, Dodik lost his position in 2001 and began the process of quietly reinventing himself as a Serbian nationalist.
According to a former EU diplomat who was in the region at the time, Dodik's reinvention in 2006 was an astute political move that caught much of the European Union off guard. The US, the former diplomat said, by that time was largely ignoring Bosnia as it became more deeply enmeshed in the wars in Iraq and Afghanistan.
"He comes back in 2006 as a Serbian nationalist just enough to split the other nationalist votes while also banking on his reputation as moderate with the EU member states who hold the purse strings," said the former diplomat, who now runs a consulting company and asked to remain anonymous so as not to alienate potential clients. "But even at the time he felt betrayed by the US for 'letting' him lose in 2001. It was clear he'd taken all the attention and good press after Dayton as some kind of coronation, and that he'd be the Americans' guy and they'd make sure he kept getting elected."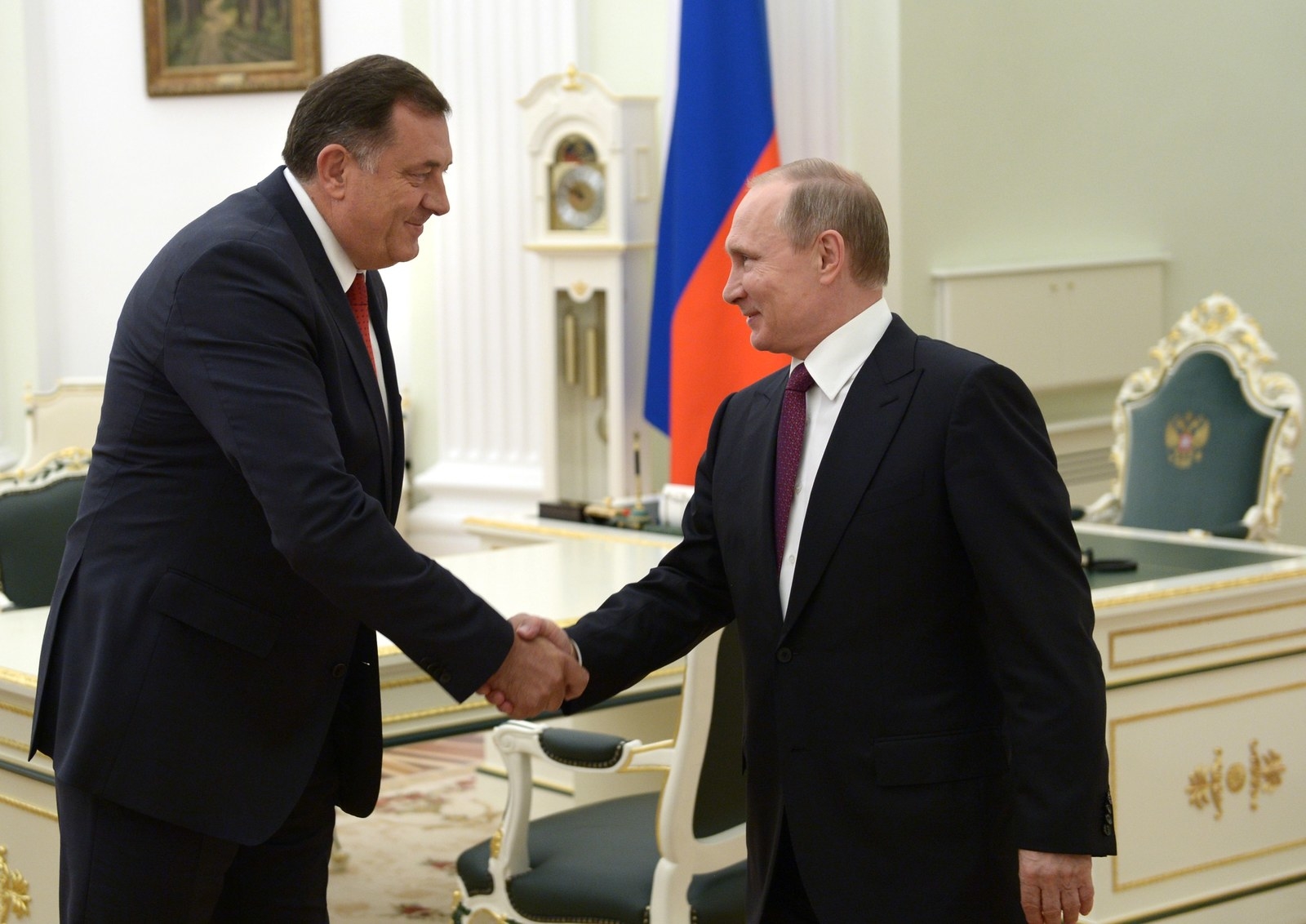 "So he's bitter and reinvents himself — eventually — as Putin's guy, an ally that will actually help you win elections in a branding we have seen over the last decade around the region: ultranationalism, claims of foreign plots, politicians who oppose reforms because these reforms will undermine their own rule," said the former diplomat.
"A little over 10 years later, taking the regional temperature, I have to admit it looks like a winning play," the former diplomat added, pointing to Poland, Hungary, Serbia, Czech Republic and other post-communist states that have become economically integrated with the EU while becoming increasingly autocratic and nationalistic in their domestic politics.
In the decade after the Dayton peace agreement, there was cautious optimism that political and security stability would take hold as ethnic violence petered out and development programs from the European Union and United Nations poured hundreds of millions of Euros into the local economy.
But even as Sarajevo, the administrative headquarters for the Federation of Bosnia-Herzegovina, the counterpart to the Serb Republic, replaced its war-ravaged concrete government buildings with modern-looking glass offices, and the city became a low-key tourist destination once again, the rest of Bosnia failed to develop, raising tensions among the rural poor, who didn't see much benefit from peace or international attention. Even in Banja Luka, economic progress seems distant. The city center has been rebuilt, but while shops and restaurants all advertise accepting major credit cards, an attempt to use one will usually get a sheepish reply that the machines aren't working and the offer of a discount for paying cash.
The broad consensus among Bosnians of all stripes who aren't in political power is that while Dayton ended the bloody conflict, the complex ethnic and sectarian governing structure it put in place left little room for reform. Leaders of each of Bosnia's ethnic groups — Muslim Bosnians, Catholic Croats and Russian Orthodox Serbs — rely primarily on mistrust and fear of the other groups to remain in power. The result is few political accomplishments that benefit the country as a whole.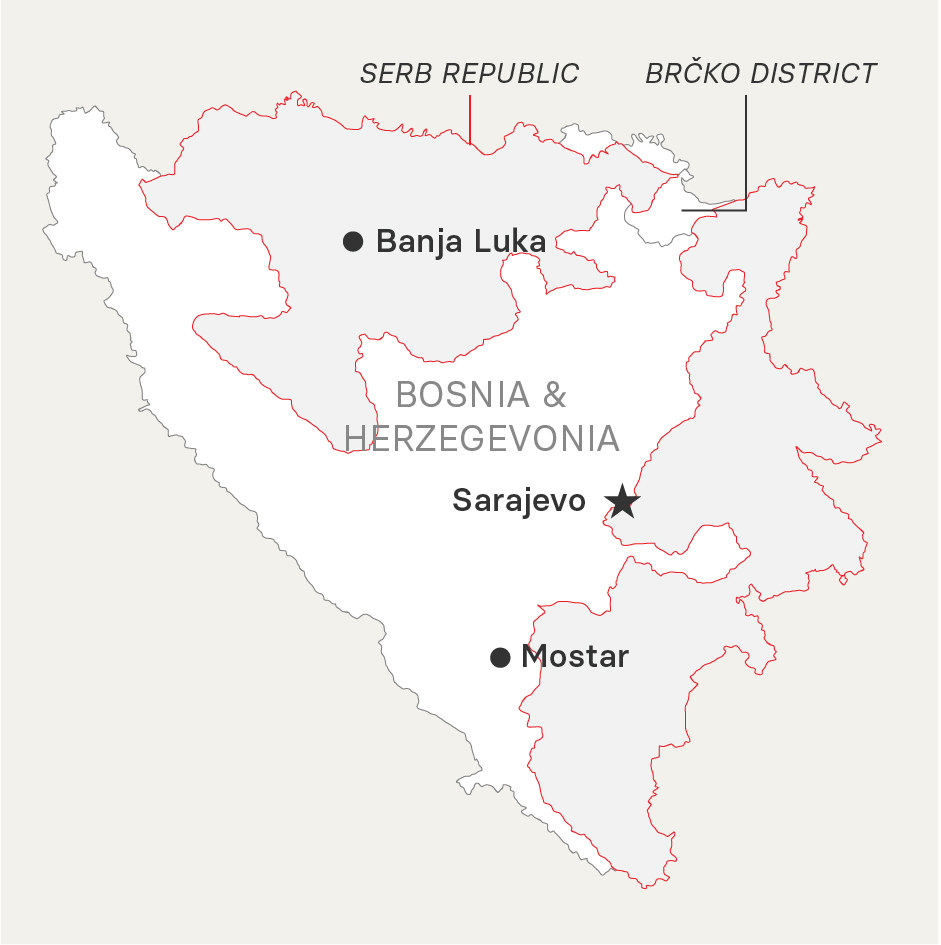 "If you look at the political leadership in Mostar [the Croatian population center], Banja Luka [Serb] and Sarajevo [the Bosnian federal capital as well as the seat of Bosnian Muslim power], you see that nobody really wants to reform or change the system, because it's narrowly working for them," said Miodrag Živanović, a professor of philosophy at the University of Banja Luka.
"Cooperation with the status quo allows the parties of all three groups to use this artificial ethnic construct to win ethnic votes in each election," he added. "So in the end, we hold elections that end up further dividing the society."
The result, according to political and social experts throughout the country, has been Bosnia's becoming the European nation with the highest rate of emigration. An estimated 43% of Bosnians have left the country since the 1990s, according to United Nations figures released in 2015.
"It's an absolute destruction of social capital here," said Živanović, reflecting a view often heard in Sarajevo and Banja Luka. "It's not just young people, either; it's even people my age. Except for the Justice for David movement, there's no protests toward the overall structure, and no demonstrations. It feels like cynical acceptance has gone mainstream for some, and everyone else has left."
While international diplomats warily watch as the prime ministers of Serbia and Kosovo discuss the possibility of a land swap and further changes to the de facto ethnic partition established after that conflict in 1999, sparking fears of renewed violence, Bosnia has been too gutted by emigration and cynicism to explode into violence, according to many.
"There's not enough people left here to explode," Živanović said, pointing to an oft repeated statistic that as many Bosnians now live abroad as live in Bosnia itself. "What we will see is a continued withering as the local governments become more sectarian, autocratic, and corrupt, and the young people on all sides vote by moving to Europe to begin new lives."
In the center of Banja Luka, just a few meters from the ongoing Justice for David protests, 32-year-old Milos explained the changes in generational attitude that have led to Bosnia's brain drain.
"I grew up in Banja Luka during the war as a little kid," he said in English. "War isn't that scary as a small child; it seemed exciting and romantic to me. Fighting to protect your people and nation."
But as he grew older, despite considering himself a "Serbian patriot," Milos said that he witnessed the rise of a system that made him feel less Bosnian, and in some ways even less Serbian.
"I don't think I have a country, really," he said, exasperated. "I know I am a Serb, but I barely care anymore about that. I have a wife and child. I work three jobs and have no money; it's hard to want to stay here when everyone is leaving for Austria, Germany, Sweden. I've stayed for now, but the first time someone fires a bullet and tells me I have to fight, I'm taking my family and leaving. And everyone else will — Muslim, Croat and Serb. Let them have a war on the ruins of Bosnia. It doesn't feel like my country anyway. I'll just go somewhere else." ●
CORRECTION
Milorad Dodik is seeking the Serbian seat on Bosnia's three-way presidency. An earlier version of this story incorrectly stated that Dodik is seeking reelection to the presidency of the Serb Republic.