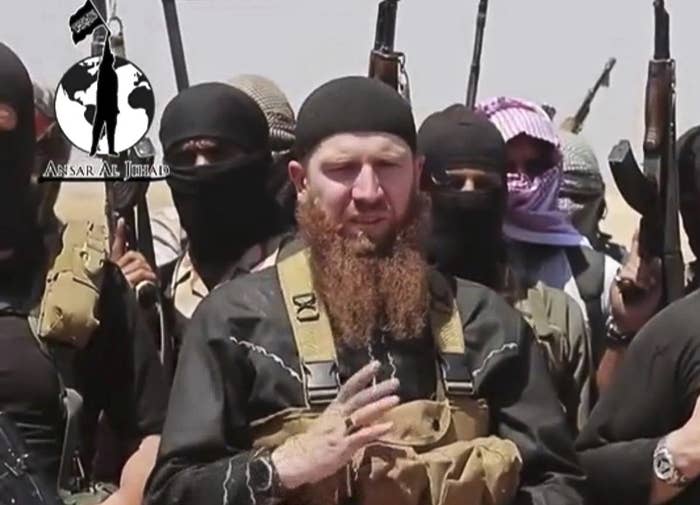 A day after an ISIS-affiliated media outlet reported that top ISIS commander Abu Omar al-Shishani had been killed, his home village — tucked in the Pankisi Gorge region — remained quiet.
A Georgian security official told BuzzFeed News that security had been boosted in the region but that there was no indication from his family that he had died, months after initial reports of his death first began to circulate in March. Indeed, there might never be a public mourning ritual because of the presence of government security forces in the area, long known to harbor militants from neighboring Chechnya, the official added.
Many of those militants have now gone to fight within ISIS and Shishani — a red-bearded Georgian-Chechen who was born Tarkhan Batirashvili — is the most notorious (his chosen nom de guerre means "Father of Omar, the Chechen" in Arabic). The U.S. has described him as the group's "Minister of War."
Reports that he had died first circulated in March, but ISIS fighters and Amaq, a news agency with ties to ISIS, denied that he had been killed, prompting many outside analysts to discount the claim. Wednesday's report from Amaq said al-Shishani had recently been killed in combat with Iraqi and coalition forces south of Mosul amid heavy fighting, as preparations for an expected assault on the ISIS stronghold continue. Pentagon officials told CNN on Thursday that they had targeted Shishani" in the past few days," during heavy clashes south of the Iraqi city of Mosul.
Although ISIS and Amaq news agency have falsely reported deaths of its key members in the past, news reports — including local stations in the Pankisi region — say relatives have claimed they have confirmation about Shishani's death this time.
If the latest reports about Shishani's death are accurate, it would deal a significant blow to ISIS given his reputation as a skilled military commander. He was also known to have direct ties with Chechen and other militant groups from the former Soviet Union, which have sent large numbers of men to fight with ISIS in Syria and Iraq. According to some estimates, citizens of former Soviet states make up the largest segment of ISIS's foreign fighters group in Syria.
Shishani was born to a Christian father and Muslim mother in Georgia's small but prominent ethnic Chechen community, although it is not clear when exactly he was born — government records say he may have been born in 1982 or 1986. After joining the Georgian military in 2004, Shishani deployed as a special forces commando and military intelligence operative. He also received training from the U.S. Special Forces as part of a pre-NATO membership alliance between Georgia and the United States.
Shishani received decorations for bravery during the 2008 war with Russia, after which he left the military under murky circumstances and was jailed for illegal possession of weapons. Following his release from prison in 2012, he appeared in Aleppo, Syria in the summer, where he was leading a mixed unit of Chechen and Syrian rebels against the regime of Syrian President Bashar al-Assad.
Shishani eventually swore allegiance to ISIS in 2013 and became a top military commander for the group — the U.S. designated him as a terrorist with a $5 million reward for information leading to his capture. His responsibilities appeared to be military in nature, leading key fronts in northern Syria and eventually taking command of ISIS military operations.
Shishani's death would be the latest in a series of setbacks for ISIS, which has been losing control of its territory in both Syria and Iraq in 2016, according to analysts at IHS Jane's, a London-based think tank. Last month, Iraqi troops recaptured two major cities from ISIS in the western Anbar Province, Fallujah and Ramadi, while a coalition of Syrian rebels working with Kurdish fighters have pushed them back in Raqqa, its de-facto capital in Syria.