Police have detained three family members of a notorious French ISIS commander believed killed 11 months ago in Iraq in the latest sign of the government's worry that supporters of the radical terrorist group may be at large in France.
The arrests came in raids on Monday and Tuesday that targeted family members of Rachid Kassim, a French ISIS commander who is thought to have been killed in a US drone strike outside the city of Mosul last February.
Seized in the raids, according to a French undercover police officer who asked to remain anonymous because he was not authorized to talk to reporters, was Kassim's 17-year-old brother and two cousins, 25 and 30. Kassim's brother was detained in Roanne, in central France, where Kassim was born in 1987. The cousins were arrested in the suburbs of Dijon, in the country's east.
The officer said French authorities targeted the three men because they had remained in close contact with Kassim, whose fame was fed, in part, by his appearance in a July 2016 video in which he beheaded an ISIS captive.
The officer told BuzzFeed News that authorities also had detained the wife and three children of another French citizen who'd joined the group in Iraq as they disembarked at Charles de Gaulle Airport from a flight that originated in Baghdad. The officer declined to provide the names of the family members or provide the exact day of their detention because authorities have not yet decided whether to charge them with a crime for having lived inside ISIS-controlled territory.
French officials confirmed the arrest of Kassim's relatives to French news outlets on Thursday, but declined to confirm the airport arrests. An official of the French General Directorate for Internal Security, known by its French acronym DGSI, however, told BuzzFeed News the airport arrests had taken place. The official also refused to disclose additional information, citing privacy and legal protections for children.
Thousands of French citizens are believed to have joined ISIS in Iraq and Syria from 2013 to 2016, and for the past year, France has pursued a public policy of attempting to kill as many of those fighters as possible on the battlefield in hopes of preventing their return to France. Now, French officials are trying to determine what to do with family members who joined loved ones in ISIS-controlled areas but may not have committed any crimes and should now be allowed to return.
"French police and intelligence have a serious problem," said the officer. "Kassim's family and the family at the airport are only the start of this crisis. We have thousands of names of associates and families of ISIS members and other jihadists from al Qaeda that need to be checked, in addition to hundreds of fighters or families who might want to return from Iraq and Syria. It's not easy determining who might also have been radicalized or just innocently stayed in contact with a loved one. This will take years to resolve."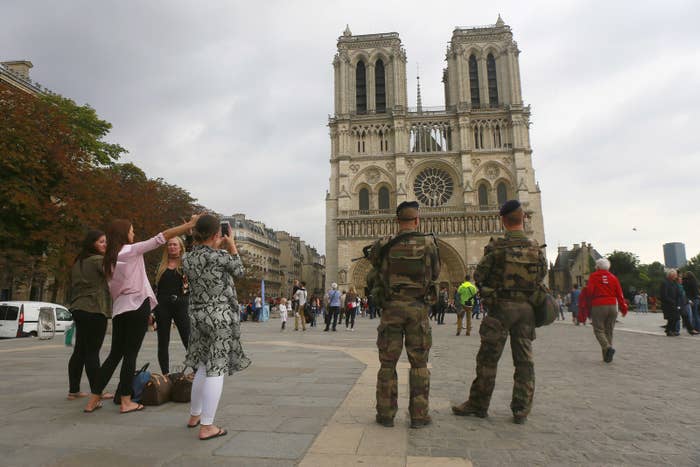 The undercover officer said close family and neighborhood connections make determining who is an actual threat or who might simply be a longtime friend difficult.

"The jihadis recruit for militant groups in a set way," he said. "They target brothers, cousins, sisters, friends from school. It's usually a small environment but it causes many problems for investigators because we can't arrest someone for talking to his brother or cousin who joined ISIS in Iraq. For all we know they're begging him to return and stop killing. Or he's being recruited. But was it successful or not?"
He noted that the Paris-Brussels cell responsible for terrorist attacks in those cities two years ago began as a group of drug dealers before its members became radicalized.
"Often we find that one member will be radicalized by jihadists in prison and when he's released, suddenly his drug gang is religious and selling drugs to fund travel to jihad," the officer said. "So now we as police have to look not only for jihadists on one hand and criminals on the other, but at all the thousands of personal, family and maybe criminal connections and see if maybe the drug dealer has also become a jihadi."
Kassim fits this profile almost perfectly, according to people who have investigated him. Originally a small-time criminal and aspiring rap artist, he became religious around 2010 in response to what he claimed in an ISIS interview was "homosexual teachers" who pressured students to eat pork at school meals. By 2011, police say, he traveled to Egypt to learn better Arabic, study religion, and make connections with Egyptian radicals based in the Sinai. From there, he traveled to Syria and became a leader of French-speaking foreign fighters.
Both the DGSI official and the undercover officer said Kassim was believed to have been in touch with the perpetrators of so-called lone wolf attacks in France and to have organized a series of online chat groups for aspiring French-speaking jihadists. One participant in those chat groups, Larossi Abballa, murdered a police officer and his wife in Magnanville, France, on June 13, 2016, in a brutal knife attack that was partially broadcast live on Facebook. He is also believed to have used the chat group to instruct Abdel-Malik Petitjean and Adel Kermiche, two French citizens who beheaded a priest in Normandy while claiming ISIS membership on July 26, 2016.
French intelligence officials have told BuzzFeed News in previous interviews that his leadership role in the group had earned him the attention of the American-led coalition, which tracked his movements and repeatedly targeted him and his team inside ISIS territory before apparently succeeding in killing him last February with a drone strike in Mosul.
Annabelle Azade contributed additional reporting to this story.