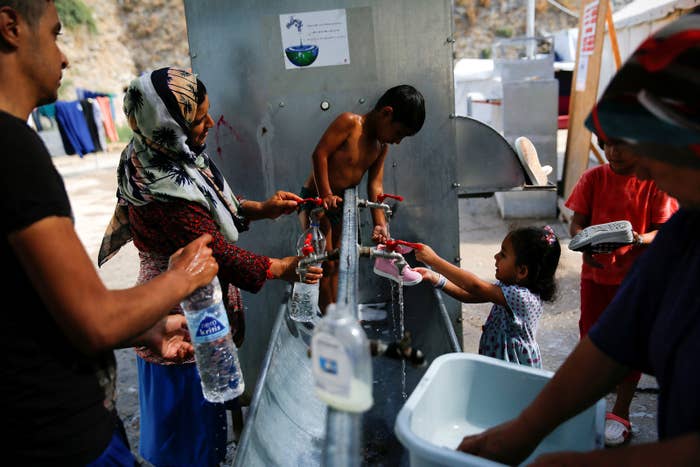 ATHENS — The agreement between the EU and Turkey to resolve the refugee crisis could collapse amid threats from Ankara and uncertainty over the intentions of the incoming Trump administration, according to EU security officials and political analysts.

The last 18 months have seen more than a million asylum-seekers arrive in the EU via Greece, throwing the continent into political chaos, which the March agreement was intended to quell. The threat to that deal — which promised both billions of euros in aid to Turkey and visa-free travel for Turks into the EU — could have a domino effect, putting at risk the precarious current Greek government and opening the possibility of a rise by the Greek far-right Golden Dawn party. Coupled with the continuing fallout from the Brexit vote in the UK, the rise of Marine le Pen's National Front in France, and other xenophobic, nationalist parties in Europe, this presents a major threat to the EU.
The refugee agreement had significantly reduced the numbers of asylum-seekers arriving in Greece, which had previously overwhelmed Greek and EU border control officials. It saw EU members agree to leave new refugees in place after arrival while their asylum requests are processed, with promises by various countries to accept some of the more than 60,000 asylum-seekers still in Greece. The potential collapse of this agreement risks sending millions more refugees to Europe, but then stranding them indefinitely in Greece.
On Friday, Turkish President Recep Tayyip Erdogan warned that he might "open the gates" and allow potentially millions more refugees to cross into Europe in response to a decision by the EU parliament to freeze talks over further EU integration for Turkey.
An EU law enforcement official based in Brussels, speaking on condition of anonymity for security reasons, said the likely outcome of both Trump's victory and Erdogan's threats would be terrible for Greece.
"They're probably fucked," he said of the current leftist Greek government. "Everyone in Europe was counting on diplomatic support and pressure from the United States to help keep a lid on this crisis. And if it explodes again, the Greeks have a powerful right-wing party in Golden Dawn perfectly positioned to take advantage. And if the right wins in France or Germany, they're definitely fucked because they'll be stuck with the refugees they have now, which will boost Golden Dawn's position."
Golden Dawn, widely considered one of the most hard-right parties in Western Europe, was quick to point out its admiration for Trump's campaign platform. "This was a victory for the forces which oppose globalization, are fighting illegal migration and are in favor of clean ethnic states, in favor of self-sufficiency in the national economy," a spokesman of the party said in a post on YouTube.
Yannis Koutsomitis, a Greek eurozone analyst, said he believed Trump's victory was certain to translate into reduced support for efforts to convince reluctant EU countries to take in more refugees, as well as potentially embolden Erdogan to cancel the agreement.
"The Obama Administration has been supportive to Greece's handling of the crisis but the real problem lies in the unwillingness of the majority of the EU countries to accept refugee relocations," he said via email.
"It's true however, that the Trump Administration will only make things worse, since Erdogan will now feel encouraged to harden his stance toward the EU and [Syrian President Bashar al-] Assad and Russia will feel freer to annihilate the Syrian revolution."
Russia and the Assad government this week made significant gains toward crushing rebel resistance in Syria's largest city, Aleppo, which threatens to send hundreds of thousands more Syrians into exile in Turkey — and from there, potentially into Europe.
Nick Malkoutzis, editor of the political website MacroPolis, agreed and said that even without the arrival of new refugees via Turkey, the refusal of other EU countries to accept the remaining refugees in Greece has already left the Greek government in a dire political situation.
"Only a few thousand have been moved since last year and that has left close to 62,500 refugees in Greece," he said, citing increasing tensions on the Greek islands, which house more than 16,000 refugees. "Although the local communities have mostly shown understanding and generosity, these islands saw a significant drop in tourism revenues — their main source of income — this year. This has sparked frustration, which Golden Dawn has being trying to tap into. Last week's attacks on a refugee camp in Chios are an example of where this can lead."
Malkoutzis said Erdogan's statement shows the Turkish leader appears to believe that the incoming Trump administration would roll back US support for keeping the crisis in check. "If the slow pace of relocation continues or if there is a spike in the number of arrivals, the situation could quickly get out of hand," he warned.
Evangelos Kalpadakis directs the diplomatic office for Greek Prime Minister Alexis Tsipras and helps coordinate the effort to convince EU members to accept refugees who have been vetted for asylum. At a meeting in the prime minister's office in October, he argued that Greece has effectively handled the situation on behalf of the rest of Europe. Kalpadakis, speaking before Trump's election win, stressed that in the midst of an economic crisis that saw Greece lose almost a quarter of its economy in the past few years, the financial burden for Greece has been almost unbearable.
Part of the problem facing Greece is the inherent flaw in the design of the EU, said Kalpadakis. He argued that it was pieced together over several decades to address new issues, ranging from economic and currency integration to border controls, security, and regulations that permeate into everyday life across the continent. "The EU is designed to address problems as they arise," he said. "In this case nobody planned for the largest refugee crisis since World War II as the time to reconsider the EU refugee policies, which left us managing the crisis alone and in real time."
Kalpadakis credited Germany for taking in so many refugees, but warned that Greece can't keep more than one-third of the 60,000 they currently have within their borders. He described the newly revamped security procedures put in place by Greece, but warned against exaggerating the risk of terrorists hiding in their midst, saying that "the vast majority are families seeking better lives that have been on excellent behavior."
Under the March agreement, Greece is expected to not only provide humane refugee accommodation, but also to be the first point of contact for evaluating potential terrorism threats. After a year during which more than a million refugees entered Europe, often without providing identification, Greece has now instituted a much more thorough vetting process.
Nikolaos Toskas, deputy minister of interior and the head of Greek police operations and security, acknowledged but also downplayed the threat of ISIS members inside the population of refugees.
"Neither Greece nor [the European Border and Coast Guard Agency] Frontex was ready to process 1.2 million people in a year," he said of the screening program to track as many of the refugees that passed through his borders. "But we've had some success."
Toskas said that hours after the attacks that killed 130 people in November 2015 in Paris, his team was able to start feeding information to French investigators about the attackers, who in several cases used the refugee crisis to return home to France and Belgium unnoticed by their local police forces. The cycle repeated itself in March when other ISIS members closely linked to the Paris attacks conducted a series of suicide bombs in Brussels.
"At this stage we more or less know who everyone is," said an Italian intelligence official, speaking on condition of anonymity for security reasons, who has helped track ISIS members' routes over the Mediterranean to Italy from Libya.
"The question we will be working on for years," he said, "is which ones are going to do bad things."