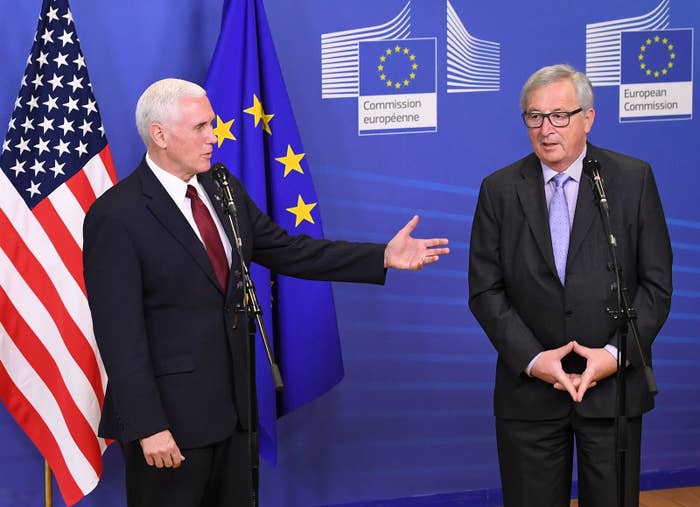 BRUSSELS — European Union officials shocked by a week of mixed messages from the Trump administration on the future of European integration may decide to treat the United States — at least in part — as a politically hostile entity that could limit the security and cooperation relationship that has underpinned the postwar Atlantic alliance, according to multiple diplomats and security officials in Brussels.
The Trump campaign's public support for Brexit and apparent ideological affinity with Marine Le Pen's anti-EU National Front as well as statements by key White House advisers like Steve Bannon has left European intelligence, security, and diplomatic officials considering a radical change in a relationship that has long underpinned security and stability in Europe.
"We're spending far too much time in meetings trying to understand this administration's approach to the 50-plus-year-old European integration project," said one Brussels-based diplomat who did not want his country named criticizing the US during a fraught period of transition.
"The underlying theme in these meetings is determining if America plans to remain a steadfast ally of the EU during a period where a resurgent and mischievous Russia is making common cause with the populist right wing in Europe and abroad to weaken, if not eliminate the EU," the diplomat said.
"How are we supposed to work with the country supposed to be our closest ally on issues [such as] Ukraine, terrorism, the refugee crisis, and tensions between Serbia and Kosovo while wondering about the rhetoric from our ally calling for our elimination?" the diplomat added. "It's hard to be allied with someone who wants to destroy you."
The administration's decision to send the generally well-regarded US secretary of defense, Jim Mattis, to Europe over the last week to reassure allies about the US commitment to both the EU and NATO started off well, say multiple EU observers, until his speech to NATO threatened a withdrawal of American support on defense issues unless spending is increased.
"I owe it to you to give clarity on the political reality in the United States and to state the fair demand from my country's people in concrete terms," Mattis told European defense officials. "America will meet its responsibilities, but if your nations do not want to see America moderate its commitment to this Alliance, each of your capitals needs to show support for our common defense."
Although US pressure to increase defense spending to the mandated 2% of GDP has been a longtime policy, the language used by Mattis, broadly considered an experienced and thoughtful policy hand, shocked some observers because it contradicted the tone of a private meeting between Mattis and German Defense Minister Ursula von der Leyen on Feb. 10 at the Pentagon, according to accounts from EU observers and reports from the German media.
"Mattis was speaking from a script that felt like it was written by Bannon," said an EU analyst who was in the audience in Brussels. "After he had gone to great lengths in his meeting with von der Leyen to reassure Europe that the adults were in charge of security policies."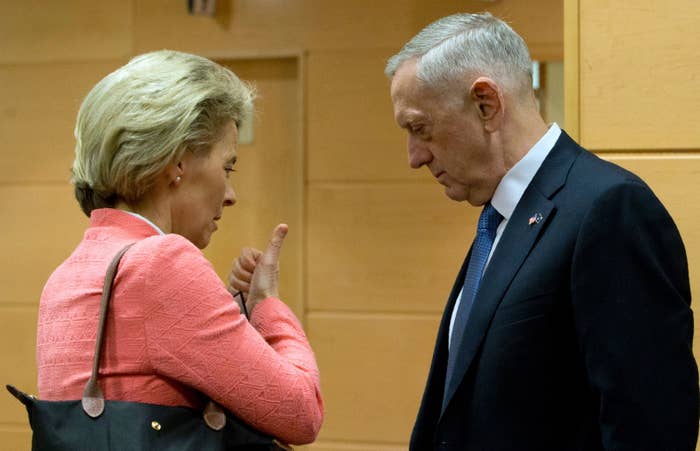 For her part, von der Leyen responded to Mattis during a speech in Munich, warning that ignoring allies and pursuing bilateral agreements with potential adversaries such as Russia will hurt relations between Europe and America.
"There cannot be a policy of equidistance to allies and to those who openly question our values, our borders, and international law," she told the Munich Security Conference. While pursuing a reliable relationship with Russia as a whole, she said, allied nations must not be "going above partners' heads in bilateral negotiations."
Bannon himself, according to multiple accounts in the German press and first reported in English by Reuters, caused a major headache by essentially contradicting much of the private reassurance efforts by both Vice President Mike Pence and Mattis during a series of meetings over the last week in Munich and Brussels.
While Pence specifically assured US allies in Brussels that the US had a "steadfast and enduring commitment" to the EU, Bannon privately told the German ambassador to the US that the EU itself was a "flawed construct" and that the US would increasingly pursue bilateral agreements with individual members, according to multiple reports of the conversation.
"Why should we assume the best from this situation," said a Belgian security official. "It's bad enough that we are receiving multiple signals from the Trump team but that they're often contradicting themselves is really a problem."
"There's a reason for diplomatic protocol," he added. "One reason is so everyone knows if they're friends or not and can plan accordingly."
Multiple officials and analysts from different EU countries described internal discussions on rethinking the relationship with the US, saying individual countries are trying to determine proper paths in addressing the tensions before making it part of established EU policy.
"We are already focused on how the UK plans to exit the Union," said one diplomatic official. "That's taking an extraordinary amount of time and effort but unfortunately we are also being forced to spend time on the questions about what it means for the EU with America as a hostile political opponent."
One move already underway by the EU parliament is consideration of a measure condemning the US choice for EU ambassador, Ted Malloch, who publicly supported Brexit and told the BBC in an interview shortly after his nomination, "I had in a previous career a diplomatic post where I helped bring down the Soviet Union. So maybe there's another union that needs a little taming."
Although passage of a bill rejecting Malloch would be only symbolic in nature, it would lack any sort of historical precedent.
"For the new administration to propose an ambassador who openly compares the EU to the Soviet Union and patronizingly suggests taming the world's largest open market is a bit of an alarm, not to mention insult," said the Belgian security official.
Reimagining the relationship with the US could take on a very broad range of changes, from increasing visa regulations for American travelers to Europe — a decision considered last year but ultimately shelved — to tougher trade negotiations, to limited cooperation on certain security issues, such as Russia or the fight against ISIS.
"The problem of course is that after 50 years of relying on a partner for security and trade, it will be no easy task to not only do these thing bilaterally but also make sure that the partner isn't actively trying to undermine your efforts," said one French official at the Ministry of Defense who said he lacked authorization to speak to the press.