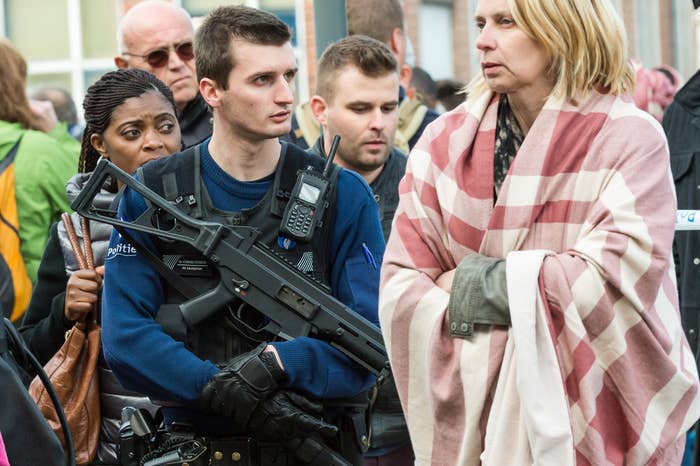 BRUSSELS — Within minutes of a bomb blast at Brussels' main airport, mobile phone and internet networks crashed.

After a second attack struck a metro station in Maelbeek, which feeds the main European Union complex, Belgian soldiers, who have been a regular presence in the city center since last November's bloody attacks in Paris, departed, apparently to join the first responders at both scenes.
At the Central Police Station, located a few hundred meters from the Gran Place, in the very center of Brussels, dozens of off-duty police both in uniform and plainclothes could be seen reporting for emergency duty, many carrying automatic weapons. A squad of Belgian army members known as para-commandos also deployed and began patrolling various areas in the city center in full combat gear.
Tuesday's attack came after a week of tensions throughout the Belgian capital as security forces closed in on Salah Abdeslam, believed by French and Belgian investigators to be the last surviving member of the ISIS cell that carried out the Paris attacks that killed more than 130 people and wounded hundreds more in a multi-pronged attack on the French capital last year. A raid in Brussels' Forrest neighborhood last Tuesday killed an Algerian with suspected ISIS ties, but Abdeslam was believed to have escaped back to his childhood haunt of Molenbeek, a largely Muslim immigrant neighborhood just outside central Brussels. Using a combination of electronic tracking of mobile phones and what investigators say was human intelligence, according to local media reports and terror analysts, security forces cornered, wounded, and arrested Abdesalm last Friday.
Belgian authorities said early Tuesday afternoon that a massive manhunt was underway in Brussels for individuals they believe were linked to Tuesday's attacks.

Belgian counterterrorism officials have been on high alert for years as hundreds of citizens and residents have departed for the battlefields of Syria and Iraq. One Belgian official said that besides the names of hundreds of fighters believed to be abroad, the security services have more than 200 open files related to threats at home and in Europe. But they remain flooded with questions about how and why they missed a key member of the Paris attacks for more than four months, and will have to explain how just four days after his arrest, the country was devastated by a double attack on both the international airport and a metro station that feeds Europe's central government, hardly areas considered soft or easy targets.
One Belgian counterterrorism official told BuzzFeed News last week that due to the small size of the Belgian government and the huge numbers of open investigations — into Belgian citizens suspected of either joining ISIS, being part of radical groups in Belgium, and the ongoing investigations into last November's attacks in Paris, which appeared to be at least partially planned in Brussels and saw the participation of several Belgian citizens and residents — virtually every police detective and military intelligence officer in the country was focused on international jihadi investigations.
"We just don't have the people to watch anything else and, frankly, we don't have the infrastructure to properly investigate or monitor hundreds of individuals suspected of terror links, as well as pursue the hundreds of open files and investigations we have," the official, who spoke on condition of anonymity because he was not authorized to speak to the media, said.
"It's literally an impossible situation and, honestly, it's very grave."
The streets of Brussels were relatively calm by Tuesday afternoon. Some foreign tour groups continued to visit sites in the city's historic district. But one Belgian who gave his name as Andre, a 42-year-old telecommunications and marketing executive for the Belgian telecom firm Mobistar, said that the historical government divisions between the southern French speaking and northern Dutch speakers that have often left Belgium's government fractured and ineffective were largely responsible for the country's inability to prevent the sort of terror attacks that struck on Tuesday.
"This is what happens when you don't have a real government and a divided bureaucracy," he said.