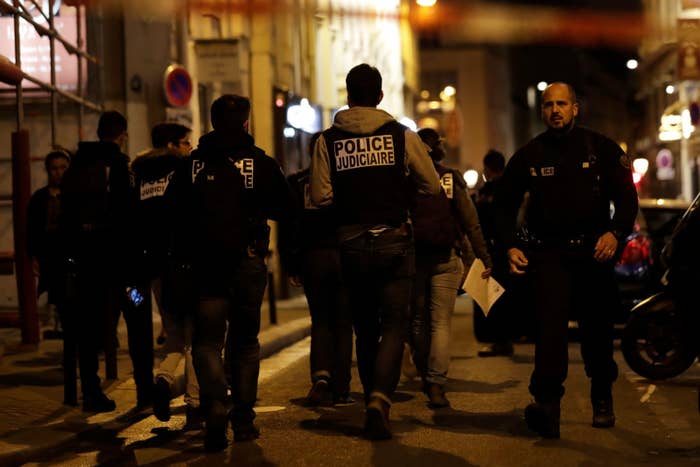 BRUSSELS — French police fanned out across Europe on Monday following a series of knife attacks in Paris Saturday night, investigating the terror connections of a Chechen immigrant who vowed allegiance to ISIS.
Khamzat Azimov stabbed four people, one fatally, during his attack in the bustling Opera neighborhood of Paris before police shot and killed him. More arrests are expected in the case, according to a police official in Paris.
Hours after the attack, Azimov's connection to the militant group became clear when a media outlet associated with the group released a video pledge of loyalty from him to ISIS and its commander. The video also called on Muslims living in the West to join the proto-caliphate, which lost most of its physical territory over the last two years.
The video sent French police and intelligence services hunting for anyone who might have assisted Azimov — his parents were detained in Paris, and a man police referred to as a "close associate" was brought in for questioning in the southeastern city of Strasbourg.
"It's clear that, unlike most of our recent attackers, that Azimov was in contact with the ISIS leadership in planning this attack, despite its small size," a French police official, who lacks permission to speak to the press about open cases, told BuzzFeed News.
"We need to be very careful and investigate his connections here in France. He was known to the counterterrorism squad and they have multiple leads. I would expect more detentions and even some additional arrests."
The police official was referring to Azimov's presence on the French government's "S" list of potential security threats, which numbers nearly 20,000 people. At least several thousand of these names are associated with Islamic militancy.
"We knew him and had questioned him but there were no strong reasons to detain him, and putting him under 24-hour surveillance is very difficult and expensive considering the number of people we already are tracking," said the official.
When asked if Azimov slipped past the French security services, the police official said that the security situation far exceeds France's capabilities.
"We are tracking hundreds of suspects every day and, in most cases, these are considered more of a threat than Azimov," he said. "But still, we knew of him and missed him. Should he have been tracked? Of course, someone is dead. But the public doesn't understand the money and resources required to track one person. We have hundreds if not thousands of people that need watching."
ISIS cells and supporters have struck France more often and harder than any other European country, with more than a dozen incidents in the last three years. Among the worst was the November 2015 attacks in Paris on a stadium, nightclub, and cafés by the Paris-Brussels ISIS cell that killed 130 people. In March, the remaining members of that cell set off bombs in Brussels, killing 34 more people.
After the members of that cell were killed or captured, France has seen repeated smaller-scale attacks by people inspired or tangentially tied to ISIS, which has called upon supporters to plan and undertake solo attacks using whatever is available, usually cars or knives. This usually reduces the number of people killed in each incident but also confounds police trying to stop attacks before they happen.
"We have to be better at predicting who might conduct these kinds of attacks, but otherwise, we can only secure the public the best we can and be prepared to efficiently respond to incidents quickly and with force to stop them," said a second police official who works in public security around Paris's famed tourist landmarks, which have been repeatedly targeted.
"We can identify potential attackers if they conspire and organize, but we can't read minds," he said. "If someone plans a knife attack and doesn't tell anyone, we have to move to ending the attack quickly and safely. Preventing it becomes impossible."