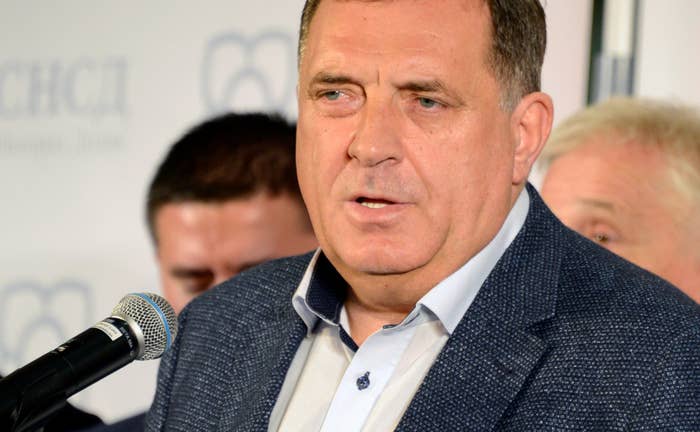 Bosnian voters elected longtime Serbian nationalist Milorad Dodik to a national presidential post Sunday, a result likely to increase tensions between the Serb Republic of Bosnia and the international community over Dodik's close ties to Russian President Vladimir Putin and his repeated calls for the Serbian statelet to secede from the Bosnian state.
Under the terms of the 1995 General Framework Agreement for Bosnia that ended Bosnia's vicious civil war, the country's three major religious communities —Orthodox Christian Serbs, Catholic Croats, and Bosnian Muslims — each have a reserved spot in the country's presidency. On Sunday, the nation of just over 4 million people also voted on presidents for its two statelets, the Serb Republic and the Federation of Bosnia-Herzegovina, as well as 14 prime ministers. In all, nearly 7,500 candidates ran for 518 seats in local assemblies in Bosnia's 10 cantons.
But it was Dodik whose election drew the most attention.
Once welcomed as a unifying force by Western officials, Dodik reinvented himself in 2006 as a Serbian nationalist with close ties to Putin. He has publicly raised the possibility of the Serb Republic seceding, inflaming ethnic politics in the region and earning him a place on the US sanctions list in 2017.
His election to the presidency is likely to inflame rhetoric from hardliners of all three religious groups.
The Bosnian Muslims elected Šefik Džaferović, a longtime ally of former Bosnian president Bakir Izetbegović and his father Alija, who was elected the first president of the newly formed Bosnian nation in 1992. Despite a campaign by the Republic of Croatia's government to push a hardline sectarian candidate, the Bosnian Croats elected Zeljko Komsic, a centrist who campaigned on supporting the Bosnian government's status quo.
"Dodik is now one of the figurehead leaders of a country that Dodik's own party has argued probably shouldn't exist," said a former European Union diplomat who now works as a lobbyist and asked not to be identified so as to speak freely about a delicate political situation. "Mixed with the rhetoric on a Kosovo land swap, which most of us think would lead to violence as ethnic populations are forced to move, this is a dire time for the post Yugoslavia project envisioned by Dayton."
Jasmin Mujanovic, a Bosnian analyst based in the US, said that Dodik's election to the rotating Bosnian presidency would exacerbate the already high sectarian tensions in the Balkans because of opposition to the current framework.
"Dodik is arguably the most outspoken proponent of wholesale territorial rearrangement in the region, so he will likely use his post to continue to undermine the existing regional status quo, to invite greater Russian influence, and likewise to trump up Serb nationalist grievances both in Bosnia and across the Balkans," Mujanovic told BuzzFeed News. "He's certainly going to champion dysfunction and brinkmanship in Bosnia as he believes that this is key to portraying Bosnia as an 'impossible' state."
Dodik's power will extend to responsibilities outside his presidential role because his party remains in power in the Serb Republic. "His ability to do long-term damage to [Bosnia] is significant," Mujanovic said, who predicted Dodik will slow any movement toward Bosnian integration with the European Union.
Dodik's election came despite a growing protest movement in the Serb Republic over the death earlier this year of 21-year-old David Dragičević. After an initial investigation by Serb Republic security forces was inconclusive, Dragičević's family has led daily demonstrations in Banja Luka against Dodik, including one that attracted an estimated 30,000 people on the eve of the election.