Why Obama Canceled On Putin
After years of hoping that U.S.-Russia relations could get on track, it appears that Barack Obama finally gets it.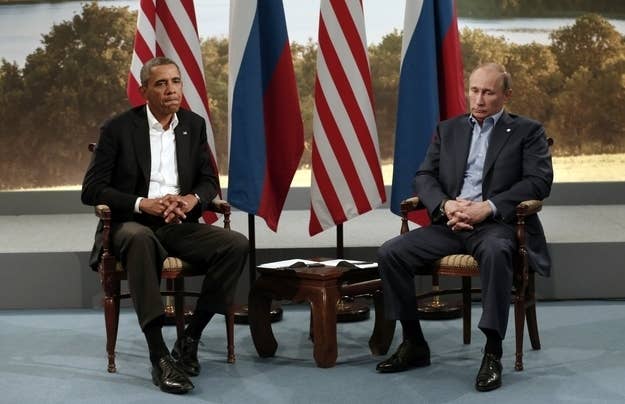 It was on the sidelines of another Group of 20 economic summit last June in the Mexican resort of Los Cabos. Officials were hoping Barack Obama and Vladimir Putin would be able to move their relationship forward, including coming together on solving the crisis in Syria.
The two leaders had not met in person since Putin's contentious return to the presidency a month earlier. Obama showed up on time. Putin…didn't. Obama waited. And waited. And waited some more.
When Putin finally emerged, the meeting was frosty. The two men have never had much of a rapport — Obama and his easy smile, Putin and his stern demeanor. The situation in Syria hung over that meeting, as it hangs over any meeting involving United States and Russian officials today. No agreement could be found then; no agreement could likely be found today.
The difference is, the Obama administration finally gets it.
Obama's decision on Monday to cancel a bilateral meeting with Putin in Moscow in September (ahead of a G-20 meeting in St. Petersburg) was greeted with shock inside Russia. "He went there…" tweeted Anissa Naouai, one of the harshest U.S. critics on Russia Today, the Kremlin's English-language propaganda channel.
Russia–U.S. relations haven't been this bad since the Cold War — yet you wouldn't have known it, until now, judging by Obama's actions. The "reset" he announced in 2009 was less a revolution in relations than a point-by-point agenda. Once the relatively easy stuff was achieved — a new Strategic Arms Reduction Treaty (START) governing nuclear weapons cuts being the most prominent — where else was there to go? The difficult issues — Syria, Iran, missile defense — had both sides talking in circles, unable to reach any sort of compromise.
In the midst of all that, a domestic opposition to Putin emerged — and was promptly painted by the Kremlin as a puppet project of the U.S. State Department. The U.S. ambassador to Russia, Michael McFaul, was harassed by a pro-Kremlin youth group. He was trolled by the foreign ministry on Twitter. Opposition protesters were accused of accepting U.S. dollars directly from former Secretary of State Hillary Clinton. As recently as Wednesday morning, Sergei Markov, a prominent member of a Kremlin think tank, said that the opposition's main leader, Alexey Navalny, was trained in his anti-Putin ways while doing a yearlong course at Yale.
And yet Obama and his Russia advisors kept hoping. The "reset" was declared dead repeatedly (as it was again on Wednesday after news of the canceled meeting broke) and still they persisted.
Putin kicked out the U.S. Agency for International Development (USAID) and the Obama administration did nothing. Russian intelligence elaborately unmasked a suspected U.S. spy, parading him on television as if it were the 1950s, and the Obama administration did nothing.
And then came Edward Snowden. Russia welcomed the U.S. whistle-blower with open arms (even if publicly it presented those arms as reluctantly outstretched). But Russia's acceptance of Snowden isn't going to make U.S.–Russia relations worse — it is the result of how bad U.S.–Russia relations have become.
It seems the Obama administration finally understands that. Aside from the domestic criticism he would have faced had he met Putin in the very city that Snowden currently calls home, Obama would have gained little from his meeting with Putin. Progress on Syria? Nope. A new shift on missile defense? Unlikely. Help with Iran? Probably not.
Instead, he would have provided a big domestic boost for Putin, plenty of televised images transmitted to the Russian population to show just how important their president is. Since Putin wants nothing more than to feel relevant and respected, the best way for the United States to signal disapproval is not through angry statements but precisely by making him feel like he just doesn't matter.
"The U.S. president needs Moscow far less than four years ago," Steven Pifer, a senior fellow at the Brookings Institute, wrote recently in The Moscow Times. "[T]he White House may decide that Putin has little to offer — and thus does not really matter — for Obama's goals in his last three years in office."
That has allowed Obama to open the floodgates. Speaking to Jay Leno on Tuesday night, he let loose on Russia's anti-gay laws, which have become increasingly highlighted as the Olympics grow closer. The crackdown on LGBT rights in Russia is just the tip of the iceberg — those opposed to Putin have been facing his fury for months.
Yet Putin's people mentioned none of that in reacting to Obama's cancellation. Yury Ushakov, his foreign policy advisor, said the Kremlin was "disappointed" and insisted that it was not to blame for the Snowden mess. There was no mention of foreign policy disagreements, human rights, or stalled initiatives, and there likely never will be. Inside Russia, the Kremlin writes the script.