What It Means For Ukraine Now That Yulia Tymoshenko Is Free
"It's comfortable for us to work with Tymoshenko's government," Vladimir Putin once said.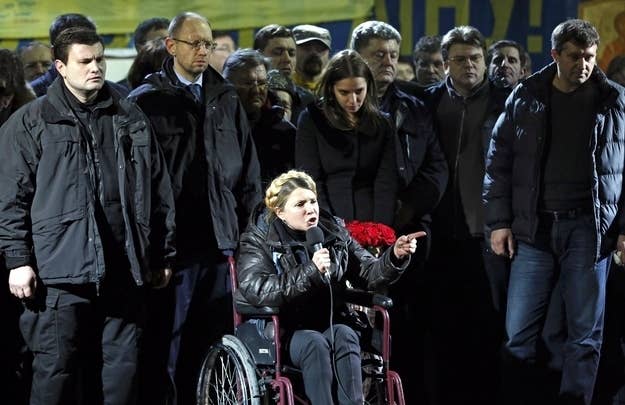 On Saturday night, Yulia Tymoshenko took to the stage of the Maidan to address thousands of protesters who had gathered to pay their respects to the dozens who have died in Kiev in the past week as Viktor Yanukovych, the ousted Ukrainian president, made his last stand. She was slumped in a wheelchair and looked far older than the last time she was seen in public, two and a half years ago, at a trial orchestrated to put her, Yanukovych's chief rival, behind bars. But the fire was there.
"This is your victory," she told the crowd hours after parliament set her free, "because no politician, no diplomat could do what you have done. You have removed this cancer from this country." And then, proving that more than two and a half years of jail time had not destroyed the politician within, she told the crowd that she would act as the "guarantee" that their movement would continue. Hours earlier, she had announced she would run in early presidential elections called for May 25.
If only this were the story of the pure political prisoner emerging to freedom to take up the cause of democracy. But Tymoshenko is more complicated than that — a woman who became enormously wealthy in the chaotic 1990s by playing the gas trade, she is also a shrewd political operator. The "Gas Princess" transformed herself to help lead the Orange Revolution that first prevented Yanukovych from coming to power in 2004 as the chosen successor of Ukraine's authoritarian post-Soviet government. First, she learned Ukrainian (having grown up in one of Ukraine's Russian-speaking regions). Then, she learned the language of democracy and Western integration. When the Orange Revolution overturned rigged election results, Tymoshenko became prime minister. Her revolutionary co-leader, Viktor Yushchenko, became president. And Yanukovych went away only to be elected president in 2010, beating out Tymoshenko apparently fair and square, as the usual trope set in: The revolution had failed to bring about the changes so many had sought. The country was on the verge of economic collapse.
In that election, Tymoshenko was believed to be Moscow's favored candidate. The year before, Vladimir Putin had praised her as someone with whom he could do business. "It's comfortable for us to work with Tymoshenko's government," Putin said at the time. "I think that through our cooperation, relations between Russia and Ukraine became stable and strengthened."
The question now is whether Putin continues to believe that to be true. Putin has yet to comment on the events that have gripped Ukraine in the past 48 hours — Yanukovych's flight from Kiev, his impeachment by parliament, his aborted attempts to enter Russia — but his usual mouthpieces have. As images of protesters and journalists overrunning Yanukovych's opulent suburban residence went viral, Alexey Pushkov, the bombastic head of the Duma's international affairs committee, tweeted: "They're letting anyone into Yanukovych's 'Mezhigorye' residence outside Kiev. He himself has run away, his guards have run away, the personnel have run away. It's a pathetic end for a president." Russia had thrown Yanukovych away.
Russia learned a lot from its open meddling in Ukraine in 2004. In the 2010 election that brought Yanukovych to power, Putin remained largely quiet. Ditto elections last year in Georgia that saw a Kremlin-friendly leadership sweep aside Mikhail Saakashvili, the Georgian president with whom Moscow fought a war in 2008 and whom Putin openly despised. If Putin thinks he can work with Tymoshenko — and if the protest movement decides to support her (a big "if") — then maybe the worst scenarios can be avoided.
Tymoshenko will certainly try to garner the support of Ukraine's protesters. Politics is in her blood. When I interviewed her daughter shortly after her mother was jailed, she told me, "Sometimes it comes to a point when I just want her out of it, we just want her to have a normal life. But if you remove politics from her life, she would not be able to live." The question now is whether the Maidan will have her. Tymoshenko has always been a divisive figure, and judging by the split reaction to her speech on the square, she remains one. She has the support of at least one of the top three opposition leaders, Arseny Yatsenyuk, a close ally who served in her government.
But even if the protesters back her, and if Putin is OK with that, fears of a split remain. An unnamed Russian official told the Financial Times this week that Russia was prepared to "protect" the Russian-speaking region of Crimea, which hosts a Russian naval base and its Black Sea Fleet, if the country was to break up, "just as we did in Georgia." Protests there in support of the Maidan have been violently broken up. The situation outside Kiev remains tense.
It would be nice to think that Ukraine's fate will be decided on its own, without the influence of outside actors. But that's not how Russia sees it. Ukraine is many things to Putin — a vestige of imperial desires, a gateway to Europe's gas market, and a country that, historically and culturally, should actually be part of Russia. Today, it is also part of his renewed desire to stand up to the West. Many in the U.S. and Europe like to say that the days of Cold War-era zero-sum outcomes are over, but Putin will never believe that to be true. To him, to "lose" Ukraine means that the West has won.