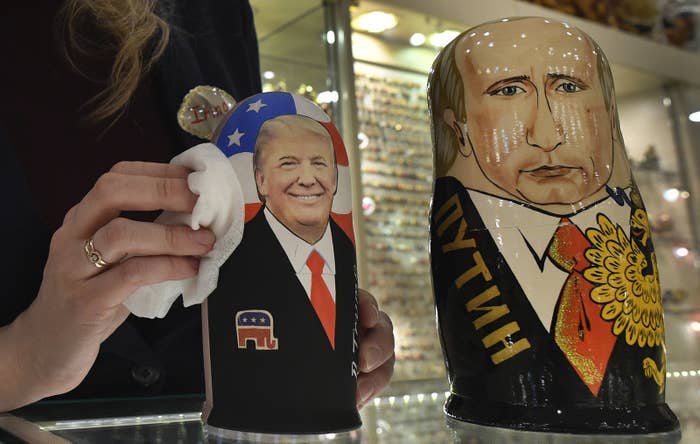 I lived in Moscow for seven years, from 2006 to 2013, and the current obsession with cataloguing meetings with Russians reminds me of one of the darkest features of Russian politics. And indeed, this focus threatens to turn the biggest story of 2016 — the aggressive and partly open Russian intervention in the US election — into a kind of paranoid partisan meeting tally.

On a winter day almost exactly five years ago, I walked out of my home in central Moscow and stumbled on a surreal scene. Michael McFaul, then two months into his tumultuous stint as US ambassador to Russia, was surrounded by a group of men and women purporting to be from NTV, a state-run TV channel known for taking the lead on hit pieces ordered by the Kremlin.
McFaul was trying to enter the office of Lev Ponomarev, a longtime activist who helped lay the foundation of Russia's human rights advocacy as the Soviet Union crumbled. In the Putin era, he's been physically assaulted and marginalized, but he soldiers on.
"What are you going to talk to Mr Ponomarev about? Why did you come here?" one of the NTV women asks McFaul, in footage later aired on the channel. "We meet often," he replies. As the woman keeps hounding the US ambassador, the exchange becomes more heated: "I was just at the Foreign Ministry! I was meeting with your officials. It's normal!"
"Your ambassador in our country always goes everywhere without all this," McFaul says, in Russian, pointing at the crowd around him. "His work isn't interrupted. But you're always with me — my house. It's interesting. Aren't you embarrassed? It's an insult to your country when you do this."
McFaul suffered for the exchange, but the people he met with really bore the brunt. The Kremlin manufactured a campaign against McFaul from the day he arrived in the country, ensuring that anyone he met was demonized, accused of taking orders from the US State Department. The US ambassador became toxic — by design — so much so that Alexey Navalny, perhaps Russia's leading opposition figure, wouldn't meet with him, or his successor John Tefft, because it would look bad. "The Kremlin press constructed a real hysteria around every meeting with any diplomat," Navalny wrote in an email Saturday.
Fast-forward five years and here we are in the United States, where each meeting with the Russian ambassador is coming under scrutiny. Each day brings new revelations — starting with the news that Attorney General Jeff Sessions failed to disclose two conversations with him during his confirmation hearings, something that raises fair questions about why he would lie.
From there the "revelations" became more suspect. Jared Kushner and Mike Flynn met him, and so did J.D. Gordon and Carter Page. "Russian ambassador Sergey Kislyak leaves trail of U.S. election meddling," read one headline in USA Today. Who didn't meet the Russian ambassador, asked every other person on Twitter.
When meeting an ambassador is a problem, we're in trouble. "It's also strange to me to see so many scandals around meetings with Kislyak — and it's similar to Russia," Navalny said.
And the demonization is spreading beyond Kislyak. On Saturday, Scott Dworkin, co-founder of a group called the Democratic Coalition, tweeted a thread of videos showing Secretary of State Rex Tillerson, then the head of ExxonMobil, meeting Russian President Vladimir Putin and Igor Sechin, one of Putin's closest advisers and, for the past four and a half years, the head of Rosneft, Russia's state-owned oil giant. Dworkin described Sechin and Rosneft as being "from the Dossier." Sechin and Rosneft are indeed mentioned in the dossier, but they are a lot of other things besides — and if you went to Russia to do business in oil, there's a high chance you would come across them. If you were the head of the biggest oil company in the world, as Tillerson was, there was no way to do business in Russia without them.
The real question about contacts between Trump's camp and the Russians, of course, is what they are talking about — what plans they made, whether and how they are coordinating. This is most puzzling in Sessions' case. He says he did not talk about the election with the Russian ambassador in November. What a bizarre admission. Would a US official meeting the Japanese ambassador in February 1942 not discuss Pearl Harbor?
Here is the problem: People inside the Democratic establishment and in the media are looking for a smoking gun, when many of the answers are in plain sight — in the posture of Russian state media, in the WikiLeaks campaign, and beyond. Looking for a secret signal from the Trump camp to Russia to continue the hacking campaign? Why not look instead at Trump's public request in mid-July that Russia hack Clinton's email.
Seventeen US intelligence agencies, and lots of good reporting, said Russia meddled in the US election via its hacks of the DNC and Clinton staffers as well as a disinformation campaign. All but one (the NSA) concluded this was in the service of trying to get Trump elected.
The Russian cyberattack of 2016 was widely documented, but what's happening now is that some of Trump's critics are turning the fabric of diplomacy into conspiracy. They're trying to find evidence that it was his camp that directed those hacks, rather than investigating how they originated in Russia. Of course, it's also important to examine potential ties between Trump, his advisers, and Russia — if for no other reason than no one has yet found a good explanation for Trump's worship of Putin and Russia. But, at the end of the day, it's Russia that hacked the US, in its drive to sow chaos in a country it sees as its rival, and to elect a friendly leader who would both pass amenable policies (like the potential lifting of sanctions) while feeding that very chaos.
Russia pulled off one of the greatest coups in history — and it's getting away with it.
Outside Your Bubble is a BuzzFeed News effort to bring you a diversity of thought and opinion from around the internet. If you don't see your viewpoint represented, contact the curator at bubble@buzzfeed.com. Click here for more on Outside Your Bubble.