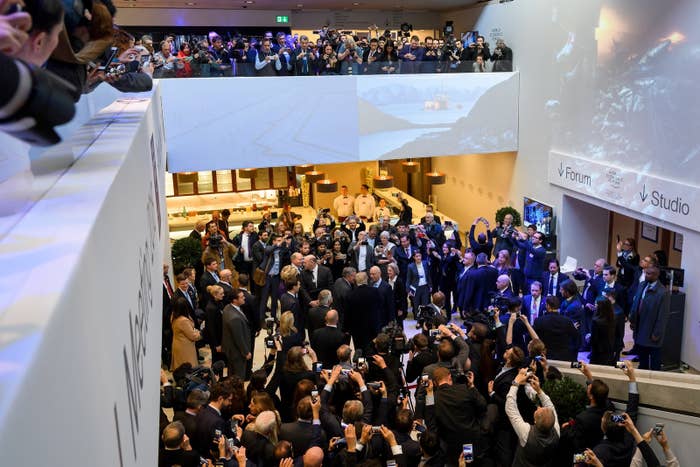 Hundreds of men and women, collectively worth billions of dollars, pushed and shoved each other to get into a cavernous conference room to hear US President Donald Trump speak.
For most it was the first time seeing in the flesh a man who has transformed what it means to be a member of the "elite" in the world. Many had spent the week laughing about his attendance at the World Economic Forum in Davos, Switzerland, a conference that bills itself as one of ideas and intellectual thought.
But when the time came Friday and Trump walked onto the stage, they lifted up their phones and took endless photos. Trump ultimately got the most he could have hoped for from the global elite: their undivided attention and, despite some snickering, acceptance into their ranks.
Many packed the room to witness what they saw as a historical moment, or to see, as Nobel Prize–winning economist Joseph Stiglitz put it, "the theater."
Trump's short speech was an appeal for investment, a reiteration of his "America First" policy, and a relatively calm treatise on international trade. Boos filled the room when he lashed out at the media in a post-speech Q&A, saying, "It wasn't until I became a politician that I realized how nasty, how mean, how vicious, and how fake the press can be." But otherwise, the crowd largely listened to a straightforward scripted speech, which was as far from the president's early-morning tweets as could be.
"People expected something crazy," David Yakobashvili, founder of a number of Russian companies, told BuzzFeed News. "We didn't come here to see a circus — he talked about business."
"It was very good," he said. (Russia's deputy prime minister, Arkady Dvorkovich, said earlier that US officials were hiding from their Russian counterparts at Davos.)
The forum was rife with rumors for several days that groups of people would stage a walkout — the most recent rumor being that African businesspeople would protest the fact that Trump referred to the countries as a "shithole." But only a couple walked out.
One of them was Stiglitz's wife, Anya, an author and lecturer at Columbia University's School of International and Public Affairs.
"As soon as I heard Trump was coming to Davos, I knew I had to do something," she told BuzzFeed News, wearing a T-shirt that said "Not My President." "Trump is a very dangerous demagogue and it's really important not to normalize him. It's not okay for him to come to Davos and be treated like a normal person."
But treated like a normal person he was. Jamie Drummond, cofounder of the anti-poverty One Campaign, earlier told BuzzFeed News that it was "depressing to see the craven Davos Men crowd the president, cameras clicking, as if they were delighted to be in the presence of a big celebrity."
Republican Sen. Bob Corker, a Trump critic who has more recently warmed to the president, conceded that it was "really smart of him to come."
He attributed the warm reception to strong economic indicators.
"There is a feeling of significant growth, so people like a lot of what has occurred," he said.
Washington Gov. Jay Inslee, the highest-ranking elected Democrat at Davos, said the business and political leaders he spoke to were dismissive of Trump.
"Everyone knows the deficiencies of the current occupant of the White House — but they recognize he's a blip in the sweep of history," he said. "They recognize that this is an aberration that is not the best of America."
Some of the harshest criticism from the crowd was reserved for Klaus Schwab, the founder of the World Economic Forum, whose fingerprint is on every aspect of the elite gathering, including providing a format for world leaders to take the stage and deliver their messages without any pesky questions from the press or participants. He elicited the only other hisses from the crowd while introducing Trump, when he said: "I'm aware that your strong leadership is open to misconceptions and biased interpretations."
Speaking to BuzzFeed News afterwards, Schwab defended his introduction: "I wanted to show it's a great opportunity to hear what his real idea is. People in the world have a certain perspective about President Trump."
"There was no qualitative judgement."