The Kremlin Will Lash Out Over U.S. Sanctions — And It Won't Be Pretty
The biggest danger is to those within Putin's reach, inside Russia.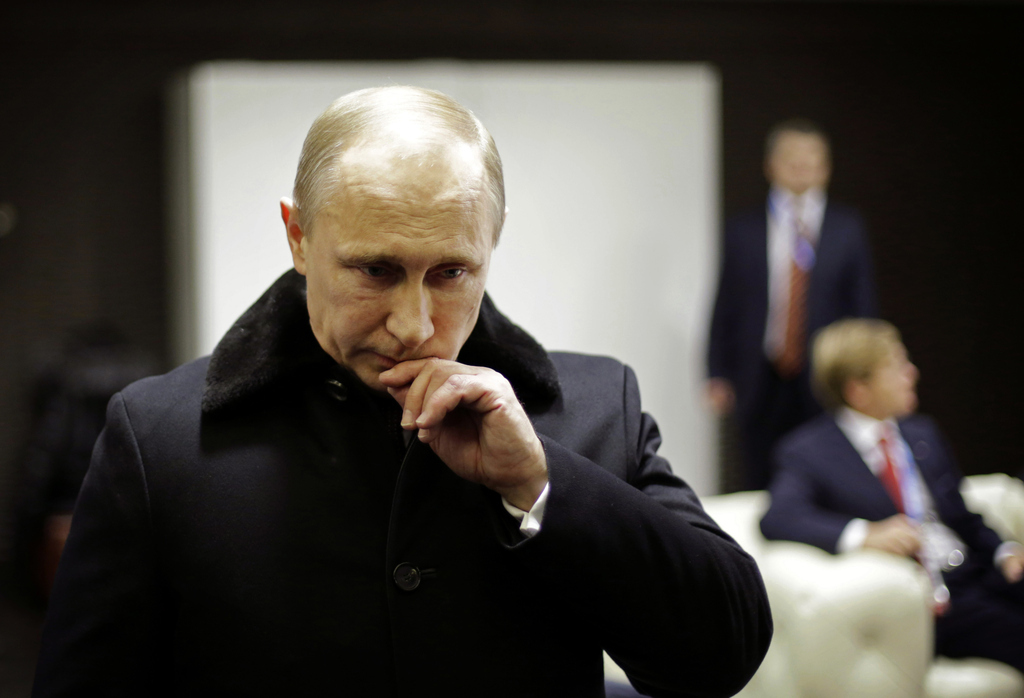 Within one hour of the U.S. announcing sanctions against Putin's innermost circle, Alexey Navalny's account sent out the following tweet: "Yes, so no one has any illusions. For the joy of bringing these sanctions against thieves, someone will have to pay. Need to get a bag ready for prison."
We don't know how Navalny sent the tweet but it was probably through his wife — he has been under house arrest since Feb. 28 and banned from using the internet and telephone. The house arrest will last two months, ostensibly because he broke bail conditions but in reality because the Kremlin needed to find yet another means of trying to quiet down the biggest thorn in its side. Navalny has built himself up from an anti-corruption lawyer to the opposition's biggest champion. For more than two years, he has investigated the top tiers of Russian officialdom for their links to corruption. Many of those on the sanctions list announced Thursday — oil trader Gennady Timchenko, Railways Chief Vladimir Yakunin, the Kovalchuk brothers — were the target of his ire and his growing team of young investigators.
By Thursday night, NTV, a state-run channel that has spearheaded propaganda attacks against the opposition, was accusing him of breaking the rules of his house arrest by publishing an op-ed in the New York Times calling for sanctions. They also accused him of having contacts with the CIA.
Navalny has been careful — he knows the regime he is dealing with and keenly understands its growing paranoia. While opposition activists regularly attend social functions at the U.S. embassy, he stays far away. When tens of thousands of Muscovites took to the streets to protest Putin in the winter of 2011–2012, Vladimir Putin and those around him blamed the popular dissent on U.S. meddling, as they've done with the protests in Ukraine and, earlier, with protests across the Middle East.
Putin revived the charge on Tuesday, sneaking it into a bombastic speech in the Kremlin designed to justify and celebrate Russia's annexation of Crimea while simultaneously announcing a sort of Cold War v2.0 for the West. He said:
Obviously, we will encounter external opposition, but this is a decision that we need to make for ourselves. Are we ready to consistently defend our national interests, or will we forever give in, retreat to who knows where? Some Western politicians are already threatening us with not just sanctions but also the prospect of increasingly serious problems on the domestic front. I would like to know what it is they have in mind exactly: action by a fifth column, this disparate bunch of 'national traitors', or are they hoping to put us in a worsening social and economic situation so as to provoke public discontent? We consider such statements irresponsible and clearly aggressive in tone, and we will respond to them accordingly.
While attention in the West remains firmly fixed on global issues — from the redrawing of European borders to attempts to counter an aggressive Russia — inside the country civil liberties have been steadily deteriorating. Last week, dozens of journalists said good-bye to RIA-Novosti, a state-run news agency that had managed to win a degree of independence in the past couple of years and produce real journalism. Now it is being liquidated, to be replaced by a new wire called Russia Today and run by Russia's propagandist-in-chief, Dmitry Kiselyov.
Over at TV Rain, Russia's only independent news channel, things are worse. Weeks after it was dropped by cable providers over pressure from the Kremlin, the channel on Thursday received a summons to vacate its headquarters in central Moscow — prime real estate inside Red October, a Soviet-era chocolate factory turned super-hip work and cultural space. They also got a visit from the tax police — a telltale first sign in Russia that your days are numbered.
The space for those opposed to Putin is shrinking by the day. And for those who have led attempts to highlight problems with Putin's regime, it is becoming, once again, brutally dangerous. On Wednesday night, Mikhail Dmitriev, a respected economist who was the only analyst in Russia or the world to predict the protests that would target Putin in 2011–12, was beaten by unknown men while traveling in a commuter train. He is now in the hospital. They didn't touch his money.