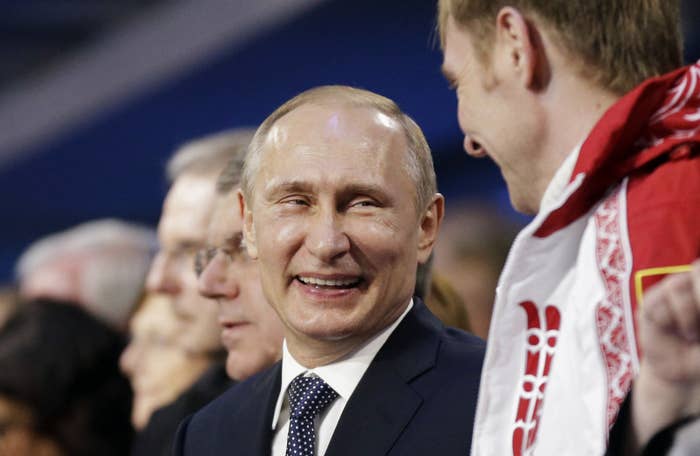 As the globe begins to adjust to a post-Brexit world order, let it be clear that, aside from the British politicians who staked their careers on a Leave vote, there is one winner to emerge from the chaos about to engulf Europe: Vladimir Putin.
That's not a new idea — David Cameron and the Remain campaign trotted it out to encourage people to casts their votes to stay within the European Union. That failed.
By Friday morning, Putin was pontificating loudly on just how untrue it was. No one "had the right" to speculate about Russia's position, he said. "In my view, we behaved very correctly, carefully followed what was happening, but in no way influenced this process, and didn't even try to."
And yet, directly causing Brexit is different than profiting from it.
Britain's vote to leave the European Union looks set to plunge it into an unprecedented bureaucratic sinkhole that will occupy the bloc for months to come, with all the attendant fiscal and financial uncertainty that brings. The ripple effects of Brexit will reach the farthest corners of the union. Add to that an ongoing refugee crisis that is already straining time and resources, and feeding populist anti-immigration sentiment and parties. It's hard to see the EU settling back into business as usual for some time to come, if ever again.
There's nothing Putin loves more than chaos — and nothing he mistrusts more than Western alliances. This is the man who launched a war in Ukraine after the country rose up against a president who refused to sign an agreement that would simply boost ties with the EU.
"The UK's exit from the EU will be celebrated widely inside Kremlin circles."
Putin has never been a fan of dealing with Brussels in the first place, favoring personal connections with individual leaders to foster bilateral relationships that would cut out the bloc altogether. He would follow those up with one-on-one trade deals, usually involving Russia's vast energy reserves. Some of the earliest models were former German chancellor Gerhard Schroeder and former Italian prime minister Silvio Berlusconi. In recent years, Russia has been seeking to boost its influence throughout eastern Europe. It has also built relationships with insurgent parties and candidates across the UK, who have responded in kind. It is no accident that Nigel Farage has long been a regular on the Kremlin-owned propaganda network Russia Today.
"Brexit's greatest winner is Putin," Michael McFaul, a former U.S. ambassador to Moscow, wrote in an email. "For years now, he has sought ways to divide Europe, including both the EU and NATO, hoping for a collapse of unity in Europe just as the USSR and the Warsaw Pact did a quarter century ago."
"The U.K.'s exit from the EU," he added, "will be celebrated widely inside Kremlin circles."
Kremlin officials, Putin included, have insisted they want to continue to see a strong Europe, because as Putin put it last week, "having dialogue with a weak partner is not worth it." There may be some truth to that. The EU is Russia's biggest single trading partner — and, at least short term, the chaos might be disruptive.
But, a strong EU is also needed to maintain sanctions against the Kremlin and its allies, implemented to punish Russia for its adventure in Ukraine.
"On the imposition of sanctions on various sectors of the Russian economy, the UK was very hawkish," said Mujtaba Rahman, an analyst at Eurasia Group. "Washington used London as a pro-sanctions voice and now they're worried about the renewal of those sanctions."
At least some inside Russia were celebrating that. Before the vote was even finalized in the early hours of Friday, Boris Titov, the Kremlin's ombudsman for small business, took to Facebook and wrote: "Seems it's happened — UK out!!! In my opinion the most important long-term consequence of all this is that the exit will take Europe away from the Anglo-Saxons, that is, from the USA."