Sen. Leahy Calls For More Aggressive Policy Against Countries That Violate LGBT Rights
Billionaire backers of LGBT rights join activists and politicians for an event that wasn't officially included in the World Economic Forum in Davos. "It's not cool to be anti-gay," hedge fund manager Daniel Loeb told the event.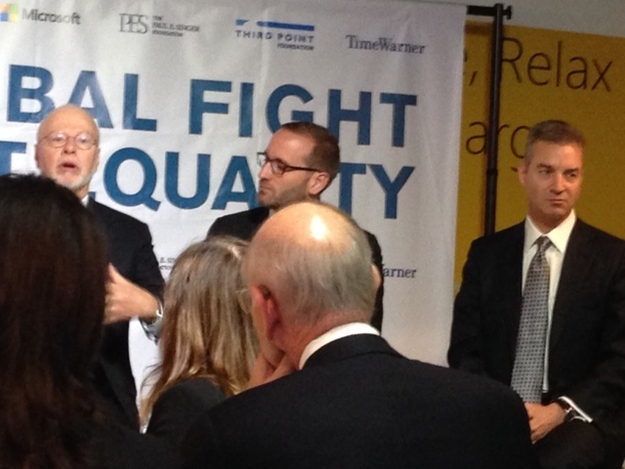 DAVOS, Switzerland — Sen. Patrick Leahy (D-Vt.) said on Thursday that he would seek to find a way to bar U.S. aid to countries that adopt laws restricting LGBT rights.
"I think that we have to explore our foreign policy with countries that have these horrible laws." Leahy, who chairs the Senate Judiciary Committee, told a gathering of billionaires, officials, and activists at an event run in parallel with the World Economic Forum in Davos. "As one who handles the foreign aid in our Senate, this is going to become increasingly on my radar of how we look at foreign aid in countries that violate human rights this way."
Speaking to BuzzFeed after the event, Leahy said he saw an initiative in line with the 1997 Leahy Law, which prevents the State and Defense Departments from from providing military assistance to foreign military units that violate human rights, and said he would seek to target "countries that openly violate the rights of gays and lesbians." "This will take a while," he added.
Leahy, as well as Sen. Claire McCaskill (D-Mo.), attended an early morning event hosted by the Human Rights Campaign (HRC) and hedge fund managers Paul Singer and Daniel Loeb, who recently announced a new initiative in international LGBT rights advocacy. Event organizers said the World Economic Forum (WEF) in Davos had declined to host the LGBT event; the main gathering in Davos this year features guests like Nigerian President Goodluck Jonathan, who recently blessed the world's most repressive law restricting LGBT rights.
"The organizers reached out to WEF but it quickly became clear that this program would not be regarded as 'appropriate' for the official Congress Center program," a person familiar with the planning of the event told BuzzFeed, referring to the main site of the forum, an annual event that gathers the global political and business elite.
"We hope it will ultimately be at the building across the street at some point," Loeb told the panel. Ty Cobb, HRC's director for global engagement said, called the gathering "historic."
Nigeria's Jonathan earlier this month signed into law the "Same Sex Marriage Prohibition Act," which provides for 14-year jail sentences for those found guilty of being in same-sex relationships and terms of up to 10 years for those who support LGBT rights. The WEF is due to hold an upcoming event in May in Abuja, Nigeria's capital. A WEF spokesman declined to comment on the issue, including whether the event would address LGBT rights.
The LGBT rights panel welcomed activists from Cameroon, Jamaica, and Russia, which has also received some attention at the forum for imminent hosting of the Winter Olympics in Sochi. But, unlike years past, top Russian officials have stayed away — the highest ranking member of the Russian delegation is Arkady Dvorkovich, an economic aide to President Vladimir Putin. Russia has also come under global criticism for its crackdown on LGBT rights, starting with a law banning "gay propaganda" to minors.
Masha Gessen, a Russian-American activist, said Russia's law was inspiring similar initiatives in Africa. "What we've seen in Africa in the last few weeks is in part inspired by Russia," she said. Uganda's president, Yoweri Museveni, has indicated he would not sign a new repressive anti-LGBT law, but that he would seek to "protect children" instead.
Speaking of developments in Nigeria and Uganda, as well as India, whose supreme court recently issued a shock decision to restore a colonial-era law banning sodomy, Navanethem Pillay, the U.N. high commissioner for human rights, said: "To many, the triple developments felt like a blow to the cause of equality." But, she added, "Setbacks … can provide impetus for the next step forward."
Hedge fund titans Loeb and Singer called for support from their financial industry peers to further the momentum toward acceptance in the U.S. Singer, who heads up the $22 billion Elliott Management, is a vocal Republican and a prominent donor, but spoke earnestly about his journey to support LGBT rights that began when his then 21-year-old son came out to him in 1998.
"I was very careful to try and understand an issue that was not understandable to me at the time — I was steeped in ignorance," Singer said. "It's a family experience as well as a philanthropic one."
For Loeb, his path to LGBT rights advocacy was paved by family friends and his involvement in the art world, he told the group.
"For me, it was an evolution to understand the discrimination," he said. "Affecting change is a skill I've learned on the corporate side, and now politically I can use it."
When the event moderator, journalist Fareed Zakaria, addressed Singer's political allegiance, the hedge fund veteran said changing people's opinions on LGBT rights in the Republican party had become easier as the momentum of acceptance has built throughout the country.
"There's an underlying understanding that this issue is only going one way, and that's toward tolerance, even in red states," Singer said. "[Republicans] know that winning is better than losing, so it's strategic as well as tactical."
One tactic that Loeb knows better than most in finance is activist investing, a concept he tied to the issue garnering more support of LGBT rights in the U.S.
"In my secret framework of activist investing there are three levers: financial pressure, legal pressure, and social pressure," Loeb said. "Here we're using social pressure. It's not cool to be anti-gay."
As for financial pressure, Loeb told BuzzFeed after the panel that withholding investment in LGBT intolerant countries hasn't been an issue for his $4 billion Third Point Partners, as he said they aren't invested in those countries already. Regarding his hedge fund peers however, Loeb said LGBT rights advocacy isn't stopping them from doing business with these countries, particularly in the Middle East, at this point.
"People aren't going to turn down money yet from the Middle East on this issue," Loeb said, adding that, in spite of this, he has seen a lot support from others in the hedge fund community on the issue, including SkyBridge Capital founder Anthony Scaramucci, who also attended the breakfast.
Birgitta Ohlsson, Sweden's minister for European Affairs, questioned HRC's high-profile campaign, noting that sometimes "quiet advocacy" could work better. She cited behind-the-scenes pressure as a measure of recent success in Uganda. She said threats to withhold aid would likely be less effective in Nigeria, which is less reliant on aid but more reliant on Western businesses operating in the country.
Sir Richard Branson, who has spoken out against the laws in Nigeria and Uganda, was among the high-profile guests who attended the event.