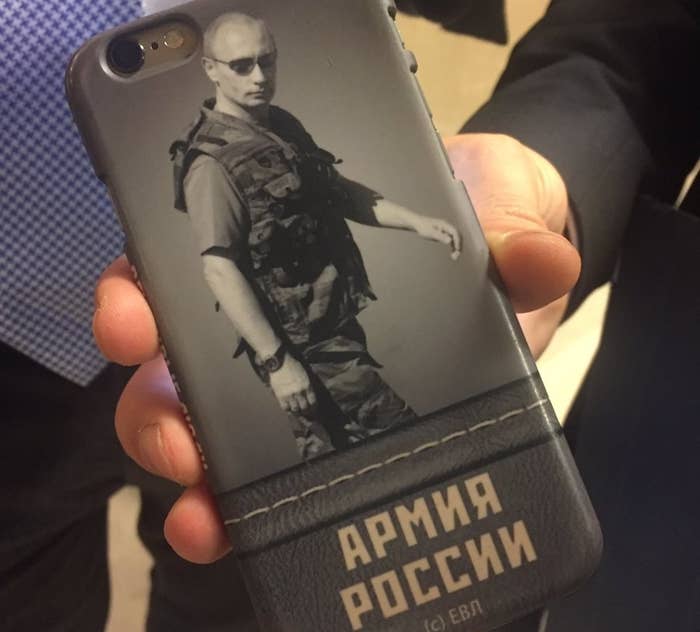 DAVOS, Switzerland — Stanislav Voskresensky, Russia's deputy minister of economic development, is walking around the World Economic Forum in Davos wearing an iPhone case adorned with the image of President Vladimir Putin and a massive smile.
"Why don't you write that Hillary is a lesbian?" he volunteers. "Everyone knows it."
The outburst at the annual elite forum held in the Swiss Alps, from one of Russia's younger, more cosmopolitan ministers, comes out of nowhere. (He goes on to say later in the day that it was a joke, "perhaps an unsuccessful one.") But it carries the tone, as the Russian government and the businessmen loyal to it prepare to celebrate the inauguration of a man who could turn the tide of US–Russia relations. Part of that tone is revelling in Clinton's loss, someone of whom Russia's establishment has long been suspicious. And part of it is, with some equivocation, celebrating the victory of Donald Trump, a man who isn't just soft on Russia, but downright reverent, particularly of Putin.
"Let's see what kind of leader he is," Voskresensky said, when asked if he expected Trump to cancel the sanctions slapped on Russia by the Obama administration in the wake of Russia's meddling in Ukraine. "Anybody, when they become the leader of one of the most powerful countries in the world…"
He trailed off, then cited Anthony Scaramucci, the fund manager turned Trump adviser who told a small media gathering earlier in the week that "the sanctions have had a very positive political effect on Vladimir Putin. Popularity went up."
(At Davos, Scaramucci reportedly met Kirill Dmitriev, the head of Russia's state Direct Investment Fund, which is the target of some US sanctions. The fund told Bloomberg it was organizing a visit to Russia for a delegation of top US executives, and planned to open an office in New York later this year.)
Everyone is still trying to figure Trump out — and that includes the Russians, who brought a delegation of more than 60 people to Davos. Pavel Durov — the founder of social network VKontakte and the messaging service Telegram, as well as a diehard libertarian — said he preferred Trump to Clinton, but was also taking a wait-and-see approach to what the new president would do with everything from taxes to his approach to tech.
But the biggest questions came from those trying to interpret Trump's positions on anything and everything, including Putin.
"It's a new challenge for Ukraine, it's a new reality," Serhiy Leshchenko, a Ukrainian MP, told BuzzFeed News after an off-the-record breakfast that was organized by Ukrainian oligarch Viktor Pinchuk, led by former British Prime Minister David Cameron and former US Defense Secretary Robert Gates, and devoted to figuring out what the new US administration meant for Ukraine. "He's trying to be different," Leshchenko said of Trump. "Is he really going to implement what he is saying? It would be very painful for Ukraine."
"He has a view on Russia that is different from the current administration," said Susana Malcorra, Argentina's foreign minister. "We need to see how that develops. He is very pragmatic, and he adjusts."
In the small media briefing, Scaramucci described Trump's motivation for better relations with Russia this way: "There is one nation on this planet that can take out the US in 35 minutes."
"Whatever you think about its economic power or whatever you think about its economic capabilities, it's the largest land-mass nation. It's stretched between Asia and Europe and it has a different cultural identity than Asia and Europe." The Russians, he said, are a "very proud people" who "would eat bare snow in the winter to survive."
"Now that Trump has been elected, Russia has a chance," said Tatyana Lysova, the editor of Vedomosti, a respected Russian business paper. "Will it be a reality or not reality, we can't know."
"There was personal tension between Putin and Obama — they do not understand each other, they don't feel each other," she said. "If Trump will offend Putin several times perhaps tension will be the same."
The anti-Kremlin contingent is equally wary.
"We don't know, as of January 18, what Trump's policies are going to be towards Russia," said William Browder, who once ran one of the largest foreign funds in Russia and now campaigns to isolate Russia for its lack of rule of law, as epitomized by the death in prison of his lawyer, Sergei Magnitsky. "If you talk to five different people connected to his team you get five different answers."