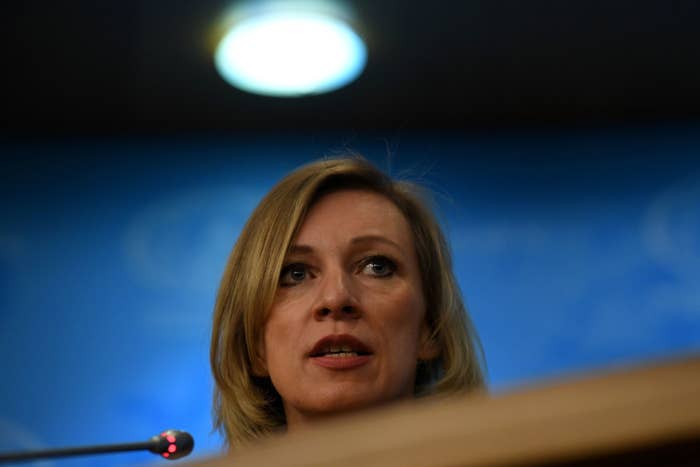 Russian foreign ministry spokeswoman Maria Zakharova used a Wednesday briefing to attack the publication of an unverified dossier about Donald Trump, BuzzFeed News, and the Western media at large.

Zakharova was asked about recent reports in UK media calling Sputnik, an online outlet run by Kremlin-owned Rossiya Segodnya, "fake news." She decried the reports as part of the continuing "trend" of an anti-Russian information campaign, calling out the BBC, The Independent, The Times, and the Sunday Times.
"Unfortunately, the global information space in recent years works in a style that previously was called 'mainstream' and now simply is the working out of an information campaign," Zakharova said. "The trends are 'Russian hackers' and now 'fake news.'"
She went on to mention the dossier published by BuzzFeed News on Jan. 10, compiled by a former MI6 agent investigating claims of ties between Donald Trump and Russia. The dossier, published after CNN reported that it was being used to brief then-President Barack Obama and then-President-elect Trump, was unverified and widely circulated in media and political circles in New York and Washington before its publication.
Zakharova first denounced the publication in a blog post on the website of radio station Ekho Moskvy on Jan. 11 in which she called the dossier "inhumane nonsense that is completely unbearable." The spokeswoman called out, in particular, the dossier's mention of a former employee at the Russian embassy in Washington, DC. Zakharova denied the employee's involvement in any pro-Trump machinations and said he was recalled to Moscow as part of a long-standing plan and not in response to any developments.
Zakharova returned to the subject of the dossier at her briefing on Wednesday following several days of communication with BuzzFeed News for a story on a mysterious death at the Russian consulate on the morning of Election Day.
She noted that the dossier mentioned employees of the Russian foreign ministry — namely, a former employee of the Russian embassy in Washington, DC.
"This report flew all over the world and it was published by the media, or so BuzzFeed calls itself," Zakharova said. "I can say again that, never mind the fact that we addressed ourselves to this outlet, there were no denials, no additional material published. Is that normal? Who is fighting with whom? What 'fake news?' You're producing them yourself and then yourselves think of some kind of nonsense relating to Russian media."
When asked how she had approached BuzzFeed News, Zakharova said in private Facebook messages that she had written a blog.
In a message, she wrote, "You prepared the publication of the report. Foreign ministry employees were mentioned there. You're required to come to us for comment BEFORE. You didn't. We reacted AFTER. You didn't respond to that either. I correspondent with you about this in the days after. Zero reaction."
Zakharova never sent a message or made a phone call to BuzzFeed News at the time of the blog post's publication. When pressed, she said she had tagged this reporter in a post on Facebook.