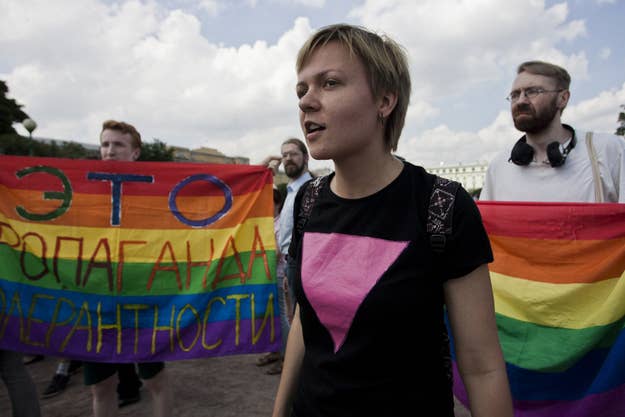 A bill that threatened to expand Russia's crackdown on LGBT rights by stripping gay parents of their children has been withdrawn from consideration, a spokesperson for the parliamentarian who sponsored the bill said on Saturday.
The move came to light after LGBT rights activists noticed the bill had been noted as "withdrawn" on the website of the State Duma, Russia's parliament. A spokesperson for Alexei Zhuravlyov, the far right MP who tabled the bill, later confirmed the move, but said it would be resubmitted after some changes were made.
"It's being recalled for revision — certain legal formulations will be clarified, and then after some points are removed, it will be brought to the State Duma again," Sofia Cherepanova, Zhuravlyov's spokesperson, told RIA-Novosti, a state-run news agency. "We hope to pass the bill."
Russia's human rights situation has come under criticism unseen since Soviet times because of a crackdown on LGBT rights launched with the adoption of a federal law banning so-called "propaganda of non-traditional relationships" in June. That law has been loudly supported by a wide spectrum of Russian officials, including President Vladimir Putin.
Support for the bill in question was always less clear cut. Elena Mizulina, the sponsor of the federal propaganda law and the public face of Russia's anti-LGBT campaign, repeatedly said she believed it would not pass.
The decision to withdraw the bill comes one month after it cleared a bureaucratic hurdle that put it on the agenda to be considered as soon as February 2014. That is the month that Russia is set to host the Winter Olympics in Sochi — something that has already pointed global attention to the country's abysmal record on LGBT rights.
Activists welcomed the move cautiously, with some predicting that it would be brought for consideration again once the global spotlight on Russia fades after the Olympics conclude. "Are they putting on a good face before a bad game?" one asked. "Let's not relax."