Obama Says Israel Has A "Right To Defend Itself"
The president addresses a crisis that has left more than 200 Palestinians dead.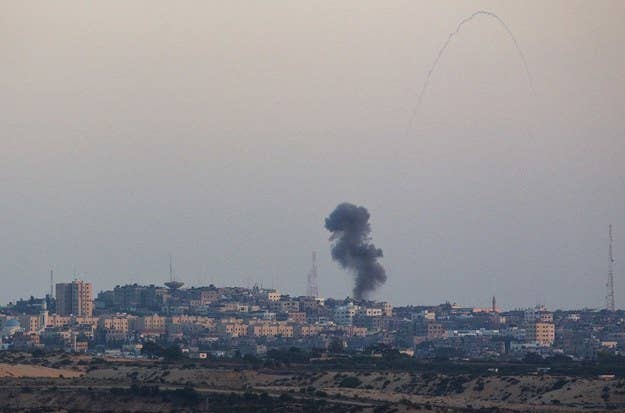 President Obama said Wednesday that Israel "has the right to defend itself" in his first comments on the latest round of Israeli-Palestinian violence, which has left 208 people dead, 207 of them Palestinian.
"As I've said repeatedly, Israel has a right to defend itself from rocket attacks that terrorize the Israeli people," Obama said. Hamas, which rules the Gaza Strip, has lobbed hundreds of rockets into Israel since hostilities broke out last week as tensions grew in the wake of the grizzly murders of three Israeli teenagers and the revenge murder of a Palestinian teen. The rockets have killed no one, and some have been intercepted by Israel's Iron Dome air defense system.
"There's no country on earth that can be expected to live under a daily barrage of rockets," Obama said. "And I'm proud that the Iron Dome system that Americans helped Israel develop and fund has saved many Israeli lives."
Israel's campaign against the Gaza Strip, meanwhile, has killed more than 200 people, including nearly 40 children, in the densely populated area. Obama said, "We've all been heartbroken by the violence, especially the death and injury of so many innocent civilians in Gaza — men, women, and children who were caught in the crossfire." Israel has insisted it provides warnings ahead of missile strikes in order to avoid civilian deaths. On Wednesday, the death of four children in a missile strike on a Gaza beach prompted widespread outrage.
"The Israeli people and the Palestinian people don't want to live like this," Obama said. "They deserve to live in peace and security, free from fear."
Obama said the U.S. continues "to support diplomatic efforts to end the violence between Israel and Hamas." A short-lived cease-fire, brokered by Egypt and accepted only by Israel, fell apart on Tuesday. Obama said he supported further Egyptian efforts and said he would "continue to encourage diplomatic efforts to restore the cease-fire."