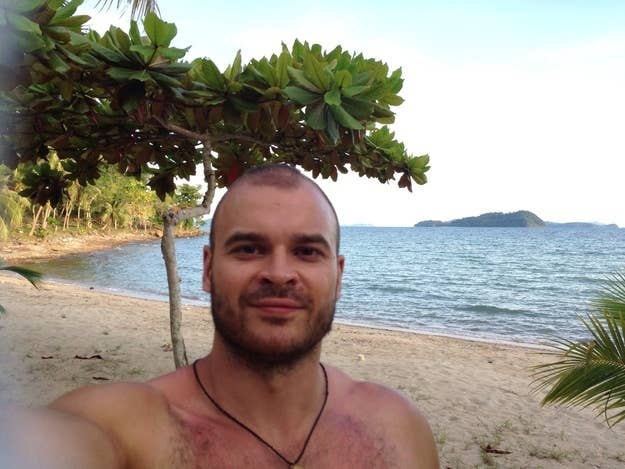 The Russian neo-Nazi behind a right-wing viral video movement to harass and humiliate gay men has been detained in Cuba after fleeing criminal charges in Russia, Russian media reported on Saturday.
Maxim Martsinkevich, known as Tesak ("Machete"), was detained one day after Russian security services put him on an Interpol wanted list, according to Life News, a Russian tabloid known for its close contacts with the security services.
Martsinkevich, 29, is the founder of a group called "Occupy Pedophilia," which lures young gay men into meetings via online chatrooms, only to humiliate them, brutally harass them and at times beat them. All incidents are filmed and then put online, and Martsinkevich's followers are encouraged to copycat him.
Martsinkevich fled Russia in early November after a criminal case into "extremism" was opened against him. He first fled to Thailand before making his way to Cuba via Frankfurt, according to his website.
"The Cuban police carried out a search of his hotel room," a security source told LifeNews. "They took all the electronics being used by Maxim Martsinkevich, including his cell phone and laptop." He was detained on Friday, but Cuba is not expected to officially inform Russia of the detention until Monday, it said, adding that he would soon be handed over to Russia.
LifeNews said Tesak was "arrested in absentia" for extremism by a Moscow court on Dec. 13 following the release of three YouTube videos where the neo-Nazi "acts in the spirit of skinhead culture," and supported anti-migrants riots that had broken out in the Moscow suburb of Biryulevo in October. Novaya Gazeta, Russia's leading independent newspaper, also reported Martsinkevich's arrest, but said the charges against him came after he uploaded two videos — one in which he insults WWII veterans and another in which he "fantasizes about what would have happened if Germany had won the war." Neither report makes any mention of his campaign against LGBT people when discussing the criminal case.
"They're putting pressure on all the people who do 'Occupy Pedophilia' with me," Martsinkevich told LifeNews earlier this month. It's completely obvious that they're trying to jail me for a case linked to 'Occupy Pedophilia.' They put pressure on those close to me and related to me."
The group alleges that it targets gay men looking for underage boys online, yet it has not released the chats proving the men's age. Instead, it releases videos of Martsinkevich and his followers meeting the men only to force them to simulate oral sex, shave their heads and other humiliating behavior.
Rights activists say that violence against LGBT people has risen since Russia passed a law banning "propaganda of non-traditional relations to minors" last summer.