Jailed Pussy Riot Member Missing Following Prison Transfer
Nadya Tolokonnikova's relatives have had no contact with the jailed punk rocker for 10 days.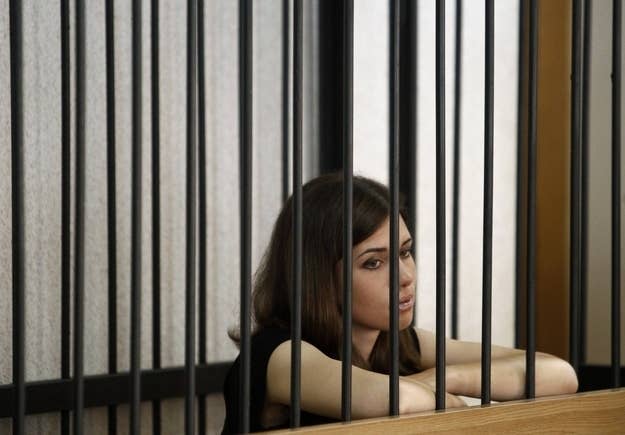 Jailed Pussy Riot member Nadya Tolokonnikova has disappeared after being moved from a prison in Mordovia 10 days ago, her family said on Friday.
Tolokonnikova's father and husband said they last knew her precise whereabouts on Oct. 21, when she was suddenly taken from her prison colony in the Russian republic of Mordovia and moved without explanation from Russian officials. "No one knows anything," her father, Andrei Tolokonnikov, said by telephone from Moscow. "There's no proof she's alive, we don't know the state of her health. Is she sick? Has she been beaten?"
Tolokonnikova, 23, was moved after launching a hunger strike to protest horrific prison conditions. She had also written an open letter denouncing "slave-like" work conditions at the labor colony that recalled the worst traditions of Soviet-era imprisonment.
Her husband, Petya Verzilov, and a group of supporters regularly protested near the prison colony and prison hospital, raising the ire of local officials. "We think they moved her to a big city to hide her," Tolokonnikov said. "It seems they got sick of these protests."
Verzilov told BuzzFeed he believed the decision to move his wife came from the authorities in Moscow: "They want to cut her off from the outside world."
Tolokonnikova was moved by train from the Mordovia prison colony and was spotted by a fellow passenger as the train pulled into the city of Chelyabinsk, in the Ural mountains, on Oct. 24, Verzilov said. His sources told him she was kept there overnight. Nothing has been heard of Tolokonnikova since. Prison authorities had promised to inform her family of her whereabouts 10 days after she was moved, Verzilov and Tolokonnikov said.
"When they moved [political prisoner Mikhail] Khodorkovsky, he was also kind of absent for two weeks. Nobody knew where he was, then he suddenly appeared in Chita," 1,000 miles east of Moscow, Verzilov said.
"This is basically the only way they have to punish Nadya — 'let's cut her off from the outside world,'" he said.
Tolokonnikova and her fellow band member Maria Alyokhina are due to be released in March after serving a two-year sentence on charges of "hooliganism motivated by religious hatred" following a protest against Vladimir Putin in a Moscow church.