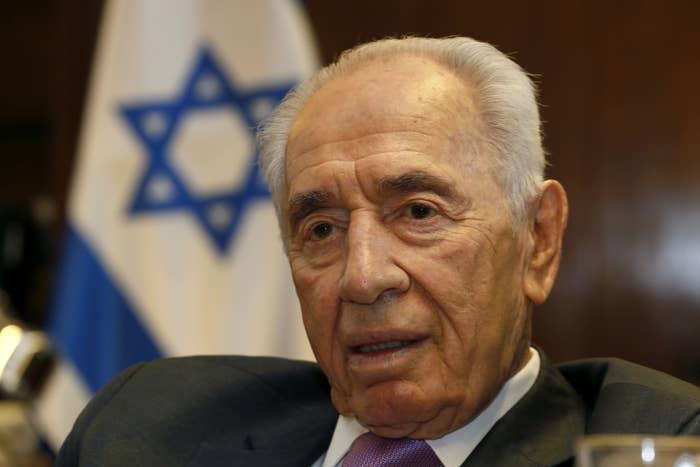 JERUSALEM — When the topic of peace comes up, even Israeli President Shimon Peres fumbles for answers.
As the man who has made seeking an Israeli-Palestinian peace his life's work prepares to leave office this summer, ending a 66-year political career, he finds himself increasingly struggling to answer the question of what comes next for the Jewish state.
At the prodding of Secretary of State John Kerry, the Israelis and Palestinians are once again embroiled in peace talks — or, to be more precise, talks about peace talks. Six months in, the two sides have failed to agree on even a basic outline of what the talks would entail. By many accounts, it has devolved into Kerry ferrying messages back and forth between leaders who haven't met in the same room since 2010.
Peres says he would do things differently.
"I do believe I enjoy their trust. I really try to negotiate with Abu Mazen," Peres told BuzzFeed during an interview at his Jerusalem residence, using the popular nickname for Palestinian leader Mahmoud Abbas.
While Israeli Prime Minister Benjamin Netanyahu has voiced repeated criticism over the willingness of the Palestinians to make concessions for peace, Peres meets with its top leadership regularly — according to an aide, Palestinian leaders visit his residence almost monthly for informal dinners.
The aide also said that before Kerry announced the launch of potential talks in July, Peres had met with the Palestinian leadership and drew up precisely the draft agreement both sides are working toward now.
"Netanyahu asked him to do it," the aide said. A spokesman for Netanyahu declined to comment.
"He met with the Palestinians in Italy twice and in London, and here [in Jerusalem]," the aide to Peres said. "They met many times and came to agreements." When asked why, then, Kerry was currently struggling to get both sides to agree to the same basic set of principles Peres had already established, the aide answered: "I have no idea why they are doing this, that was already done."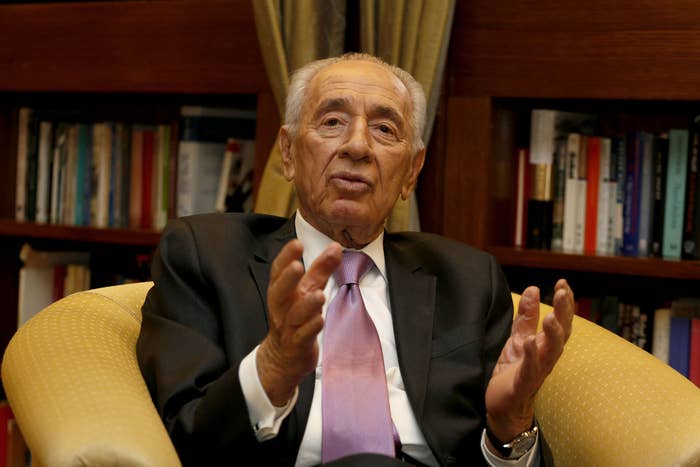 Peres' personal office is a testament to how close he once came to peace. A Nobel Prize awarded in 1994 sits behind his desk, and an entire bookshelf is dedicated to accounts of his role in the Oslo Accords, the 1993 agreement that set the benchmark on what a two-state solution would look like. But in the 20 years since, historic handshakes have fallen out of style, and hope is running low.
"There is a serious process, but there is no serious outcome," Husam Zomlot, a prominent member of the Fatah party, said during an interview at his office in Ramallah, in the West Bank. "This is our story for the last 20 years — sustaining the process, achieving a lasting peace process. And we have never achieved peace itself."
Neither side doubts Kerry's commitment to the process. "He is really a man of action and unbelievable energy," Peres told BuzzFeed.
But, according to Zomlot, the urgency that once drove both sides to negotiate is missing. "Kerry is really, really convinced, he is absolutely convinced that he can do it. There are personal legacy issues that I understand." What's more, he said, the Israeli-Palestinian stand-off now seems solvable in comparison to broader turmoil in the region.
"The U.S. really wants to see Israel and Palestine as a source of stability rather than a source of instability, given what is happening in Afghanistan, Syria, all these countries," he said. "All of a sudden, our issue has become resolvable. All of a sudden we have become the most stable case in comparison to the countries around us — it's very freaky."
"The only place that they have piles of files and ideas and proposals and initiatives is us. So they said, 'OK, let's start with the place we know,'" he said.
Despite the "piles of papers," serious disparities remain between what the Palestinian and Israeli leaderships see as a fair peace treaty, and with each year, the differences grow. Palestinians see the spread of settlements as eating away at land they believe has been earmarked for their future state. Israelis see the lack of reconciliation between the Palestinian Fatah and Hamas parties as an indication that the ruling Fatah leadership in Ramallah has no real mandate to make peace on behalf of all Palestinians. Neither side has come close to agreeing on the status of millions of Palestinian refugees or Jerusalem, a city both sides want to claim as their capital.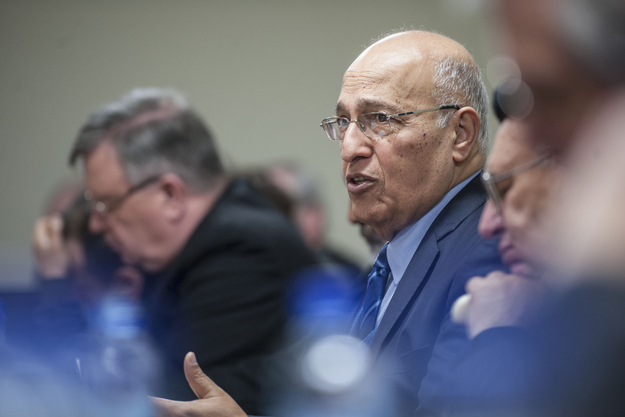 Both sides admit that time is running out. Palestinians have already hinted that if they can't get Israel to recognize them as a state through these talks, they will pursue international recognition of their rights through bodies like the United Nations, where they were granted "non-member observer state" status in November 2012 — seen as a major recognition of their sovereignty on the world stage.
Victory in the U.N. has prompted them to look at channels beyond peace talks. The talks' nine-month deadline expires on April 29 and officials indicated they would not follow Kerry or Netanyahu's lead in seeking to extend it.
Nabil Shaath, a senior Palestinian official involved in the negotiations, said the Palestinians would consider their obligations to the U.S. fulfilled and would resume applying to U.N. bodies for membership.
Zomlot, the Fatah official, added: "I'm worried because if you can't do it in nine months, why do you think you can do it in one year and nine months?"
"It's a process," he continued. "What we saw in Europe 15, 10 years ago, we see it today in the U.S." He pointed to the apparent growing strength of the Boycott, Divestment and Sanctions (BDS) campaign, particularly announcements by several U.S. university groups, including the American Studies Association to boycott Israeli universities.
Israeli officials do not share the same concern. Peres declined to directly address two questions about the issue. But last week, the Israeli-Palestinian Chamber of Commerce announced that a failure to reach a peace agreement would have "catastrophic" results for Israeli businessmen. Privately, some of Israel's wealthiest CEOs have been urging Netanyahu not to let the BDS movement affect their pocketbooks.
In 1993, Peres was hailed as a brave visionary for signing a peace deal despite lack of popular support. The 90-year-old has served in nearly every Israeli government since the country's inception — but has never won a popular vote. He blames his pushes for often unpopular decisions.
"I paid for it painfully," Peres said. "I paid in elections and in record."
With Israel's largest cities no longer facing daily terrorism and violence as they did in past decades, there is less public outcry for Israel's leaders to achieve a lasting peace. The subject of peace talks was hardly raised during the country's last national elections in 2013.
Peres says, however, that the fault does not lie with the people.
"Today there is a crisis of leadership," Peres said. "People don't think they need leaders."
He said the Palestinian leadership, including Abbas, was serious about making peace. Kerry was a "good friend" to Israel and very serious about making peace, he said. It was only Israel's leadership, particularly Netanyahu, that Peres never mentioned by name. When asked afterwards if it was correct that Peres had called all the sides involved in the talks — except Netanyahu — partners for peace, one of his aides said, "That is correct."
Peres has never directly criticized Netanyahu, but those closest to him admit he is frustrated with the pace of the peace talks.
"Today I must be restricted [in my criticism]," Peres said. In July, he will leave office, likely the last official post he will hold. He seems eager to step down after so long in government service.
He likened the presidency, a largely ceremonial post, to that of a bird "in a cage with golden stripes."
"The minute I should be out of the cage, I should probably fly again; maybe then in a clearer way I will express myself," he said.
Asked about his biggest accomplishments and regrets, Peres declined to answer. "The past doesn't interest me," he said. "It's past. It's finished. It's a waste to deal with it."
When asked about his future, he talks about his plans for the upcoming decade, saying his life's work is to "make peace."
"To make peace is the only business I care about," said Peres.
The question he couldn't answer was whether anybody else cared as much as he did.