Investigative Journalist Brutally Attacked In Ukraine
International condemnation pours in as a prominent Ukrainian journalist and opposition activist is dragged from her car and beaten hours after publishing pictures of a luxury home allegedly belonging to a top government official. Warning: graphic images.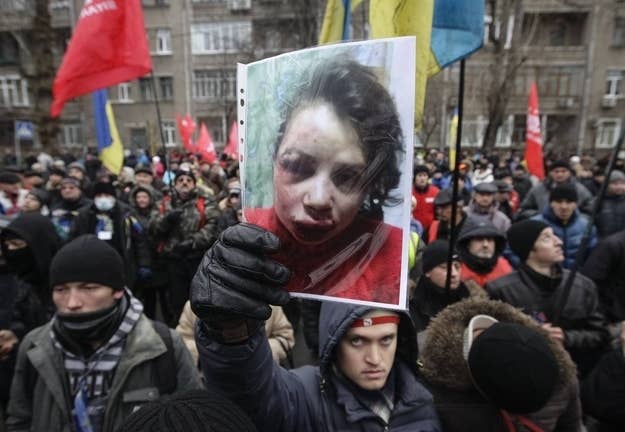 A leading Ukrainian investigative journalist was brutally beaten early Wednesday, hours after publishing pictures of a luxury home allegedly belonging to the country's interior minister.
Tatyana Chornovol, 34, was forced off the road by a dark-colored SUV around 1:30 a.m., according to a police statement cited by RIA-Novosti, a Russian news agency. Several men jumped out of the car, smashed in her rear window, dragged her out of the car and beat her, before dumping her in a ditch, it said.
Photos of Chornovol before and after the attack quickly went viral, reigniting anger among protesters who have been in the streets for weeks to protest against the government of President Viktor Yanukovych.

Activists released video of Chornovol barely able to speak after the beating. She is currently at the hospital recovering from bruising and a concussion, local English-language paper the Kyiv Post reported. Warning: graphic.
Ukrainians protested in front of the Interior Ministry on Wednesday.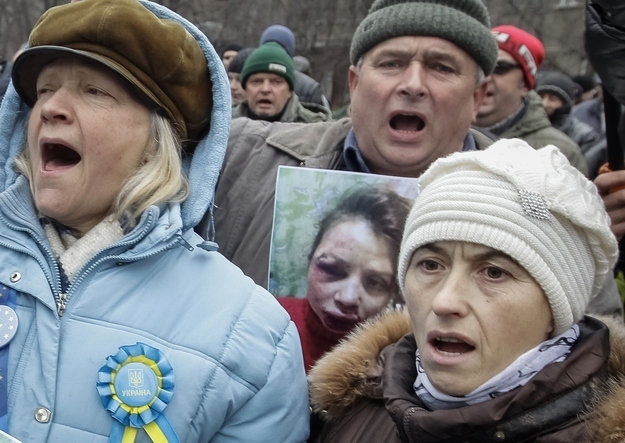 Hours before the attack, Chornovol published photos of luxury homes she claimed belonged to the country's interior minister on the website of Ukrainskaya Pravda, which has changed its name on its website to "European Pravda" out of solidarity with the protest movement, which Chornovol also covered. She had previously published pictures of homes allegedly belonging to other top officials, highlighting Ukrainians' anger with rampant corruption.
The U.S. and EU condemned the attack. Geoffrey Pyatt, the U.S. ambassador to Kiev, said in a statement that the embassy was "appalled."
"We express our concern at a strikingly similar series of events over the last few weeks, targeting individuals, property, and political activity, apparently aimed at intimidating or punishing those linked to the EuroMaidan protests," the statement said.


EU officials also condemned the attack. Ukraine's protests broke out after Yanukovych rejected a path toward closer ties with Brussels and moved toward Russia instead.

Yanukovych ordered an investigation into the attack on Wednesday, the Kyiv Post reported. It said the investigation is to be led by Prosecutor General Viktor Pshonka and Interior Minister Vitaliy Zakharchenko, the alleged owner of the home Chornovol exposed.

Activists also shared this video, saying it came from Chornovol's dashcam, showing how her car was run off the road. They did not explain the 2010 time mark, however, and it has not been independently verified.
The attack came hours after Dmitry Pylypets, a protest organizer in the eastern city of Kharkiv, was beaten and stabbed four times while walking near his apartment, the Kyiv Post reported. Journalists were also beaten by security forces at the start of the anti-Yanukovych protests.
Ukrainskaya Pravda, where Chornovil published, was founded by Georgy Gongadze, a Ukrainian journalist who was found decapitated in 2000. The man convicted in his murder said he had acted on the orders of the country's then interior minister. Then President Leonid Kuchma, who maintains close ties to Yanukovych, denied involvement in Gongadze's murder although leaked tapes had him ordering the crime. Gongadze's death sparked protests that were seen as the precursor to the country's 2004 Orange Revolution, which at the time prevented Yanukovych from taking the presidency as Kuchma's chosen successor.
UPDATE - 5:52 p.m. ET: Chornovol will need at least three operations, reports The Kyiv Post.
"According to doctors' estimations it will need at least three operations, if all goes optimistically," said Serhiy Pasynsky, a Batkivshchyna Party member of Parliament.
Police also said they identified three suspects and took two of them into custody.