Foreign Policy Hands Wonder: What's The Point Of Obama's Syria Policy?
President Obama has yet to connect his military goals in Syria and his political ones. "Constitutionally sound, but strategically appalling" says Obama's former top Syria aide.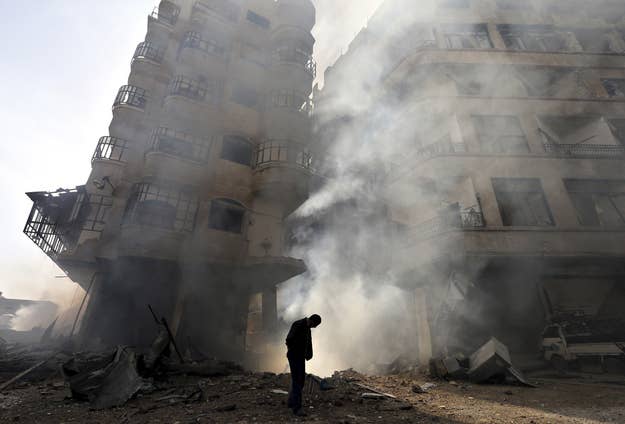 Frederic Hof spent President Obama's first term as the State Department's point man on Syria. He is now a furious administration critic, and a symbol of the growing consensus in the professional foreign policy community that the Obama Administration — no matter how its last-minute detour through Congress turns out — has badly bungled its Syria policy through two years of popular uprising turned bloody civil war.
"The events of the past ten days suggest that there was no administration forethought to the possibility of a major chemical incident in Syria," wrote Hof, currently a fellow at the Atlantic Council, where his former boss is Secretary of Defense Chuck Hagel. Hof had floated the specter of a chemical attack by the regime months ago.
"The results of this mystifying lack of preparedness have been abysmal," he wrote, calling Obama's decision to seek congressional approval for the strikes "constitutionally sound, but strategically appalling" and suggesting the White House find "an objectives-based strategy."
Hof struck at what, for those who spend their time thinking about grand strategy and not domestic politics, is the heart of the matter. The administration has consistently separated the goals it hopes to achieve with a military strike — punish Assad, send a warning to similar states, restore U.S. credibility — from the objectives it hopes to achieve politically: to reach a negotiated peace in Syria with Assad no longer at the country's helm. In terms of strategic planning, the separation of the two is almost a rookie error.
No one is underestimating the complexity of a conflict that combines elements of sectarian violence and a wider proxy war between the likes of Saudi Arabia and Iran. Yet a consensus focused on the Obama administration's foreign policy missteps has begun to emerge.
Since first floating the prospect of military strikes last week in the wake of an August 21 chemical attack that killed more than 1,400 civilians, Obama has insisted that any attack on Assad would be "limited" and "narrow," aimed at punishing Assad for using unconventional weapons. Secretary of State John Kerry reiterated that stance while making the rounds of the Sunday morning shows: "We do not believe that this military action the president has decided to take should be more than an effort to try to deter and prevent the use of chemical weapons and to degrade his capacity to use those weapons."
Criticism from congressional corners has been swift. Sen John McCain has been among those calling for more robust action: "We have to have a plan, it has to be a strategy," he said on Face the Nation on Sunday, pushing for an operation that would result in Assad's removal.
For more than two years, the Obama administration largely stayed in the background as Syria's conflict took 100,000 lives and turned more than two million people, half of them children, into refugees. The administration left the arming of rebels to allies Saudi Arabia and Qatar. It saw radical elements join the struggle against Assad, who remains backed by Iran and Russia. It saw the conflict begin to seep across borders.
Yet as the chaos spread, the Obama Administration had a good reason to resist involvement: Obama was elected as the anti-Bush, with no mandate clearer than staying out of messy conflicts in the Middle East. In doing so, the administration has missed the opportunity to build ties — and the political careers — of moderate elements in the rebellion, and is increasingly hostage to the fear of who will replace Assad once he falls.
Sitting on the sidelines of the Middle Sast for two years has had its effect.
"The structure of US alliances in the region has completely changed," said Ayham Kamel, a Beirut-based analyst for Eurasia Group. "You have an environment where there are no back channels to resolving issues in the region."
On Thursday, Obama travels to Russia for a summit of the G20 nations. The meeting was always going to be tense, coming at a time when US-Russia relations stand at a post-Cold War low. Now the world will be watching its results with intense interest. One question: Will Putin use the gathering as a means of trying to humiliate Obama or will he indicate some desire to put pressure on Assad — assuming, and many US diplomats privately don't, that he has that power?
In the meantime, six U.S. warships armed with Tomahawk cruise missiles have been stationed in the Mediterranean Sea. Congress is due to reconvene on September 9. He will face pressure to go stronger on Syria, and to not go in at all.
There is hope that in the interim Obama will outline his longer-term goals.
"[H]opefully [an attack] can set the groundwork to be able to pursue a diplomatic strategy that can ultimately result in a negotiated settlement there that bring the needed peace and stability that Syria absolutely requires and that has Assad step down," former defense secretary Leon Panetta told NBC News.
The Obama Administration has yet, however, to signal that it sees a clear path — military or otherwise — to that goal.
In a paper released on Sunday, the International Crisis group said: "Debate over a possible strike — its wisdom, preferred scope and legitimacy in the absence of UN Security Council approval — has obscured and distracted from what ought to be the overriding international preoccupation: how to revitalize the search for a political settlement. Discussions about its legality aside, any contemplated military action should be judged based on whether it advances that goal or further postpones it."