Egypt's Sisi Given Free Pass On Rights Crackdown At Global Forum
The Egyptian president presents himself as a counterweight to extremism in a speech to the World Economic Forum in Davos.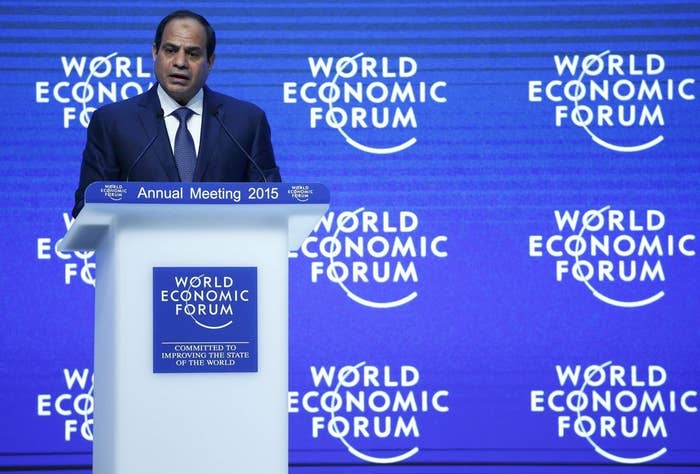 DAVOS, Switzerland — Egyptian President Abdel Fattah el-Sisi was given a grand stage on Thursday from which to position his country as a force for stability as the West grows increasingly concerned about Islamist extremism.
Speaking to the World Economic Forum, Sisi presented himself as the voice of the Egyptian people, winning a standing ovation from many attendees at the end of his speech. The Egyptian leader, accused of human rights abuses against critics, journalists, and LGBT people at home, did not take any questions.
Sisi urged a shift in the global discourse around Islam. "Islam, a religion with values of tolerance embraced by more than a billion followers, should not be evaluated through the acts of criminals and murderers," he said. "We, as Muslims, must seek reform and re-evaluate our perspectives so we do not allow a minority to distort our history."
Sisi painted Islamist extremism with a wide brush, appearing to draw comparisons between Egypt's previous government, led by the Muslim Brotherhood, and the attackers who hit Paris earlier this month.
Without making direct reference to Charlie Hebdo, the satirical newspaper targeted by the first attackers in Paris, Sisi said that in battling extremism it was also important to "refrain from confrontation."
"The whole world should stop to think and take stock and think about certain things that could provoke other people or hurt their feelings," he said.
Philipp Rosler, a former German politician who moderated the session, did not raise the issue of human rights.
Adrian Monck, head of communications for the forum, declined to comment on the terms of Sisi's invitation.