Do The Generals Want War In Syria?
A retired major general writes a damning op-ed against Obama's war plans and claims widespread military disapproval over the administration's handling of the crisis. A Pentagon spokesman rejects the claim.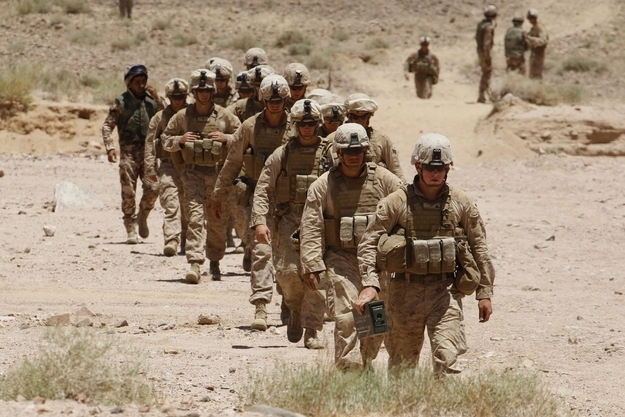 A retired U.S. major general who claims to have spoken with dozens of active and retired soldiers says there is widespread outrage inside the armed services at the "amateurism" of the Obama administration's plans for military strikes in Syria.
Writing in the Washington Post, Robert Scales, who retired in 2000 after serving as head of the U.S. Army War College, added his voice to the increasingly loud questioning of U.S. plans to strike the regime of Bashar al-Assad following a chemical weapons attack last month.
"So far, at least, this path to war violates every principle of war, including the element of surprise, achieving mass and having a clearly defined and obtainable objective," Scales wrote. The soldiers to whom he had spoken were "embarrassed to be associated with the amateurism of the Obama administration's attempts to craft a plan that makes no strategic sense."
Pentagon Press Secretary George Little rejected the article's premise.
"I have no idea where these broad characterizations of anonymous opinion originated. We don't take opinion polls of our military personnel on policy debates," Little said in an email to BuzzFeed. "The fact of the matter is that our military planners continue to do what they do incredibly well: professionally develop military options on Syria. Our cadre of planners is the finest in the world, and they are demonstrating great resolve."
Although Obama appears likely to win congressional support for a planned strike on Syria, he continues to face criticism for fumbling the approach to war and failing to elucidate an end goal.
Reading into the body language of Martin Dempsey, the chairman of the Joint Chiefs of Staff, during a hearing of the Senate Foreign Relations Committee on Tuesday, Scales wrote that it's "pretty obvious" that Dempsey "doesn't want this war."
Dempsey remained largely silent throughout the hearing, leaving most of the talking to Secretary of State John Kerry and Defense Secretary Chuck Hagel. A particularly awkward moment came during an exchange between Kerry and Republican Sen. Rand Paul, who told the secretary of state that "the last 50 years, secretaries of defense would say if your goal is not to win, you shouldn't be involved." Kerry replied by saying "100% of Americans" would say they wouldn't want to go to war with Syria if asked, but the administration wasn't planning "a war in a classic sense." He asked Dempsey if he wanted to "speak to that." Dempsey jumped in with: "No, not really secretary, thanks for offering."
"Dempsey's unspoken words reflect the opinions of most serving military leaders," Scales wrote. "The U.S. military's civilian masters privately are proud that they are motivated by guilt over slaughters in Rwanda, Sudan and Kosovo and not by any systemic threat to our country."
"Civilian control of the armed services doesn't mean that civilians shouldn't listen to those who have seen war," he wrote. "Over the past few days, the opinions of officers confiding in me have changed to some degree. Resignation seems to be creeping into their sense of outrage."
Rosie Gray is a reporter for BuzzFeed News and is based in Washington, D.C. Gray reports on politics and foreign policy.

Contact Rosie Gray at rosie@buzzfeed.com.