Did These Russians Violate Russia's Anti-Gay Propaganda Law?
Amid the furor over Russia's anti-gay laws, Ksenia Ryzhova and Tatyana Firova kiss on the lips to celebrate their victory at the World Athletics Championships in Moscow.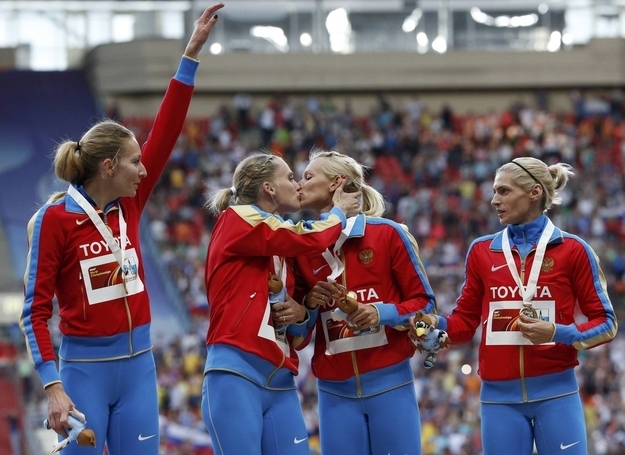 As Team Russia took to the podium on Saturday to accept a gold medal in the IAAF World Athletics Championships in Moscow, Ksenia Ryzhova and Tatyana Firova turned to each other and planted a kiss on each others' lips.
Were they bursting with joy at winning the women's 4x400 relay? Or were they doing their part to join the growing protest against Russia's controversial law banning so-called gay propaganda, as some suggested?
The jury is out. Sources told Sky News that the athletes were merely congratulating each other and intended to make no political statement. But kissing on the lips for any old reason isn't exactly part of Russian tradition. Ryzhova and Firova have yet to comment.
Their kiss came as ever more athletes join the debate over Russia's anti-gay law as the Sochi Olympics draw nearer.
And then there's Vitaly Mutko, Russian sports minister. He has already asked people to "calm down" over the anti-gay law, which he has repeatedly said would be enforced during the Games. This weekend, he went one step further and said the uproar over the law was "an invented problem" in the Western media.
Russia, he said, was merely trying to protect its children against dangerous tendencies: "We want to protect our children whose psyches have not formed from the propaganda of drug use, drunkenness and non-traditional sexual relations."