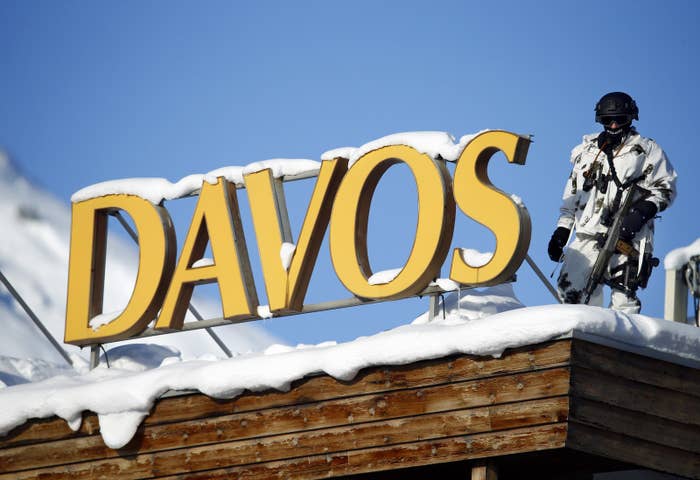 DAVOS, Switzerland — The most telling exchange at the World Economic Forum in Davos came on Thursday afternoon during a closed-door lunch hosted by the Washington Post, Foreign Policy, and Slate.

A couple hundred people were gathered at the Hotel Seehof, an expansive five-star hotel on the Davos promenade, to discuss the state of the world on the eve of the inauguration of Donald Trump. There were heads of state, both current and former, and captains of industry and finance.
The hostess, Lally Graham Weymouth, a senior associate editor at the Washington Post and daughter of the late Katharine Graham, was calling on people around the room to share their thoughts when she hit upon David Rubinstein, the jovial co-founder of the Carlyle Group. His remarks were different — and, people in attendance said, made as a joke. Rubenstein, three people in attendance told BuzzFeed News, pleaded to those gathered that elites were people too. With feelings! And they deserved to be listened to.
And then Jamie Dimon, the head of JPMorgan Chase, replied in his own way, letting out an expressive: "Make elites great again!" The banker, who was compensated $28 million last year, is not known for his sense of humor.
Joseph Evangelisti, a spokesperson for JPMorgan, told BuzzFeed News: "It was tongue-in-cheek." Those who heard Dimon's private riposte weren't so sure.
The scene at Davos this year was something verging on panic. Politicians and "thought leaders" (a term used unironically at the elite gathering) grappled with the wave of populism sweeping the planet. The specter of Brexit and Trump hung over everything. European defense ministers, namely those from Germany and the Netherlands, gathered to openly discuss what it would mean to defend the continent without US support. Top Ukrainian officials pleaded not to be forgotten as Europe grapples with its own issues.
For the first time in years, the sense of crisis was pinned squarely on the West.
Everyone seemed to agree that they had "lost the narrative."
"The demagogues have got the right idea of the problems but are misleading people about the solutions," said Salil Shetty, the head of Amnesty International. Of the political hand-wringing he said: "These same conversations have been happening for years. We keep being told there are winners and losers. We keep being told the exact same thing. We never learn."
The attention on narrative, however, was disconcerting — and showed just how disconnected those cloistered away in the Swiss Alps last week really are. There was no discussion, that I saw anyway, of new solutions or approaches to those who feel disenfranchised by globalization. It was all about selling them a better story.
Nowhere was this disconnect on better display than at a real-life obstacle course called "A Day in the Life of a Refugee," run by a Hong Kong-based organization called Crossroads Foundation.
For 75 minutes, Davos participants can elect to imitate what the organization presents as the average refugee experience — women are forced to wear headscarves and banned from talking to men they don't know, everyone is given identity cards and a family history, and then they are told to run into the dark. Gunshots ring in the distance, mean-spirited "guards" shine flashlights in their eyes and tell them to cower in tents lining one wall. The experience leader, David Begbie, originally from Australia, puts on a faux accent reminiscent of a native Arabic speaker and yells things like: "Hallas, you are hungry! Food you will have," sounding not unlike an Arabic-speaking Yoda.
The experience ends when a small group of people are taken into a small room presented as a "brothel," with used condoms and cigarettes on the floor, the actors hinting that a mass rape is about to happen. Then everyone is led to a series of long benches to discuss what they have just been through. Some describe the fear and voicelessness they felt. Some are crying. Those who role-played as guards have tissues at the ready.
During the "refugee run" I did, one woman, from Croatia, spoke up and asked — where was the refugee camp meant to be? Why the, as she put it, "Islamic element"?
"We have tried to create a neutral narrative," Begbie replied. "This camp can be anywhere."
Except it couldn't, and it wasn't. It was in Davos, where nothing is real.