A Feast In The Time Of Plague For Russia And Ukraine
Ukrainian president Petro Poroshenko begs for help at the Davos World Economic Forum while Russian oligarchs party.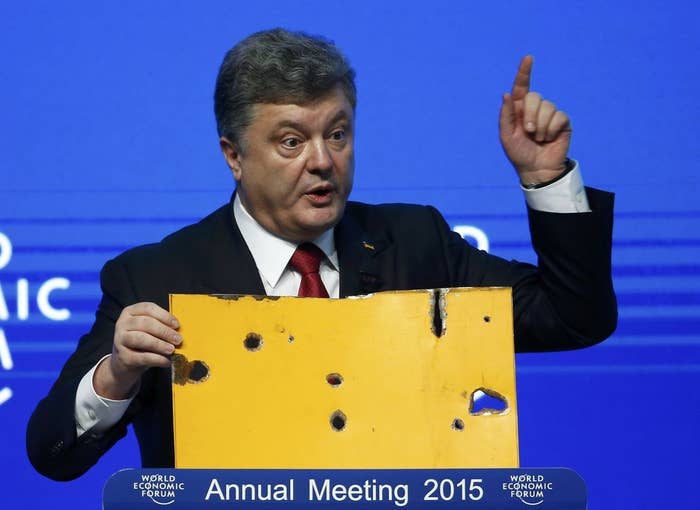 DAVOS, Switzerland — One year ago, Petro Poroshenko, a Ukrainian businessman who had made his fortune in chocolate, sat in a small room in this Swiss mountain town and listened as foreigners spoke about investing in his country.
When his turn came to speak at the closed-door session, organized on the sidelines of the World Economic Forum long before Ukraine had erupted in protest, his voice shook and his eyes welled with tears. That morning, police had opened fire on protesters for the first time. He asked for a minute of silence.
This year, Poroshenko addressed the forum's main hall, now as president. "I am a president of peace," he said, appealing for solidarity as well as increased foreign investment to aid its ailing economy.
In the 12 months between Poroshenko's appearances at Davos, Russia annexed Crimea and stirred war in East Ukraine. The past few days have seen an escalation of hostilities. A script practiced for months continues to play out: Ukraine accuses Russia of sending troops into Ukraine; Russia denies it.
Poroshenko's spokesman said Wednesday that the president would be cutting his visit short following reports of fighting. Poroshenko spent the day scuttling between rooms, meeting with European delegations and press.
Some of Russia's highest-profile attendees sat in the audience for Poroshenko's speech. Sberbank chief German Gref sat alongside aluminum oligarch Oleg Deripaska. One official from Sberbank, the state banking giant that was targeted by U.S. and EU sanctions as punishment for Ukraine, called Poroshenko's speech "touching."
Some Russians in attendance dodged questions about the fate of the country's economy, hit by a steep drop in the ruble and the oil price, in addition to sanctions. There are growing concerns over the Kremlin's plans to use up reserves in order to prop up the ruble, and the economy.
Asked when the crisis would end, David Yakobashvili, who made his fortune as founder of a Russian company called Wimm-Bill-Dann, said: "When will it end? That is not the question. Ask if it will end peacefully."
"Obama is putting him in a corner," he said, not using Russian President Vladimir Putin's name. "He can do anything."
At a party hosted by Russian state bank VTB, also hit by sanctions, the mood was decidedly subdued, despite endless bowls of caviar and sturgeon, bar tables piled high with chocolate and truffles, and women in black sparkly traditional dress (referred to by the emcee as "black petrol matryoshki," or nesting dolls).
The bank's chief, Andrei Kostin, brushed off concerns about the ruble. "The ruble has been sturdy and it will be sturdy," he said. Asked what the government should do to address the growing economic crisis, he said: "They must work." When asked how, he repeatedly hit his forehead with a finger and said, "With their heads."
One attendee called it "worse than a feast in the time of the plague."