Ugandan President Signals Possible Further Delay In Signing Anti-Gay Bill
In a new statement, Yoweri Museveni also called out Obama and "western groups that come to our schools and try to recruit our children into homosexuality."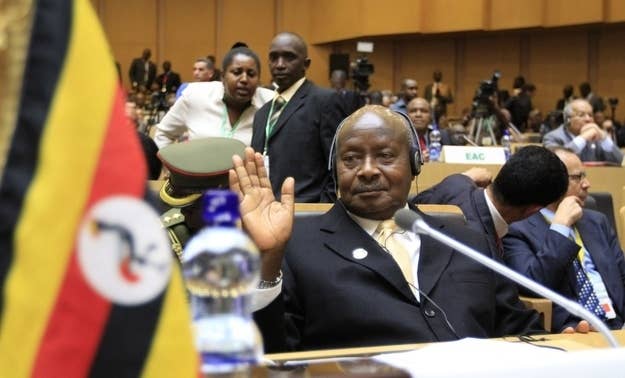 Uganda's president signaled another possible delay in signing into law a controversial anti-gay bill that would impose a lifetime jail sentence for homosexuality, claiming that he needs more time to research the science of homosexuality.
President Yoweri Museveni wrote in a statement that became public Friday that he had considered scientific studies that said "there is no single gene that has been traced to cause homosexuality"and now needed time to clarify "whether a combination of genes can cause anybody to be homosexual." The statement, published in Uganda's Observer, is seen as the latest attempt to stall implementation of the bill, which the Ugandan parliament passed in December 2013 and the United States, among other countries, has strongly condemned and threatened with repercussions.
"Crossing fingers that it is an opening for further delay," LGBT lawyer and activist Wade McMullen told BuzzFeed by email.
Among the statement's many claims, Museveni wrote that "exhibitionism of homosexual behavior must be punished because, in this part of the World, it is forbidden to publicly exhibit any sexual conduct (kissing, etc) even for heterosexuals; if I kissed my wife of 41 years in public, I would lose elections in Uganda."
On Feb. 14, Museveni announced he intended to sign the bill, signaling a reversal of previous commitments to western human rights groups that he would reject it. After the bill's passage by parliament last December, Museveni wrote to the body and argued that homosexuality was a biological "abnormality" and therefore not something to criminalize.
Uganda's top government spokesperson (who originally tweeted out that Museveni would sign the bill) tweeted this summary of the president's statement.
Obama and Kerry have warned that Uganda's adoption of the bill would lead to severe repercussions, including cuts in economic aid. Museveni concluded his statement with this response.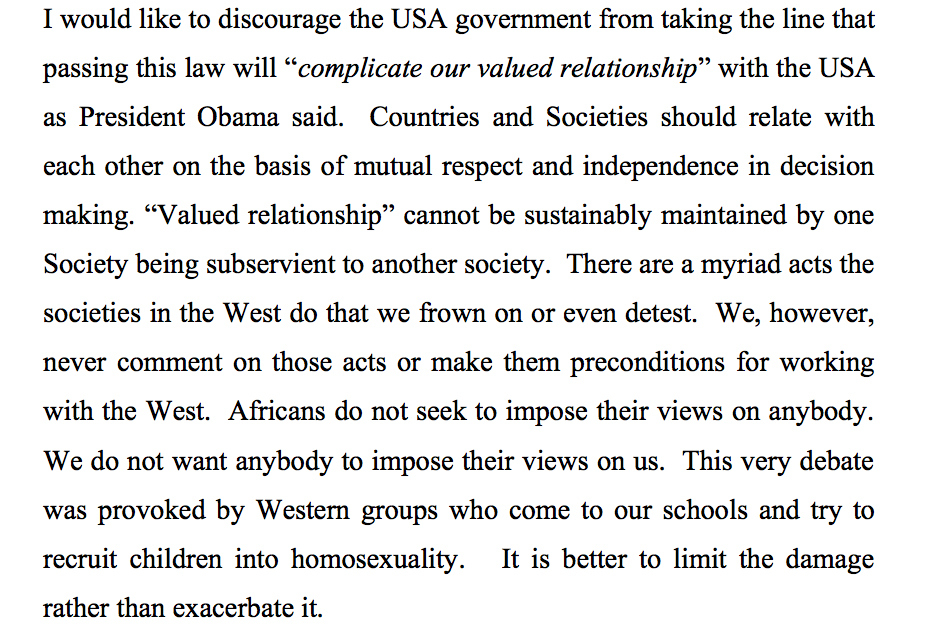 Read Museveni's statement in full here: