Attacks In Jerusalem Spur Fears That Violence In Gaza Is About To Spill Over
A Palestinian construction worker used his vehicle to attack pedestrians and cars, while an armed gunman opened fire near an Israeli University in Jerusalem.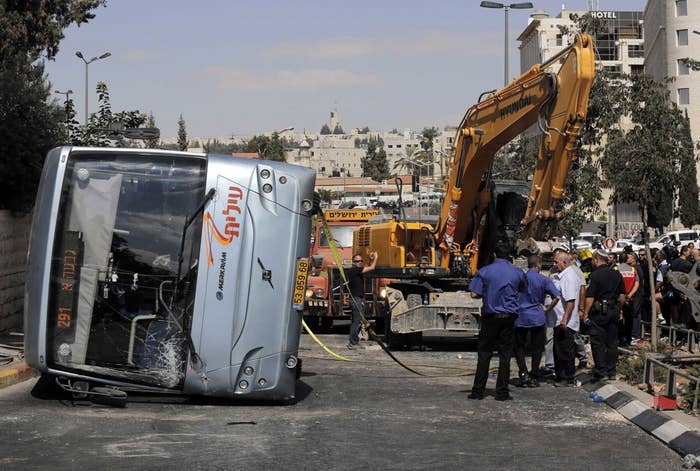 A Palestinian man used his heavy construction vehicle to overturn an Israeli bus in Jerusalem on Monday, killing one pedestrian and injuring six others before a police officer shot and killed him, according to Israeli officials. The incident worried many who fear that violence will spill over into Jerusalem and the West Bank as the Israeli military campaign in the Gaza Strip continued into its fourth week.
Israeli security officials identified the driver as Muhammed Naif El-Ja'abis, in his twenties, from the East Jerusalem neighborhood of Jabel Mukaber. They said he used his excavator to attack several cars and a bus on a busy street in Jerusalem.
Israeli officials called the incident a terrorist attack and speculated that El-Ja'abis might have acted out of revenge for Israeli police demolishing his cousin's home in East Jerusalem two weeks ago, according to the Times of Israel. Officials also cited opposition to the Israeli military in campaign in Gaza as possible motive.
Palestinian acquaintances of El-Ja'abis' countered the Israeli narrative, claiming that El-Ja'abis was not involved in politics. His family told Israel's Ynet News that the tractor must have flipped over by accident, as their son had no bad intentions.
An Israeli article circulating on social media quoted a Palestinian tractor driver with El-Ja'abis' same name as having previously said that he made sure to have his tractor inspected, because he feared that if it malfunctioned and veered off road he would be labeled a terrorist. BuzzFeed could not verify whether the two men in question were the same.
There have been multiple incidents of Palestinians ramming tractors into Israeli civilians over the last decade, raising fears among Israelis that the deadly trend could be returning. (Many Palestinians work as construction workers on Israeli sites.) Monday's tractor incident occured near the unofficial line that divides the predominantly Jewish West Jerusalem from East Jerusalem, where the majority of Jerusalem's Palestinians live.
After the incident, hundreds of angry onlookers, mostly ultra-Orthodox Jews, gathered at the crash site. Israeli police evacuated a bus full of Palestinians nearby as some in the crowd shouted, "Death to Arabs!"
In a separate incident, an unknown gunman on a motorcycle shot and critically injured an Israeli soldier in Mount Scopus, Jerusalem, near the Hebrew University campus. Police have begun a manhunt to find the assailant.
Palestinians and Israeli security forces also clashed on Monday morning at the al-Asqa Mosque at the Temple Mount, a site of continued tension. Later in the day Palestinian protests broke out in Issawiya and Silwan, two of East Jerusalem's poorest Palestinian neighborhoods.
Small scale Palestinian protests against the Israeli military campaign in Gaza and occupation have been occurring throughout the West Bank and East Jerusalem since the start of the war July 8. Human Rights Watch reported Monday that Israeli police unlawfully shot and killed two Palestinian protesters at a demonstration in Beit Ummar in the West Bank on July 25. An estimated 10,000 Palestinians in East Jerusalem and the West Bank protested on July 24, one of the largest Palestinian protests in years.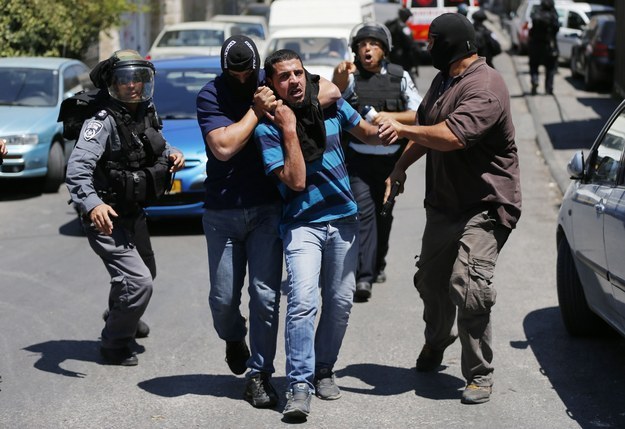 More than 1,800 Palestinians, mainly civilians, and more than 65 Israelis, mainly soldiers, have died during the four weeks of fighting in Gaza. The United Nations has warned that the humanitarian situation in Gaza is reaching a near-breaking point amid shortages of basics like clean drinking water, electricity, and medical supplies. On Monday, Israel issued a unilateral seven-hour cease-fire in parts of Gaza. Hamas militants fired 31 rockets into Israel during the period, according to Israel's Channel 2 news. At least 30 Palestinians also died from Israeli strikes in parts of Gaza not covered by the cease-fire during the same period, according to Gaza's Health Ministry.
On Sunday, an Israeli airstrike at a United Nations-run school serving as a refugee center killed at least 10 Palestinians and incurred one of the harshest U.S. condemnations of Israeli actions yet. On Saturday, Israeli military officials declared that Israeli soldier Hadar Goldin was dead, after it was previously suspected that Hamas militants had kidnapped him a day earlier. Israeli military officials also signaled that they could be looking to end their ground offensive in Gaza. Peace talks between Israeli, Palestinian, Egyptian, and U.S. officials, however, have yet to come to a long-term cease-fire deal.