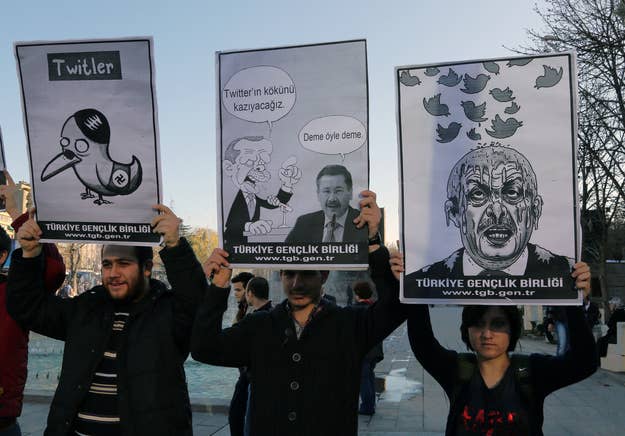 Twitter is challenging Turkey's ban on Twitter in Turkish courts, the company said on Wednesday, hours after a Turkish administrative court in the capital Ankara ordered the government to suspend the ban.
A Twitter spokesperson told BuzzFeed the company was going ahead with its lawsuit despite the suspension order, which has yet to be implemented but expected to be shortly. Twitter published a statement on its blog outlining the company's legal claims:
It's now been six days since the Turkish government blocked access to Twitter. Throughout this time, we've been engaged in discussion with Turkish authorities to hear their concerns, inform them about how our platform and policies work, and try and bring this situation to a resolution. But still, the millions of people in Turkey who turn to Twitter to make their voices heard are being kept from doing just that.

So today, we filed petitions for lawsuits we have been working on together with our independent Turkish attorney over the last few days in various Turkish courts to challenge the access ban on Twitter, joining Turkish journalists and legal experts, Turkish citizens, and the international community in formally asking for the ban to be lifted.

The purported legal basis for the ban is three court orders (none of which were provided to us prior to the ban) and a public prosecutor's request.

Two of the three court orders relate to content that violated our own Rules and is already suspended. The last order instructed us to take down an account accusing a former minister of corruption. This order causes us concern. Political speech is among the most important speech, especially when it concerns possible government corruption. That's why today we have also petitioned the Turkish court on behalf of our users to reverse this order.
In the meantime, Twitter also announced that it will be blocking access in Turkey to the accounts that form the bases of their ongoing court cases by using the network's Country Withheld Content tool, which enables the company to restrict access to specific tweets or accounts in a country to comply with domestic laws. (Twitter users in Turkey can still access these accounts, however, by changing what country their account lists them as in.)
Earlier on Wednesday, an Ankara court issued a stay of execution on Prime Minister Recep Tayyip Erdogan's March 20 decision to have the country's telecommunication authority (TIB) block Twitter access, the BBC reported. On Feb. 16, the Turkish government implemented a new law granting the government tighter media controls. The Turkish Journalist's Association and internet lawyers filed two separate lawsuits challenging the ban on Monday. Critics say the law allows the government to ban specific Twitter accounts, but not the entire network.
In defending his decision, Erdogan has alleged that Twitter did not do enough to prevent false accounts, pornography, and other inappropriate content deemed illegal. His critics, however, have denounced the move as politically motivated; they claim that Erdogan blocked Twitter in response to corruption allegations against him spreading online, and to bolster popular support for his ruling Justice and Development Party (AKP) ahead of local elections on March 30. Hours before implementing the ban, Erdogan threatened to wipe out the inappropriate "twitter shmitter" during an AKP election rally in the city of Bursa.
Twitter users in Turkey have been largely able to bypass the ban by using VPNs, SMS messages, and other measures. On Saturday, however, the Turkish government strengthened the block by denying access to one of these services, Google's public DNS server.
Throughout the six-day ordeal, the United Nations, United States, and European Union have criticized Erdogan's attack on media freedoms and called for the ban's lifting. Twitter has also publicly condemned the Turkish government on several occasions, including advising Twitter users in Turkey (via Twitter) how to bypass the ban.