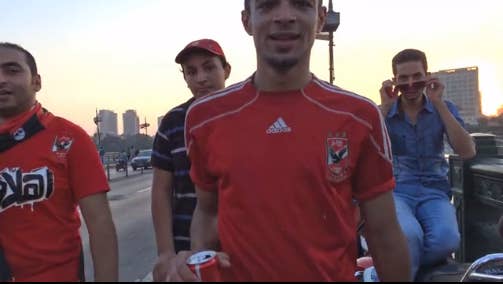 Cairo's bridges offer a beautiful view of the Nile — but, like elsewhere in the city, a woman walking along the water must also contend with a barrage of stares, catcalls, and, occasionally, the brush or pinch of a passerby's hand.
To put a face to the phenomenon, Tinne Van Loon and Colette Ghunim decided to secretly film what it was like for Ghunim, an Egyptian-American, to walk down one of Cairo's main bridges, Kasr El-Nil, for just five minutes on a Friday. To pull off the stunt without attracting attention, Ghunim pretended to talk on her iPhone while covertly keeping the camera on, the blog Egyptian Streets reported.
Colette and Van Loon then combined their footage with a popular Egyptian electro song — A3akes Ah At7rash La2, which translates as "Flirting, yes. Harassment, no" — to cover up Colette's faked phone conversations. The song blocks out the verbal harassment that Ghunim experienced during the stunt. The duo also have a new Kickstarter for a longer film on harassment.
Van Loon and Ghunim told Egyptian Streets that they were motived to make the film because of personal experiences.
The fact is that every time a woman walks outside, no matter what she's wearing, a large majority of men stare, unabashedly. They scan her entire body as if she is a mere object, not a valued human being. The high frequency of stares makes it the most common form of sexual harassment, violating women's ability to feel safe while walking in the streets.