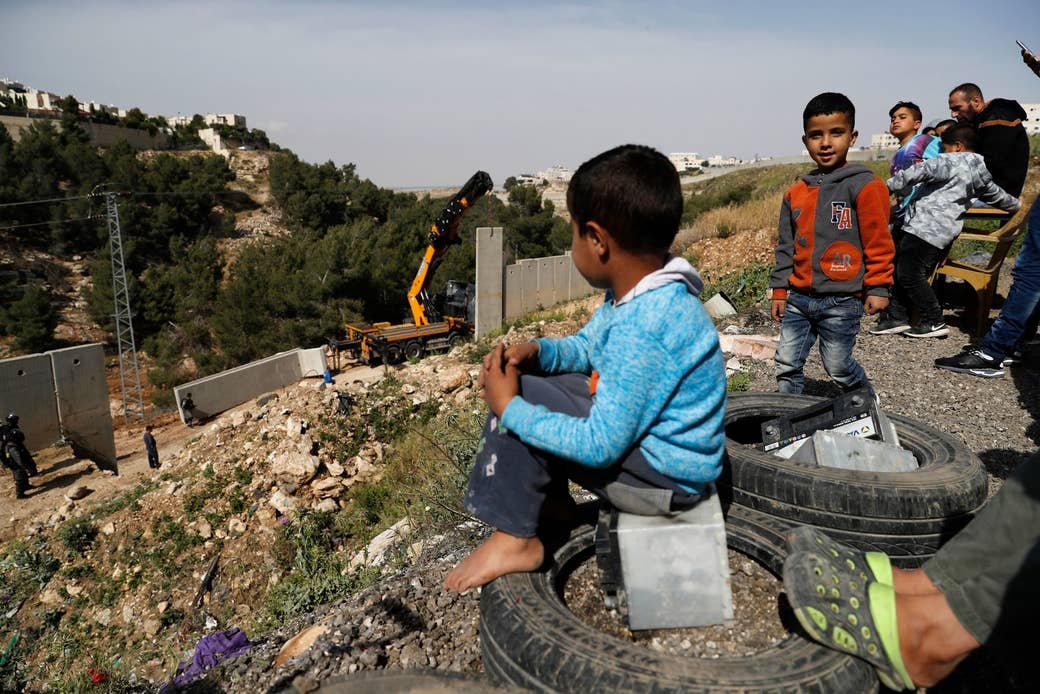 JERUSALEM — The Trump administration has laid out a plan: By moving the US Embassy to Jerusalem, cutting aid to Palestinians, sidelining Palestinian refugees, and, as of Monday, shutting down the office of the PLO in Washington, an ostracized Palestinian leadership will be pushed back to the negotiating table, ready and willing to accept Trump's still-secretive "deal of the century."
The likely outcome of this plan, however, looks entirely different to Palestinians in places like Shuafat, a walled-off refugee camp in east Jerusalem where drugs, weapons, trash, and sewage are all rampant. Shuafat has been dismal for decades, even when aid was flowing. But now it provides a prescient case study of what could await Palestinians after the US cuts aid, coupled with Trump's seemingly limitless support of Israel's right-wing government amid the collapse of the Oslo peace process. Shuafat is what happens when Palestinian institutions are weakened without providing Palestinians equal rights — and that's what Trump's policies are doing in practice.
"What do they say, 'a peace that is complete and just'," said Khaled al-Sheikh Ali, 48, who works at the camp's Palestinian Child Center told BuzzFeed News, referencing statements by the Trump administration that it's still pursuing a fair solution after stopping long-standing aid to Palestinian institutions this month.
"Then show me the justice in that peace," he said. "Don't show me that that's an Israeli and that's a Palestinian. That he [the Israeli] lives in a house with a garden around it and a garage for the car and everything he needs available and I live in a small room in Shuafat refugee camp. Where's the fairness?"
The people of Shuafat are a peculiar kind of stateless: The camp is technically in Jerusalem, but Israeli authorities are basically absent, except when it comes to army raids or issuing fines for building violations, said residents. They can move freely in Israel, but have to cross a checkpoint to get there. Israel forbids the Western-backed Palestinian Authority (PA), the semi-autonomous government based in the adjacent West Bank, from operating here: Many residents are fed up with the weakened Palestinian leadership anyway, which hasn't held elections since 2006. In the void, the United Nations Relief and Works Agency (UNRWA), which Trump also cut funding to, has taken up many vital roles of a government, like running schools and trash collection. Even before the cuts UNRWA's services were stretched thin, said residents. And many are frustrated that decades in it's the international community, and not Palestinians themselves, who are ultimately running the agency.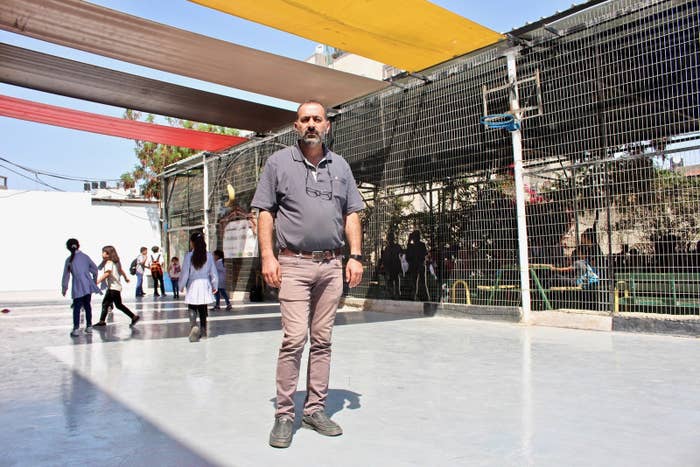 Now Trump's plan is hitting home. In July, for example, UNRWA made cuts in its trash collection because of funding shortages, according to UNRWA spokesperson Chris Gunness. Gunness said no further cuts are currently planned for 2018, as they "intend to close the shortfall of $186 million." Still, it portends a bleak future: If Trump continues to gut the PA and UNRWA while supporting Israeli politicians who want to annex more Palestinian land without giving people equal rights, that just means more places like Shuafat — or worse.
Trump has called on other European and Arab countries to foot the bill. Like with the PA, though, his strategy doesn't include anything resembling a plan for Palestinian representation or to address the discrimination that results instead.
Kuku Saleh, 24, who asked to use a nickname to speak frankly and protect her privacy, says like everyone in the camp she's heard about the UNRWA cuts and is afraid about what will happen, especially for poor people dependent on the free boys and girls school and health clinic. But she also feels that people deserve better. "The services that UNRWA gives, like here in Shuafat camp, are not enough," she says. "Because the population is bigger than UNRWA's services."
Residents of Shuafat know there's better out there — and that the situation's even harder for those in the West Bank and Gaza with far fewer options and less access. They also know that in the Israeli settlement of Pisgat Ze'ev just beyond the wall, well-functioning Israeli services — from roads, water, and sewage systems, to mail collection, ambulances, and good schools and clinics — are the norm.
Shuafat is consequently where many of the Israeli–Palestinian conflict's core issues — the status of Jerusalem, Palestinian refugees, security, and the Israeli occupation — coalesce.
After Israel's founding in 1948, around 700,000 Palestinians fled or were expelled from their homes. Five million of their descendants retain refugee status. The then-newly established UNRWA set up refugee camps around the Middle East to house them — decades later many remain as urban slums. In the 1967 war, Israel occupied the West Bank, Gaza Strip, and east Jerusalem, annexing the latter, which Palestinians also claim.
This month marked 25 years since the signing of the Oslo Peace Accords, a theoretically temporary agreement that established the PA in the West Bank and Gaza. Polls show now that a majority of both Israelis and Palestinians don't believe a two-state solution is possible anymore. Washington for decades, though, hasn't openly considered anything else.
Enter Trump's team, which has vowed to shake up the stalemated status quo.
"I am looking at two-state, and one-state, and I like the one that both parties like," Trump told reporters last year. After closing the Palestinian leadership's office in Washington, Trump adviser Jared Kushner told the New York Times on Thursday, "All we're doing is dealing with things as we see them and not being scared out of doing the right thing. I think, as a result, you have a much higher chance of actually achieving a real peace."
Except Palestinians and other critics say that the US, which has long portrayed itself as a neutral mediator in the conflict, is too explicitly siding with Israel's hardline government, key members of which openly oppose a two-state solution and Palestinian statehood.
An emboldened Israeli Prime Minister Benjamin Netanyahu has, under both the Obama and Trump administrations, expanded settlements in the West Bank, which are considered illegal under international law and Palestinians say are built on their land. Far-right Education Minister Naftali Bennett, Netanyahu's main competition, has proposed that Israel formerly annex large parts of the West Bank. Young Palestinians are increasingly interested in one binational and democratic state, which its opponents say would be the end of a Jewish state and Jewish self-determination. The extreme right in Israel, on the other hand, is increasingly toying with one-state options in which Palestinians do not have equal rights: Other politicians in Netanyahu's coalition have promoted plans to annex the Palestinian territories and dissolve the PA while giving Palestinian residents the option of either leaving or remaining without voting rights.
The latter is largely what's happened to Shuafat's residents. Palestinians in the West Bank need an Israeli permit to leave the territory. Palestinian residents of Jerusalem, in contrast, can move around freely and have access to Israeli health care and education — but they can't vote in Israeli national elections and risk having their residency revoked if they live outside of Jerusalem for too long. (East Jerusalemites were offered but largely rejected citizenship in 1967, counting on a Palestinian state instead coming soon. Now those who apply for citizenship are often refused.) The residents of Shuafat have to cross a military checkpoint to reach the rest of Jerusalem, which they are physically cut off from. That's because in the mid-2000s, after a bloody Palestinian uprising, Israel built a wall around the West Bank — and included Shuafat on the West Bank side.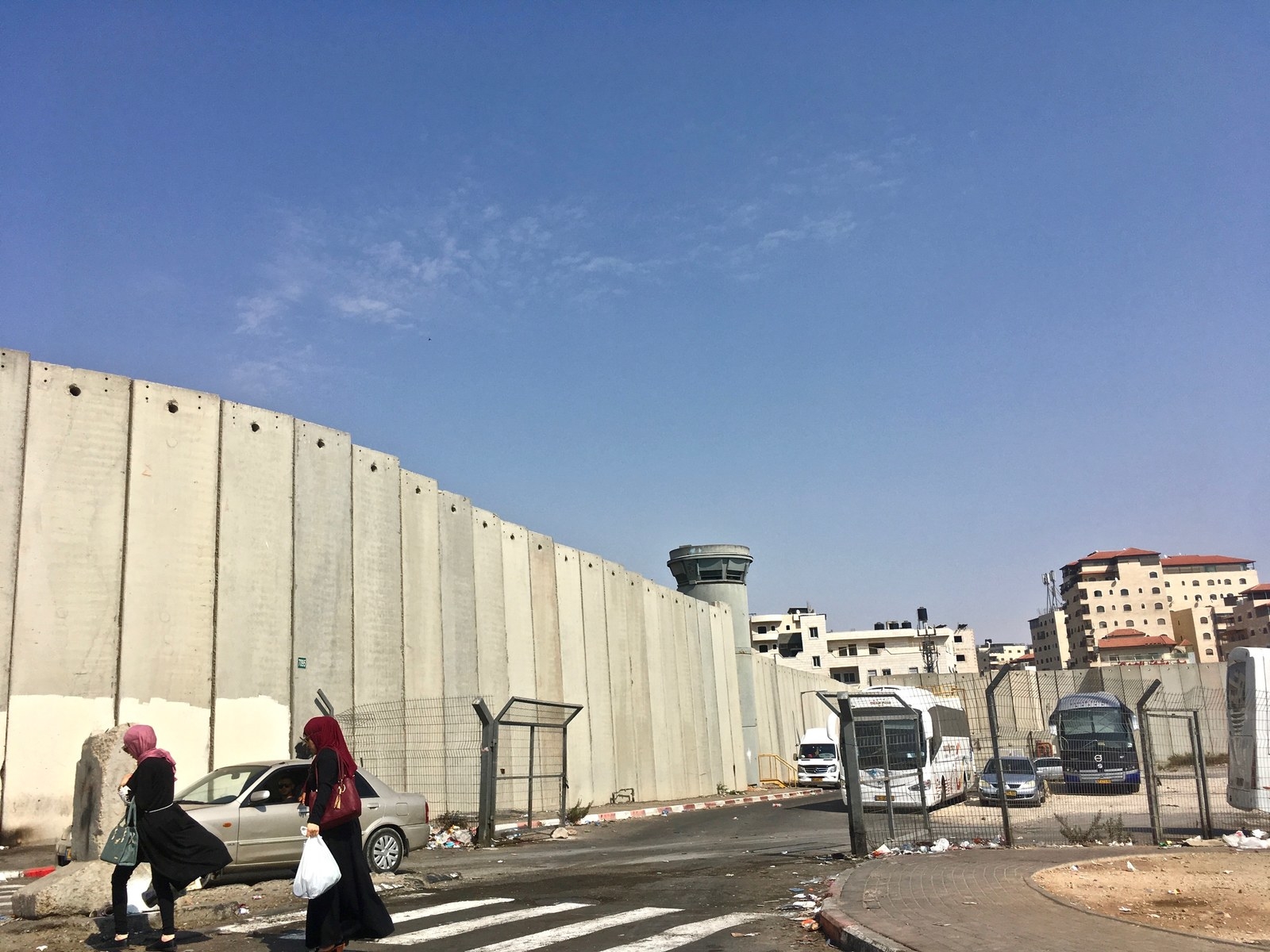 The situation in the Gaza Strip, facing a dire humanitarian crisis, is even more complicated: Since 2007, Palestinians in Gaza have been living under an Israeli–Egyptian siege and the repressive rule of the terror group Hamas, which seized control from the PA. Over 80% of the 1.9 million people in Gaza depend on humanitarian aid like UNRWA to get by.
All of this has created a situation in which "we don't know who is responsible for us," al-Sheikh Ali said.
Palestinians frequently complain that the PA has now turned into a corrupt means for Israel to outsource the running of the occupation: The US has notably not cut aid or other support to the PA's security forces, which human rights groups accuse of casting a wide net targeting anyone who criticizes or threatens the PA or Israel. The one leader who can unite factionalized Palestinians, Marwan Barghouti, is in an Israeli jail, accused of planning terror attacks. (He denies the charge.) For decades the Oslo peace process has been the raison d'être for the PA: Now Trump's attack on the PA has just made it harder for Palestinians pushing for reform from within as others in reaction have double-downed on supporting it.
Trump's all-out assault on UNRWA — and reported pushes from advisers like Kushner to remove the status of millions of Palestinian refugees in order to shut it down — has similarly made reform of the aging and bureaucratic institution, which many Palestinians want to be less dependent on, that much harder. Part of UNRWA's mandate is the protection of Palestinian refugees, which greatly angers the likes of Trump and Netanyahu, who say Palestinian refugee status should not be passed down.
Many Israeli security officials have come out against the UNRWA and PA funding cuts, warning that the drops in aid will increase instability in Palestinian communities and lead to more violence targeting Israelis. A spectrum of Israeli politicians, meanwhile, has cheered the cuts, which are widely popular among the public.
Palestinians worry about an uptick in violence — but say that the real issue is bad leadership and unequal treatment.
"It doesn't matter to me what the politicians decide, one state or 100 states," al-Sheikh Ali said. "It matters to me that I'm a human. I was born as part of the world and I have the right to live with complete dignity as a human. With all of my rights, like an American, like an Israeli, like a Spaniard, like the French. Why do I have to live my life oppressed."
In Shuafat, he said, "There's no oxygen."
Still, al-Sheikh Ali doesn't blame Trump or the average American for all of this: Tthe problems have been building, ignored by politicians from all sides for decades, and now Trump's plans are just further worsening a tinderbox of fear and frustration.
"The PA has been derelict not only just from the day that Trump ended the aid and the support for UNRWA," he says. "When Trump ended the aid, there are now more problems and a greater weight on the people. The people are more lost. They don't know their fate."
He's not without hope, thanks to the kids he works with and his faith in the next generation. The center where al-Sheikh Ali works is basically the only safe public space for kids to play, sing, draw, dance, and even learn hip-hop and yoga after school.
Under all of Shuafat's pressures "there's a culture here where if someone hits you, you hit them back," he says. "I'm trying to send a different message."
"I hope they — the kids — will be the future leadership," he adds.
In the meantime, al-Sheikh Ali isn't going anywhere. Trump and anyone else, he says, are invited to Shuafat to see their reality and what the future may hold.
CORRECTION
Marwan Barghouti's name was misspelled in an earlier version of this post.