Protest Picture Shows A Turkish Journalist Flying From The Pressure Of A Water Cannon
"Freedom of press-ure."
Images of Turkish journalist Hüsna Sarı being hit by a red-colored water canon while covering an anti-government protest in Ankara, Turkey's capital, have sparked outrage over Turkey's increasingly heavy-handed crackdown on media and dissent.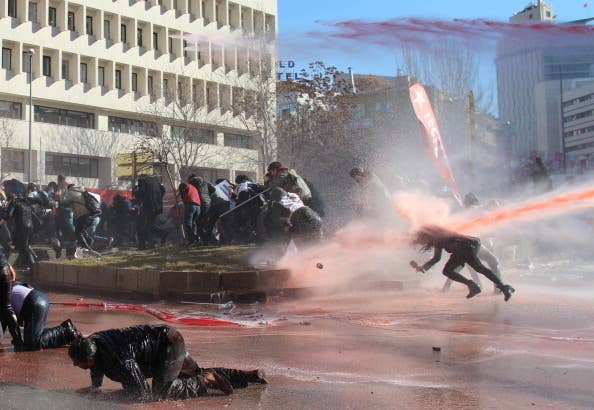 Commentators speculated whether Sarı had been targeted. Others questioned the source of the water's redness, suggesting that it was laced with pepper spray.

Protests have targeted Turkish Prime Minister Recep Tayyip Erdogan, who is currently battling a corruption scandal, since last spring's Gezi Park protests, which spiraled into a mass movement for greater government accountability.
Human rights groups have criticized Erdogan for escalating attacks against journalists and freedom of expression. Turkey ranked 154 of 180 countries in Reporters Without Borders 2014 Press Freedoms Index.