In a bizarre, 2,743-word statement, the Korean Central News Agency (KCNA) justified yesterday's execution of Jang Song Thaek, the uncle and former confidant of North Korean leader Kim Jong Un.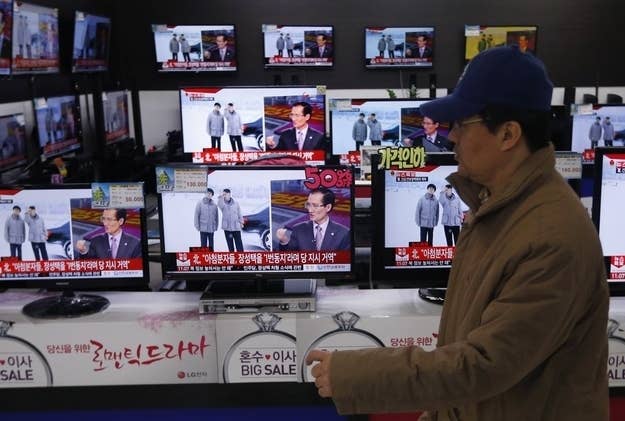 Calling Jang "worse than a dog," KCNA mused that he "pretended to uphold the party and leader but was engrossed in such factional acts (such) as dreaming different dreams and involving himself in double-dealing behind the scene."
Such strangely worded statements are a trademark of North Korea's state media machine — putting the propaganda of other authoritarian governments to shame.
North Korea has one of the world's most repressive media environments. The state owns all domestic news outlets, and strictly limits access to outside information. The internet is for all purposes banned. All journalists must be members of the ruling Workers Party of Korea. The penal code makes listening to unauthorized foreign broadcasts and possession of dissenting publications a crime against the state. Violators face punishments including hard labor, prison sentences and the death penalty.
It's no surprise, therefore, that North Korea has institutionalized a prosaically propagandistic media style. These charts by KCNA Watch show the top countries to reach KCNA readers.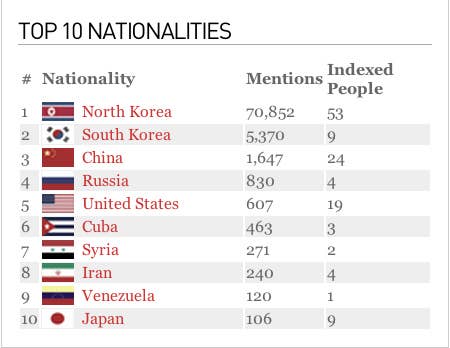 Here's a look at "Kim output" over time.

The Daily NK reported today that North Korea's main media outlets, Rodong Sinmun and Uriminzokkiri, had already removed from their websites nearly all articles mentioning Jang Song Taek. But the KCNA statement remains — here's a look at some more gems from North Korea's media machine.
1.
On the recent snowfall in North Korea.
"The snowfall deepens the Korean people's yearning for leader Kim Jong Il, who left them amid heavy snowfall two years ago." - December 12, 2013
2.
On Japanese foreign policy.
"Japan should clearly bear in mind that if it dreams of realizing its wild ambition for overseas aggression, oblivious of the lesson of history, it will only meet earlier ruin." — December 13, 2013
3.
On Kim Jung Un's election as leader.
"Kim Jong Un, a great statesman of literary and military accomplishments, who is possessed of outstanding wisdom, distinguished leadership ability, matchless pluck and noble revolutionary comradeship, is advancing the revolutionary cause of Juche pioneered by President Kim Il Sung and led by Kim Jong Il along the path of victory with his sweeping revolutionary practice.
The participants burst into rousing cheers of "Hurrah!" with feelings of strong yearning and loyalty, extending highest glory and warmest congratulations to him." — April 13, 2012
4.
On South Korea's "Puppet Forces' Mendicant Diplomacy."
"In a word, the south Korean puppet group has been snubbed and derided by countries around it in less than one year after it took office and is even forced to clarify whom it sides with….
South Korea deserves the cold treatment for its dependence on outsiders and acts of sycophantic treachery." — December 13, 2013
5.
On Kim Jung II's artistic contributions.
"The army-based revolutionary literature and arts created under Kim Jong Il's army-based leadership are characterized by the fact that the spirit of devotedly defending the leader and devotedly carrying out his instructions are reflected in all literary and art works and new characters representing the revolutionary spirit of soldiers created.
It is a great event of significance in the human history of literature and arts that a new style of mass gymnastic and artistic performance was created in building literature and arts based on the army-based revolution." — May 23, 2002
6.
On the wonders of a "blood-purifying finger ring."
"A blood-purifying finger ring is attracting great interests of visitors at the ongoing 8th Pyongyang International Commodity Fair.....
The ring gives no harmful effect to human body. It is made with the application of the bio-physical action of sun-rays or light of incandescent electric lamp passing through a specially processed natural jewel." — May 18, 2005.
7.
On Kim Jung II as the eternal sun.
"Leader Kim Jong Il is the eternal sun of Songun Korea as he put the dignity and position of the Democratic People's Republic of Korea on the highest level with the Songun (military-first) policy." — December 13, 2013
8.
On the U.S. and the environment.
"The U.S. imperialist aggressor forces' environmental pollution poses a serious problem in south Korea." — October 21, 2013
9.
There is one thing KCNA doesn't mess with: mushrooms.
"To put the production of mushroom on an industrial and scientific basis is a plan unfolded by the Workers' Party of Korea for improving the diet of the Korean people." — October 23, 2013