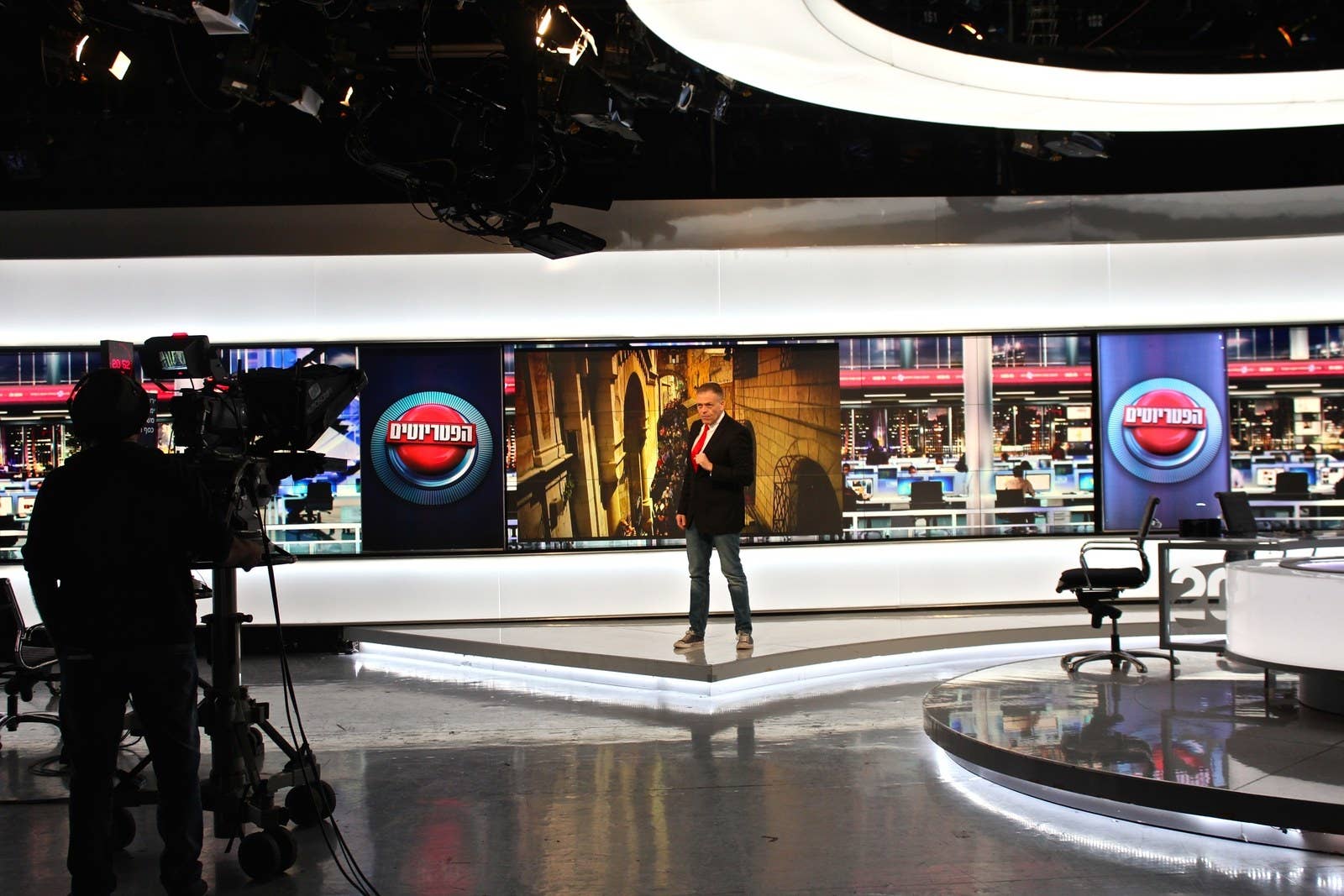 TEL AVIV — Erel Segal has an agenda and he wants you to know it.
The 46-year-old Israeli is the charismatic and pugnacious host of a nightly news show called The Patriots on a new channel trying to model itself after Fox News. Four nights a week, he and four panelists shout about the day's political events. More often than not, they argue over if Israel's politics are right-leaning enough.
"We are the patriots at Channel 20," Segal began a recent broadcast, "fair and balanced," he said, echoing what was, until recently, Fox News' slogan, "and not asking relentless, petty questions." Soon after, the panelists all began shouting over each other.
For years, Israel's Hebrew-speaking media was dominated by a relatively centrist, liberal press. During war times it swung more to the right, during periods of peace more to the left. But now overtly right-wing media figures like Segal, as well as partisan outlets owned by United States billionaire and Republican donor Sheldon Adelson, are increasingly normal. They proudly air their politics — and broadcast a more religious nationalist and populist agenda for Israel.
As the rise of so-called alt-right media changes the face of US politics, so has Israel seen a similar kind of progression. Just as Breitbart News and Fox are flourishing off the back of Donald Trump's presidency, in Israel places like Channel 20 grew out of the anti-leftist politics championed by Prime Minister Benjamin Netanyahu and thrive off a kind of symbiotic relationship with him and his more extreme-right competitors.
Yet, Israelis are also quick to point out, in other ways they've been a harbinger for the US — and the anti-liberal "strongman" wave that's turbulently swept through much of the Middle East and Europe. Back in 2015, most of Israel's feisty media predicted that Netanyahu would lose the general elections; he won, and hasn't stopped gleefully reminding journalists since. This coincided with a majority of Israelis feeling that media was untrustworthy, with a leftist bias, and a growth in the technological and market conditions for more overtly partisan media outlets.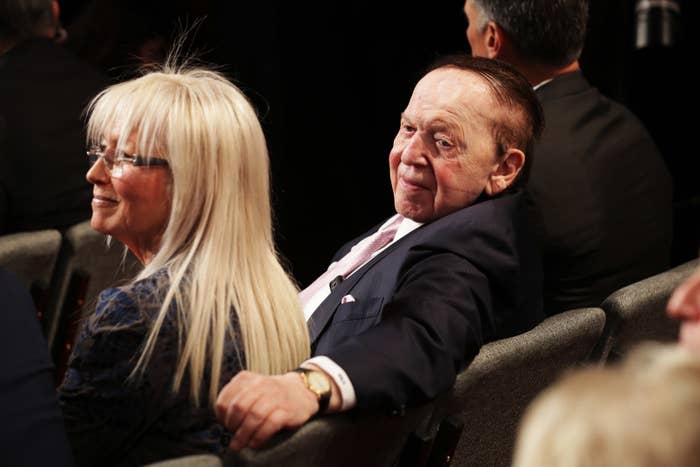 Now the media is changing in a very 2017 and very Israeli way, reflecting tensions at the heart of the country's politics and society.
"In Israel the right wing and religious settlers are becoming more and more powerful and dominant," Oren Persico, of the Israeli nonprofit media watchdog The Seventh Eye, told BuzzFeed News. "The media is just another front for this confrontation between the old secular elites who are center left and the new elites of religious right."
Netanyahu, like Trump, isn't overtly religious and comes from an established family, but he's still a rallying point for the religious right. He also heads the most right-wing government in Israel's history and likes to take to social media to bypass the local press and denounce the country's "fake news" media. His tweets have even come to resemble those of his "great friend" Trump.
Unlike Trump, Netanyahu has actually gone one step further and successfully sued a high-profile journalist for libel after decades in politics. Angry over Al Jazeera's coverage, Netanyahu's government is now moving to close the news channel — as have many other Arab autocracies.
Netanyahu is also currently under investigation in several corruption cases — which Israeli media aggressively covers, much to his ire. The pressure against Netanyahu is mounting and a recent poll by Israel's Channel 10 found that 66% of Israelis believe he should resign if indicted. But at a recent Likud rally he remained defiant, decrying the media and leftist "witch hunt" against him to supporters, some of whom sported signs like "It's not fake news… It's fucking news" and cursed at and shoved Israeli journalists.
The right-wing battle for Israel will indeed be televised. When Netanyahu gave a rare interview to domestic media in June, he notably chose Channel 20 for his provocative late-night broadcast, despite the fact that its ratings remain relatively low.
"We're in the midst of an unprecedented media campaign meant to besmirch me," Netanyahu said into the camera. "Since almost the entire media is part of this campaign, only on Channel 20 I get to finish my sentences."
That's music to Segal's ears, and a topic he's more than ready to riff on.
"The Israeli media is clearly biased against the government and the right wing," the fast-talking Segal told BuzzFeed News. "Now it's much more healthy and reasonable that a media person should be without a mask. Everyone knows that I belong to the right wing. But I'm fair about it."
"Nobody," he said, "believes in objectivity anymore."
Channel 20 is a self-described Jewish heritage channel that boasts traditional values, "kosher" advertisements included (i.e., no NSFW pictures that might offend religious viewers). The conservative channel launched in 2014 and got a license to present several hours of nightly news in 2016. It's co-owned by a Georgian businessman, Yitzhak Mirilashvili, who, alongside his father, an ex-convict and one of Israel's wealthiest citizens, has been questioned in a corruption scandal centering on the country's ultra-Orthodox minister of interior. (Neither Mirilashvili has been charged and the minister, who's previously been found of guilty of corruption, denies the recent charges.)
Segal fits in well among this crowd. How you wear your kippa, or Jewish head covering, in Israel is often a sign of your politics: He wears a small one perched on his head, signaling that he finds support among the leumi, or national religious. He hosts a show on the settler radio channel, Galey Israel, and several years ago declined an offer to run for parliament on Netanyahu's conservative Likud party ticket. With media models economically under threat, "ideology media" bankrolled by businessmen with political leanings has understandably, he said, become the new norm.
"It's a global trend," he said. "It's not only in Israel that media people are colored with political views."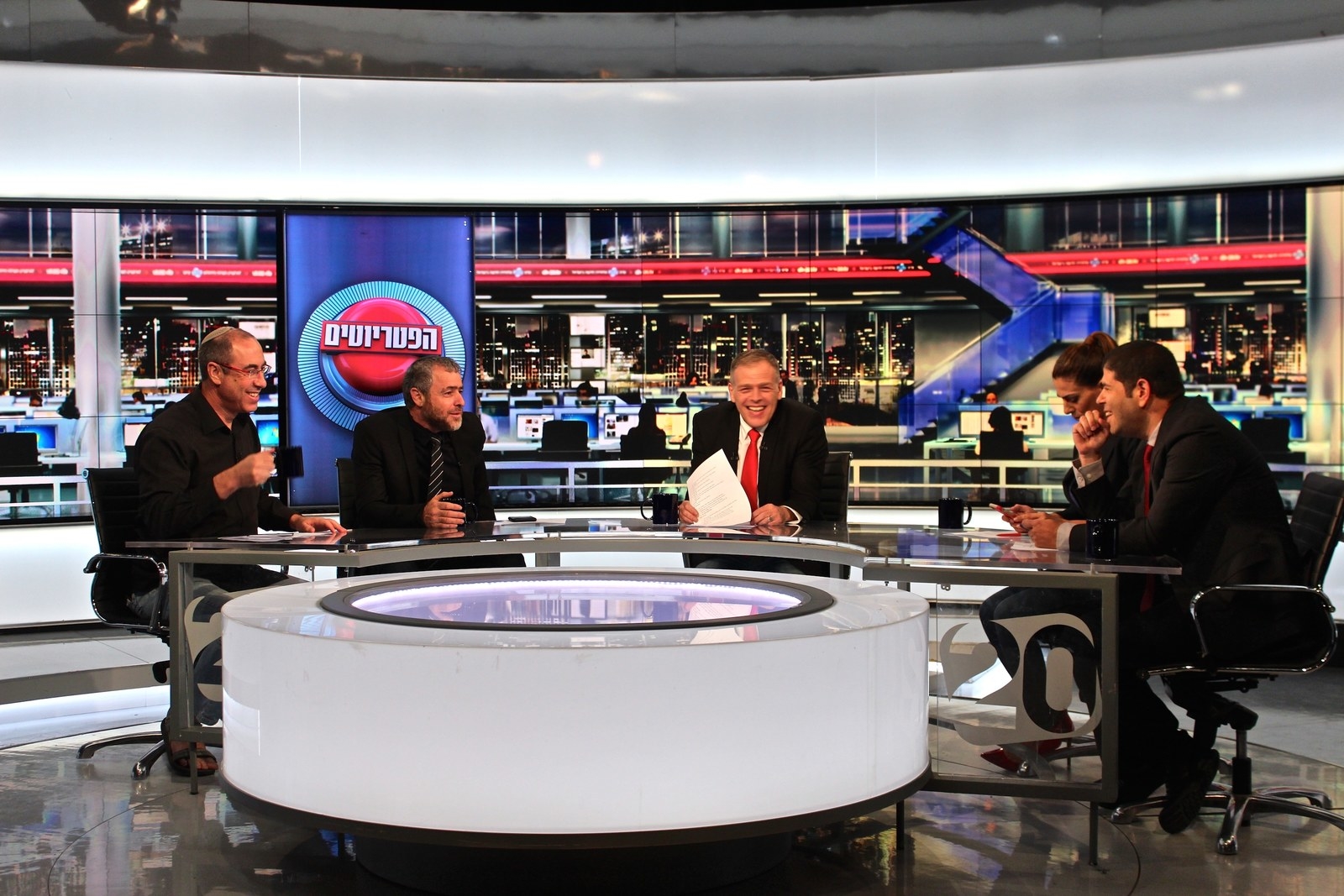 It's not just Channel 20 that's capitalizing on the spirit of an Israel shifting right — with the rise of populist and religious nationalist politics, other sites are also popping up or tilting more conservative.

But Persico, the media critic, disputed Segal's claim that Israel's media has a left-wing bias. "I do think that the mainstream media in Israel … has over the years become more right wing and less critical of the army and less critical of the Israeli government's position on the West Bank or East Jerusalem," he said.
In Israel's right-wing press, support for Jewish settlements and soldiers, no matter what, is high; acceptance of non-orthodox Jewish traditions and Palestinian national rights are low. Here your place on the political spectrum isn't a question of economics: Virtually all politicians love the free market.
(Eighty percent of Israel's 8 million citizens are Jewish; the remaining 20% are Palestinian Arabs and largely absent from national politics.)
"For a long time people from the various groups in society that were more leaning towards the right wing felt that their voices weren't being heard in the Israeli mainstream media," said Noa Landau, the editor-in-chief of the English version of Haaretz, Israel's leading left-leaning newspaper, which the right frequently demonizes as "the problem." "There were a lot of calls to join mainstream media and impact from within. It worked," said Landau. She cited more people appearing on TV with Jewish head coverings and Israel's army radio and storied Channel 2 giving popular right-wing journalists more prominent spots.
"I think the next step was obviously to push for their own more right-wing outlets," said Landau. "They don't want to have new pundits on CNN. They want their own Fox News."
She added, "Now they are the majority and they want their own media platforms."
It might all have happened differently if a decade ago Adelson, the conservative financier, had not decided to inject millions of dollars into a free daily newspaper called Israel Hayom, which translates as Israel Today. Israel Hayom has since entirely upended Israel's media market and become the most largely circulated newspaper. The paper's new editor-in-chief is even one of Israel's biggest Trump fans. (He did not respond to repeated requests for an interview.)
In 2016, the annual Freedom of the Press report downgraded Israel from "Free" to "Partly free" in part "due to the growing impact of Israel Hayom, whose owner-subsidized business model endangered the stability of other media outlets." It's now one of several sites — including the more highbrow right-leaning paper Makor Rishon, the NRG website, and an aggregating news app, 360 Full Picture – that make up Adelson's media empire.
In the process, Israel Hayom gained the nickname Bibi-ton — a mashup of Netanyahu's own nickname and the Hebrew word for newspaper — and a reputation as the Pravda-esque mouthpiece of Bibi's government. Still, one of the Israeli media's favorite games is to speculate over potential rifts in Netanyahu's power when Israel Hayom gives positive coverage to his more extreme political competitors. In a twist, one of Netanyahu's alleged corruption cases involves accusations that the prime minister offered to cut Israel Hayom's circulation in exchange for more positive coverage from its main competitor's editor, which Netanyahu denies.
Today's Israel would also not be the same if a decade before Israel Hayom a group of settlers hadn't started an illegal radio broadcast, Arutz Sheva (Channel Seven), that has since morphed into a multilingual website popular among settlers and religious Zionists. The site is based out of the Beit El settlement in the Israeli-occupied West Bank, a comfortable gated community close to the major Palestinian city of Ramallah. It's especially a favorite of Trump's ambassador to Israel, David Friedman, who used to fundraise for the settlement and write op-eds for the website.
But despite the channel's political connections, Arutz Sheva has not gained a significant following among the public outside of the settlements. That's left a void that new social media–conscious entrepreneurs like Boaz Golan are trying to fill.
"My ethics is just for my country," said Golan, explaining he was explicitly not about having both sides at his website, Hadashot (News) 0404. "I have a press accreditation, but it means nothing."
"They don't want to have new pundits on CNN. They want their own Fox News."
Golan founded News 0404 in 2014 as a local news website up north (where the calling code was 04). Now the other co-owner of Channel 20, Avi Bar, owns half the site and it shares a space in Channel 20's Tel Aviv office. Golan's emphasis on covering "every stone thrown" by a Palestinian at an Israeli and supporting Israel's young soldiers reflects a growing sentiment among Israelis who, though they may not live in the West Bank, consider these contested areas and settlers just another part of the public.
Golan's also capitalized on Israelis, like their peers all over, looking to Facebook and social media feeds for their news and views. The site's popularity first started to rise because of its positive coverage of a social media campaign supporting an Israeli soldier accused of misconduct in 2014. Army service is compulsory for young Jewish Israelis: Surrounded by hostile neighbors and an entrenched occupation, the military retains wide public support as many families have their children on the front lines.
Golan said his site is constantly receiving information and tips from soldiers; in exchange, they bring food to different bases once a week. With the number of Facebook likes growing each day, he feels his movement is on the rise, particularly among younger Israelis.
How, then, did he respond to critics of his media model?
"If you don't say [you have an agenda,] it's fake news," Golan concluded.
CORRECTION
Noa Landau is the editor-in-chief of Haaretz English. A previous version of this story incorrectly provided her title as editor-in-chief of Haaretz.