The Middle East Is The Worst Place To Be A Domestic Worker, New Report Says
While legal conditions are improving in Latin America, in the Middle East and Asia domestic workers face some of the worst abuses.
The Domestic Workers Convention is a groundbreaking treaty adopted in 2011 to establish the first global standards for domestic work, entitling domestic workers to the same basic rights as other workers.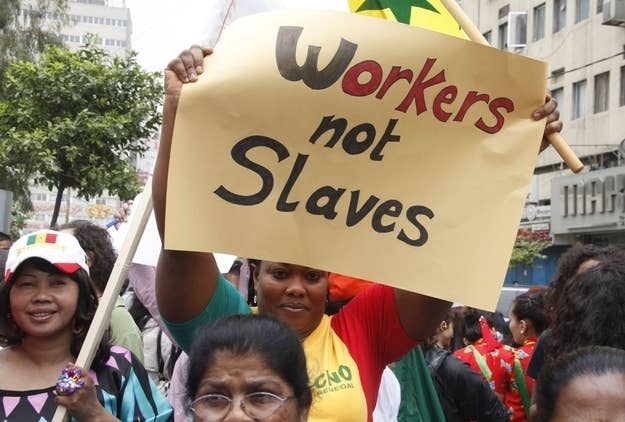 Since 2011, 25 countries have improved legal protections for domestic workers, and 10 have signed onto the convention, created by the International Labor Organization (ILO).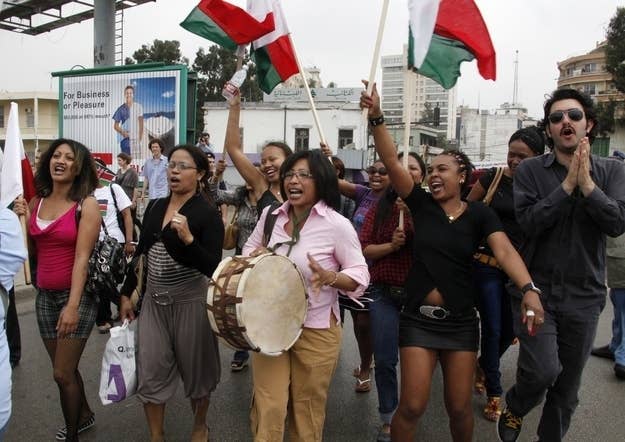 Despite legal advances, domestic workers still often endure horrific conditions.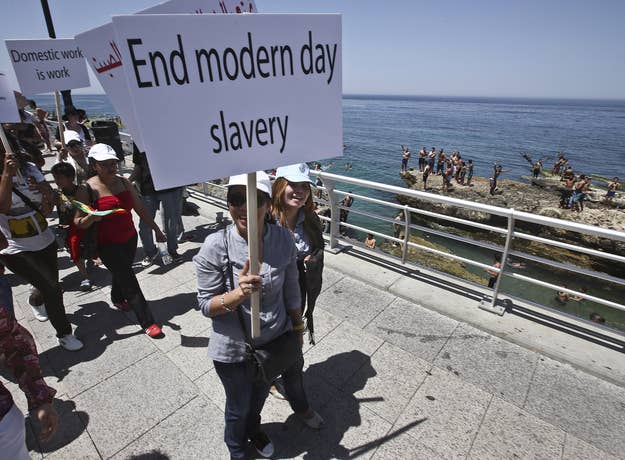 Many are grossly underpaid (or not paid at all), forced to work 24/7, forbidden to leave their homes, psychologically, physically, and sexually abused — and worse.
They often work in the shadows, exploited in foreign countries, and excluded from basic labor laws.
Worldwide a movement for reform is growing, with protests, like this one in Lebanon, giving the plight of domestic workers greater visibility.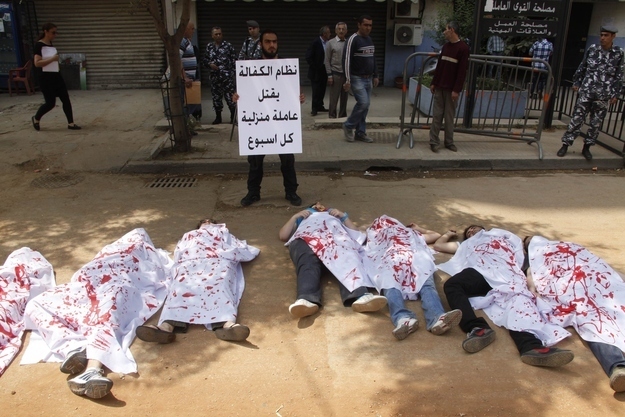 In 2010, a Saudi couple tortured a Sri Lankan maid by hammering 24 hot nails into her hand, legs, and forehead. The 49-year-old woman had complained of a heavy workload, and this is how her employees chose to respond.
That horrific story of domestic worker abuse made headlines — many more do not.
According to the International Labor Organization, there were at least 53 million domestic workers worldwide as of 2010. It's a largely female workforce, and millions more remain undocumented, including an estimated 11.5 million domestic workers the organization says are under the age of 18.
That means that globally 7.5%, or every one in 13 female wageworkers, is a domestic worker. The rate is high in Latin America and the Caribbean — one in four, 26.6% — and highest in the Middle East — one in three, or 31.8% of the working female population. A large number of women and girls migrate between different countries for domestic work — in Asia and the Middle East, in particular — generating billions of dollars in remittance for families back home.
The ILO found that almost 30% of the world's domestic workers work in countries where they are completely excluded from national labor laws, meaning they have no protections like weekly rest days, minimum wage, overtime, and limits on hours of work.
In countries where laws do cover domestic workers, these women are still often left excluded from key protections such as minimum age limits, maternity leave, social security, and health care.
In September, three years after the gruesome nail case, Saudi Arabia passed a landmark bill banning domestic worker abuse. Critics, however, remained skeptical that it would lead to any meaningful institutional or cultural change. The law, for example, allows domestic workers to be fired or penalized if they do not respect Islam or any other of the Kingdom's rules.
These reforms are a small step but — considered within the global context — they were taken as a sign that the worldwide movement for domestic worker's rights had begun to make waves. A new report co-authored by Human Rights Watch, "Claiming Rights: Domestic Workers' Movements and Global Advances for Labor Reform," and released on Monday, details these successes and the advances that have yet to be made.
It found that since September 2013, 10 countries have ratified the Domestic Workers Convention: Uruguay, Philippines, Mauritius, Nicaragua, Italy, Bolivia, Paraguay, South Africa, Guyana, and Germany. Several more say they are in the process of doing so. That makes them part of a global federation of domestic workers, and it is a sign of the movement's growing strength — but in many countries domestic workers are still forbidden to unionize and face a host of legal and social barriers to better working conditions.
According to the ILO, while Latin American countries have made the greatest legal advances, the Middle East and Asia remain the worst places to be a domestic worker. The European Union, with its aging populace, is also seeing an increasing demand for domestic workers, underlying the importance of improving the legal framework.
"The momentum of ratifications and improved laws in Latin American nations and a number of other countries show that governments are capable of protecting domestic workers," Sharan Burrow, general secretary of the International Trade Union Confederation, told HRW. "Governments that have lagged — particularly in Asia and the Middle East — need to act without delay."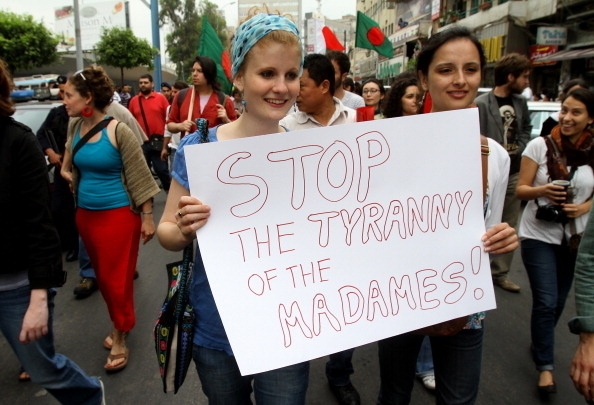 Worst: the Middle East and North Africa. While the region depends heavily on domestic workers, countries there have done the least to adopt reforms and increase worker rights, according to HRW.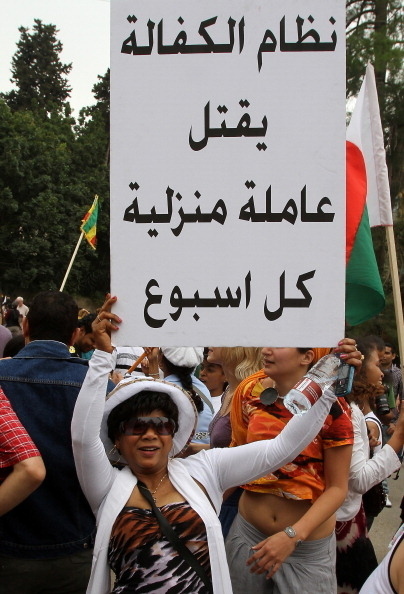 Many domestic workers there are recruited through a "sponsorship," or kafala, system to work for a family. Yet once in the country they are largely left without legal recourse and subordinate to the whims of their employees.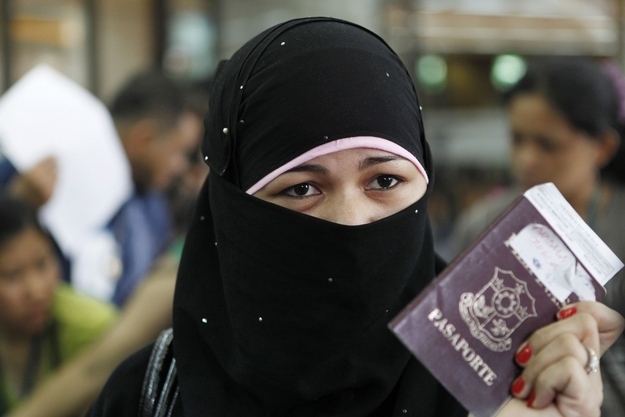 Gulf countries like Saudi Arabia, Bahrain, and the United Arab Emirates are among the most notorious abusers.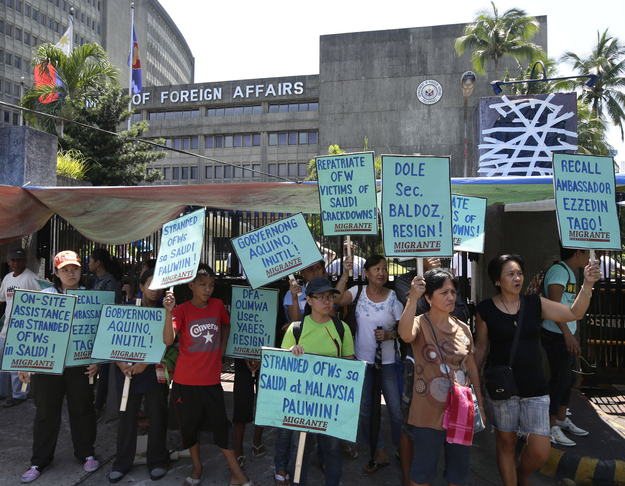 The story of the abused Sri Lankan maid in Saudi Arabia is perhaps the most publicized case, but it is representative of a culture of domestic worker exploitation that is all too rampant in Saudi and the Gulf.
In 2012, the Persian Gulf island of Bahrain overhauled its labor law and expanded some protections for domestic workers, like annual vacations. However, it still failed to grant basic protections like setting limits on the hours of work and a minimum wage.
The United Arab Emirates, which also relies heavily on foreign domestic workers, proposed a draft law for improving conditions in 2012. As of yet the draft law has not been made public. In recent months, scrutiny has fallen on Qatar, where workers preparing for the World Cup have labored in slave-like conditions.
Lebanon, Jordan, and Morocco are doing better — but they could do much more, HRW said.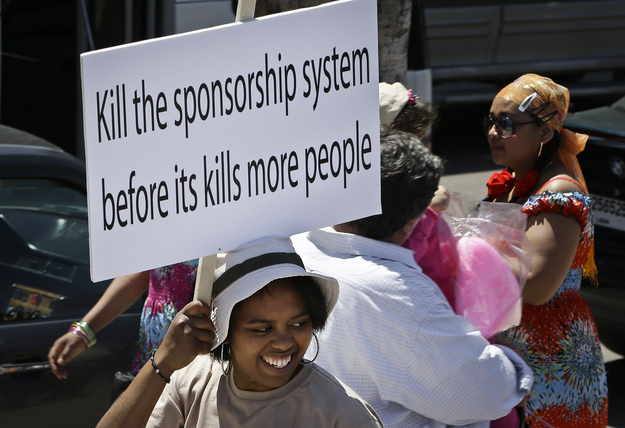 Like the Gulf, Lebanon is notorious for domestic worker abuse. In June, the Association of Owners of Recruitment Agencies adopted a self-regulating code of conduct to protect domestic workers in Lebanon. However, these women are still not protected by Lebanese labor law and the government has taken no steps to reduce the risk of worker exploitation and abuse.
In May 2013, the Moroccan government approved a draft bill expanding domestic worker rights. It is still pending in parliament.
In contrast, in 2008 Jordan included domestic workers in its labor law, and passed further regulations in 2012 that limit the number of daily working hours for domestic workers to eight, and grants workers the rights to leave their homes without employee permission. Enforcement of these legal protections, however, remains lax, and grave abuses persist.
In Asia, only the Philippines has ratified the Domestic Worker's convention, leaving millions of women vulnerable to traffickers and without legal protections from the abuses they endure on the job.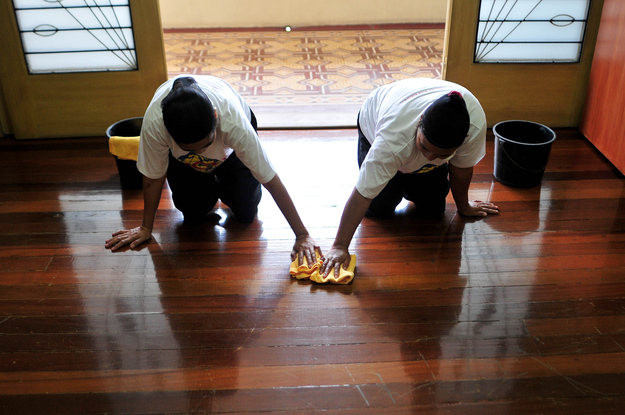 While domestic workers do have greater institutionalized rights in the the U.S. and Europe, the U.S. has still not signed onto the convention, and neither have most European countries.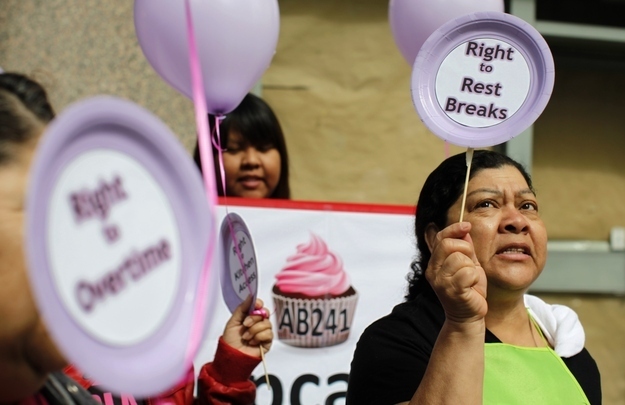 The pressure to reform is on as domestic workers worldwide soldier on in their campaign to solidify their basic human rights to make a decent living.